I believe 2020 can be the best year you have ever lived... because you will be living it daily in His presence.
– David Jeremiah
What is your New Year's resolution?
Each year, Americans set goals that include saving money, losing weight, finding love, and learning new languages. Imagine what would happen if we followed through on all of those goals! Of course it's no secret that we don't. According to one source, only 12 percent of Americans stuck with all or most of their resolutions in 2018.1
Our resolutions fall flat for a variety of reasons. Oftentimes our ambitions are greater than our resolve—we hope to balance our budget without giving up our habit of eating out. Some of us face an unforeseen illness or job loss that prevents our success. Others of us take on too much by setting out to change our eating habits, tighten our budget, and rethink our parenting all at the same time.
Improving our habits requires more than wishful thinking. If we're going to follow through day after day, month after month, we need to be bolstered by a meaningful purpose and a measurable plan. The most successful resolutions are built on a thought from God that's at the core of who we are meant to be. Once we commit to a worthy goal, the next step is to develop a strategy.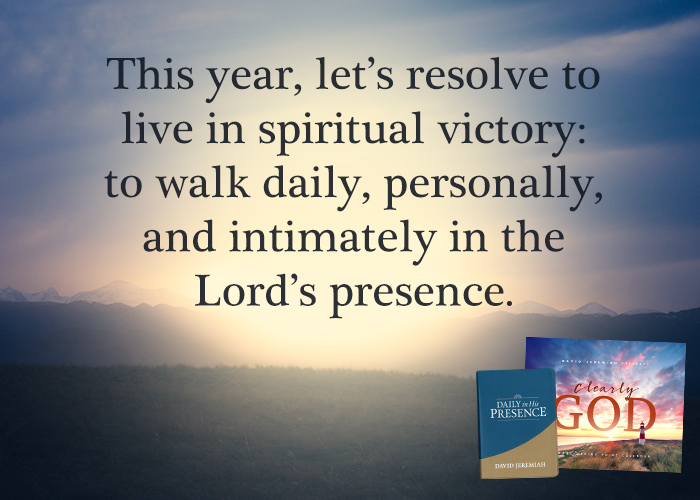 To help you achieve this goal, we have combined our new devotional, Daily in His Presence, with our exclusive 2020 wall calendar, Clearly God, to create the 2020 Resolution Resource Set. This set will guide you into the Lord's presence every day of the year with brief daily insights, a complete Bible reading plan, and visual reminders of God's handiwork in creation. Even on days when life challenges your commitment to spiritual growth, you will have a plan in place to maintain the discipline of spending time in God's Word.
Daily in His Presence offers 366 devotionals that will help you discover the joy and peace that come with spending time in God's presence. Devotional topics include enjoying the blessing of God's promises, aspects of prayer, peace and fellowship with God and Christ, being refreshed in your walk with God, and more. This handsome volume is packed with applicable truth, yet it is compact enough to carry on the go.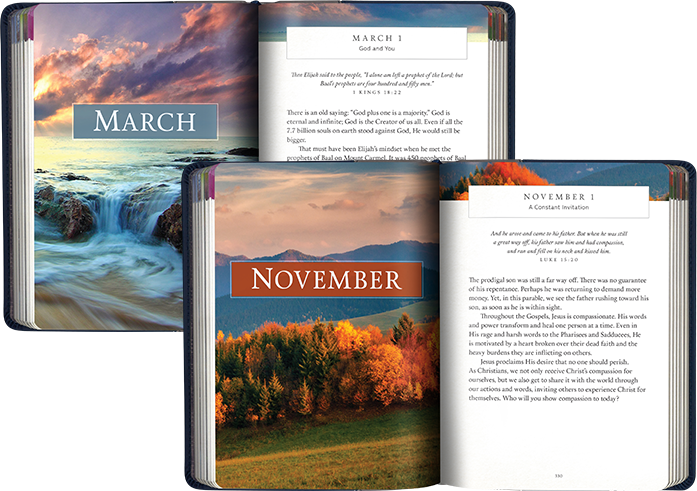 Clearly God combines monthly images of God's creation with twelve of His unique attributes. As you plan appointments and special events, make it your personal quest to find God's perspective by seeking to know His purpose for your life each day. With this unique 2020 calendar, follow the Bible reading plan as you seek His guidance, pursue His calling, search for His vision, and worship Him in all His majesty and beauty, praising Him for who He is—for He is, Clearly... God.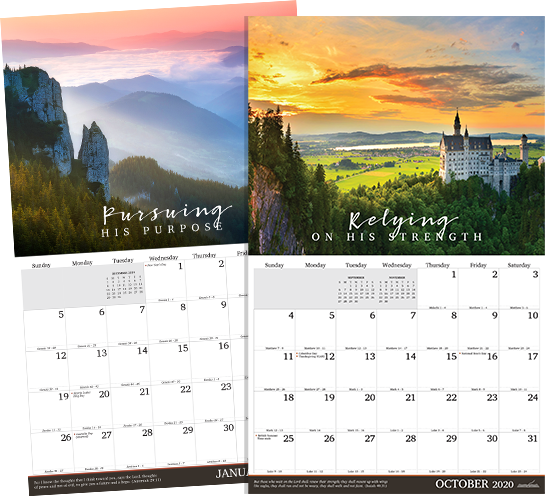 Request Your 2020 Resolution SetWith a $60 Gift