"Would you please partner with me in prayer this fall as we step out in mountain-moving faith to reach the world for Jesus Christ as never before?"
—Dr. David Jeremiah
This week's prayer:
by God's grace,
Turning Point is positioned to
multiply the impact of your gift as never before—
through a more extensive broadcast network,
a robust digital presence, greater reach into
parts of the world where Christians are persecuted,
and more effective means of reaching
every age group.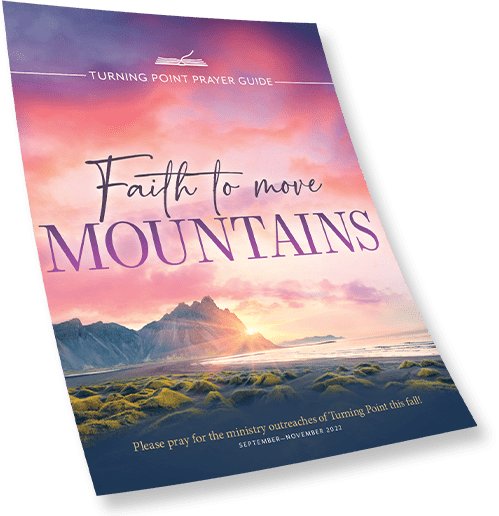 Let's take hold of what God has for us. Stand with me in focused prayer between now and Christmas. For the next eighteen weeks, let's pray and work and believe together, asking God to move in us and through us as never before.
I want this for you—and with all my heart, I want this for the multitudes of people around the world who are still missing out.
Your prayers and financial contributions will be a part of something HUGE that God is planning for this fall season!
Lost people need the Lord.
Believers need to be encouraged and emboldened.
Turning Point will point the way.
I urge your to be a part of it all, in two key ways...
1. Please support this ministry campaign in prayer.
Download and print the Seeing God Clearly Prayer Guide. Place it in your Bible, on your desk, or near your computer—anyplace where you will see it often. Let it inspire you to see God clearly in your life and in our world.
2. Please give a generous gift today to help us produce these eighteen critical weeks of television and radio broadcasts, online outreaches, resources, events, and more.
I want to thank you for your generosity, and bless you, by sending you our exclusive 2020 Turning Point calendar: Clearly God. Each year, it is one of Turning Point's most popular resources, and supplies are limited. As you send your most generous gift possible, I urge you to request yours today.
Complete Prayer Schedule:
August 26 - September 3
A Prayer to Move Mountains
"Lord, You promised that if we had faith even as small as a mustard seed You would move mountains and clear our path. It is by faith that we come to You asking for Your presence and power to remove the obstacles to reaching the world with Your Gospel! Nothing is impossible for You, so may we trust You, our Mountain Mover, to go before us and make a way! Amen."
September 4 - 10
Faith Week!
Dear Father, increase my faith. Remind me that Your authority is unchanging. Your Word is unerring. Your goodness is unending. Remind me of the blessings You have bestowed, the prayers You have answered, and the miracles You provided. And remind me that faith is a logical choice to trust an unfailing God who knows more than I do and understands things I do not. Lord, I trust in You with all my heart. I will not lean on my own understanding. I will acknowledge You and trust You to lead me in the ways I should go. Amen.
September 11 - 17
Pray for Our Spanish Outreach
There is no better way to celebrate twenty years of Spanish-language ministry through Momento Decisivo than by crossing off another milestone in reaching the Spanish-speaking population of the world this week—Spanish television. Spanish is just one of fourteen languages Dr. Jeremiah's teaching is being translated into at this time. Airing Momento Decisivo Television in Spanish will not only reach a domestic audience of 41 million people, but it has the potential to reach more than 559 million Spanish-speaking individuals worldwide. Please pray that God will move mountains and make a way in Spanish media for Momento Decisivo Television to flood the airwaves with sound Bible teaching for this language group.
September 18 - 24
Echoing HIS Voice This Fall
Please pray with us as Dr. Jeremiah brings the voice of Jesus to a world reeling in deception. In the intense chatter of political, spiritual, and global conversations centered on the condition of the world, we need to know the biblical connection to the events unfolding all around us. Dr. Jeremiah begins his new television series, The World of the End: How Jesus' Prophecy Shapes Our Priorities, this week—answering the concerns of our day with HIS VOICE so that all who watch will discover the hope Jesus brings to the world of the end! Let's pray millions are reached with this inspirational message.
September 25 - October 1
A Prayer of Promises
"Father, Your promises are abundant. They give me strength. I can count on You! Thank You for the help You provide each day. You are indeed my strength. I have called on You many times, and You have never failed me. When I am weak, I feel Your strength. When I am afraid, I feel Your power. When faced with unsurmountable circumstances, You make a way. When I am in need, You provide. When I have doubt, You prove yourself tenfold. And in the face of new obstacles, You remind me of Your unfailing love and faithfulness. So today, I claim the promises You so generously have given me. In this world of uncertainty, may I step into the certainty of Your promises. Amen."
October 2 - 8
Pray for Revival!
In this day of turmoil, who should you be listening to? As a Christian, you need to hear One Voice above all others: the voice of Jesus Christ. You and Dr. David Jeremiah, together, will proclaim His message in His Voice this month on Turning Point Radio, as our new series, The World of the End, begins. This teaching lays out priorities for believers in an era of heightened deception and confusion. It also serves as a wake-up call to comprehend the urgency of our time and the importance of reaching souls for Christ. Jesus warned of deception in the Last Days—that there would be war, strife, and persecution. We seem to be living in that age. Please pray that God will use The World of the End to bring revival to all those who hear this message.
October 9 - 15
"His Voice! Our Voice!" Rallies
Your prayers are critically important this week as we begin a four-city outreach tour. Dr. David Jeremiah felt called to minister to the cities of Raleigh, NC, Orlando, FL, Greenville, SC, and Buffalo, NY, through live arena events this fall. Together, let's ask God to move mountains so many souls will come to Christ! Pray that all who attend will be challenged to make "His Voice! Our Voice!" and keep His Voice front and center in the culture's conversation about the state of the world and our future. May these citywide outreaches be a night of encouragement and inspiration, igniting the hearts of all who are present to reach others in their community with the Gospel.
October 16 - 22
Pray to Reach the World
"Dear Father, may we seek Your wisdom, Your grace, Your direction, and Your strength as we work to reach the world with the Gospel in their own languages. We pray that every woman, man, girl, and boy would hear the message of Jesus Christ—His love for us, His forgiveness, and His grace. Empower us with Your strength and wisdom as we strive to deliver the unchanging Word of God to an ever-changing world. May this world be transformed by the Word of God and may we all live in the hope of Your soon return! Amen.&rduo;
October 23 - 29
Pray for Growth
By God's grace and thanks to your prayers and generosity, Turning Point is growing. What a joy to increase our reach into the world together through preaching, teaching, and creative evangelism! We praise God for His favor and thank you for your partnership! As Turning Point grows, we want to continue to step into each opportunity God places before us and wisely steward these blessings. Would you pray that God continues to supply our needs according to His riches? He has moved so many mountains when we thought there was no way over, under, or around them—and many have been financial obstacles. As we grow, the financial demands grow as well. But we know God will be faithful as He has been over the last forty years of ministry. Please keep praying!
October 30 - November 5
Pray for Our Children
God has given Turning Point a burden for the next generation! Please pray with us this week for the boys and girls and young adults we're reaching together with Bible Strong teaching. These children and teens are being bombarded with the mixed messages of our culture and need Bible messaging to connect with God throughout their lives. We believe we could lose the next generation of young people to the world if we are not vigilant in providing compelling Bible programming and materials for these age groups. Through Turning Point's Airship Genesis for kids and Passages for young adults, your faithfulness is helping to bring His Voice into the world of next generation media. Please take a moment each day this week to pray for Turning Point's efforts to reach our kids for Christ!
November 6 - 12
Pray for Our Nation
"Father, we know that if we as Your people, who are called by Your Name, humble ourselves and pray and seek Your face—turning from our wicked ways—You will hear us from heaven, forgive us of our sin, and heal our land. God, heal our land! Have Your hand over the hearts of our people as we approach a critical time in history. We pray for our nation. We pray for her citizens. We pray that we would seek Your face. We put our trust in You. Father, may we be a radiant reflection of Your love and grace in all that we do and say, knowing that You are in our tomorrow and the future is in Your control. Amen.&rduo;
November 13 - 19
Pray for Our Turning Point Staff
It takes Dr. Jeremiah, faithful friends like you, and more than 280 hard-working individuals on staff to keep this ministry moving forward. As Turning Point continues to grow, God brings us gifted and dedicated staff to create, oversee, and manage all areas of our worldwide ministry. Right now, our team is moving into the hectic pace of year-end broadcast—and your prayers for their strength would be a tremendous encouragement. Please dedicate a time each day this week to pray for our staff. Ask God for good health, sharpness of mind, keen stewardship, unbridled creativity, and sensitivity to the Holy Spirit's leading in all we do. This has been an unprecedented year in ministry, and the demands of stepping into these opportunities have been great. So, pray for God's hand on the life of each of our Turning Point staff members. Thank you!
November 20 - 26
A Prayer of Gratitude
"Father, all I have comes from You. I know joy because of Your love. I know grace because of Your forgiveness. I know peace because of Your promises. I know hope because of Your imminent return. All I have, all I am, and all I've accomplished is because of You. Thank You for what You have done for me—what You continue to do in my life—what You are about to do for me! I stand in awe of Your blessings, firmly grounded in gratitude for the ways You care for me. I love You. Thank You!&rduo;
November 27 - December 3
Keeping Christ in Christmas
God has certainly moved mountains to bring Why the Nativity? to the world this year! Overcoming obstacles including COVID-19, labor and supply shortages, and skyrocketing cost of materials, God enabled Turning Point to leap over many hurdles to place the Nativity front and center at this Christmas season. Please pray for God's power to work through this film as we release Dr. Jeremiah's thought-provoking docudrama on the birth of Jesus Christ this week! Our goal is to encourage and inspire a world who longs to celebrate God's greatest Gift, but also reach those who may not yet know Jesus. May many come to know the Prince of Peace through this evangelistic outreach!
Thanks to your gift today...
someone will find Christ
through our daytime television broadcast...
or a young person
will fall in love with God's Word
through our new PASSAGES generational outreach.
Promises. Power. Peace. Imagine how different someone's life can become, when they see God clearly! This is the potential of our fall season of ministry together, for you, and others. Please take part. Give generously. Follow your gift with prayer. Let's see what God will do—in us and through us!
Thank you in advance for standing with me and with Turning Point in this ministry. I look forward to receiving your gift and prayer support. It will be exciting to see how God answers our prayers and multiplies your donation.
God bless you,
David Jeremiah
The Lord will give strength to His people.
The Lord will bless His people with peace.
Psalm 29: 11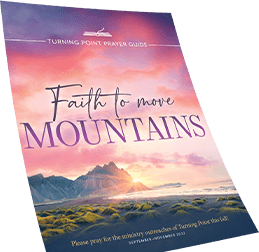 Download the Prayer Guide

And Pray with us each Week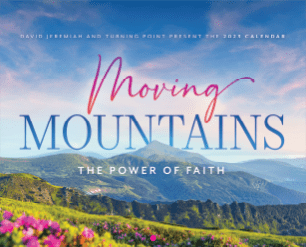 Support Turning Point

With a Generous Gift
Receive the 2023 calendar with a gift of support today.