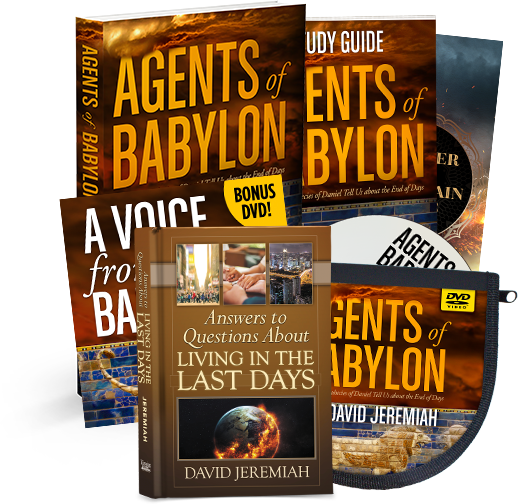 David Jeremiah explains the prophecies of Daniel and what they reveal about the end of days.
The spirit of the End Times, or "Babylon," is alive like never before.
Throughout history, Babylon has been a symbol of the world's worst evils—extreme decadence, infinite cruelty, ravenous power, and implacable contention against God. And nowhere in the Bible do we find a more vivid picture of the malevolent nature of Babylon than the book of Daniel.
Teeming with prophetic markers and visions—many of which have already been fulfilled—the parallels between the world described in Daniel and the world we are living in today are positively staggering.
Daniel's dark prophetic visions loom close on the horizon.
Discover what these prophecies mean for you with the Agents of Babylon set as your guide.
This powerful prophecy study set includes:
Dr. David Jeremiah's new book Answers to Questions About Living in the Last Days
Dr. David Jeremiah's book Agents of Babylon
Agents of Babylon correlating study guide (144 pages) with application questions, "Did You Know?" section, and study guide content from David Jeremiah
Twelve Agents of Babylon messages on audio CD or DVD
A Voice from Babylon bonus DVD containing the creative opens from each of the television episodes plus a spiritual application from David Jeremiah
A Prayer for Uncertain Times bookmark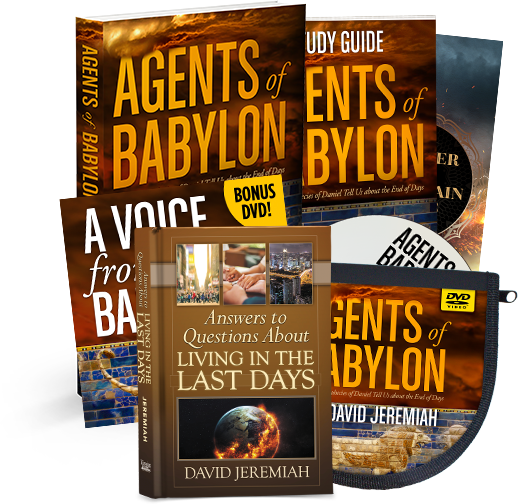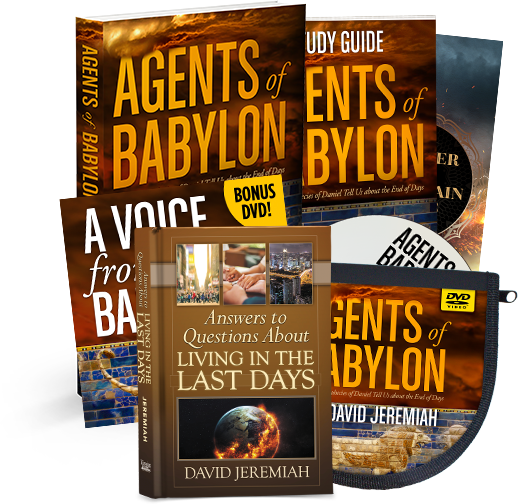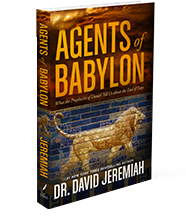 With Your gift of any amount
Agents of Babylon Book
You'll Receive:
• A hardcover edition of Agents of Babylon, 361 pages
Request Your Book

With a Generous Gift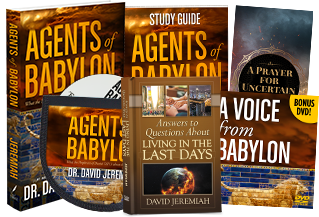 WITH YOUR gift of CAD $100 OR MORE
Answers to Questions About Living in the Last Days
PLUS
Agents of Babylon Audio CD Set
You'll Receive:
• A hardcover edition of Answers to Questions About Living in the Last Days, 210 pages
• A hardcover edition of Agents of Babylon, 361 pages
• The correlating study guide, 144 pages
• Twelve Agents of Babylon messages on audio CD
• A Voice From Babylon bonus DVD containing the creative opens from each of the television episodes plus a spiritual application from David Jeremiah
• A Prayer for Uncertain Times Bookmark
Request Your CD Set

With a gift of CAD $100 or More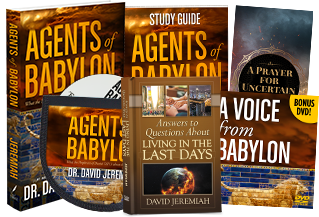 WITH YOUR gift of CAD $100 OR MORE
Answers to Questions About Living in the Last Days
PLUS
Agents of Babylon DVD Set
You'll Receive:
• A hardcover edition of Answers to Questions About Living in the Last Days, 210 pages
• A hardcover edition of Agents of Babylon, 361 pages
• The correlating study guide, 144 pages
• Twelve Agents of Babylon messages on DVD
• A Voice From Babylon bonus DVD containing the creative opens from each of the television episodes plus a spiritual application from David Jeremiah
• A Prayer for Uncertain Times Bookmark
Request Your DVD Set

With a gift of CAD $100 or More