View: Prayer Guide | Dr. Jeremiah's Letter
Switch on the lights.
Grab your glasses.
Clear the fog.
It's time to see God clearly.
Too many Christians are living an under-lit, under-focused, under-powered life. This fall, I am committing the resources of Turning Point to changing that.
It is time for us as God's people to see Him more clearly than ever before.
This is the season to claim His promises!
The Lord has made commitments to us. We have His Word on it. He promises strength and comfort and provision—yet many believers live in weakness, as if they were on their own, without a Heavenly Father watching over them and providing for them. Let this season be a season of confidence.
This is the season to reclaim His power!
God raised Jesus from the dead—and that same Resurrection power is offered to us today. The power of the Holy Spirit is available to us, to work in us and through us. We do not have to be slaves to temptation, or fret about our problems, or shrink from new challenges. Let this be a season of victory!
This is the season to proclaim His peace!
In the chaos and uncertainty of the world, many Christians are battling fear and frustration—seemingly forgetting that God is in control. Christians should be the most peace-filled people on the planet. In today's culture of anger, let's deliver a message of love and joy. Let this be a season of serenity.
The Old Testament tells us that Joseph was betrayed by his brothers, his master's wife, and his friends. This man could have allowed his circumstances to cloud his view of God, yet he saw God clearly. He understood that God had arranged everything for good. He claimed God's promises. He reclaimed God's power. He proclaimed God's peace.
Let's do likewise.
View: Prayer Guide | Dr. Jeremiah's Letter
Pray for Turning Point and for the millions we will reach together in this crucial fall season of ministry
this week's prayer:
December 15 - 21
Baby Watch
Please ask a special blessing on Dr. Jeremiah's radio teaching this Christmas season celebrating the birth of Jesus. December can be an emotionally difficult time for many who are celebrating the season without friends or loved ones around. May the Reason for the Season be the best Christmas gift ever delivered through the television and radio ministry of Turning Point!
by God's grace,
Turning Point is positioned to
multiply the impact of your gift as never before—
through a more extensive broadcast network,
a robust digital presence, greater reach into
parts of the world where Christians are persecuted,
and more effective means of reaching
every age group.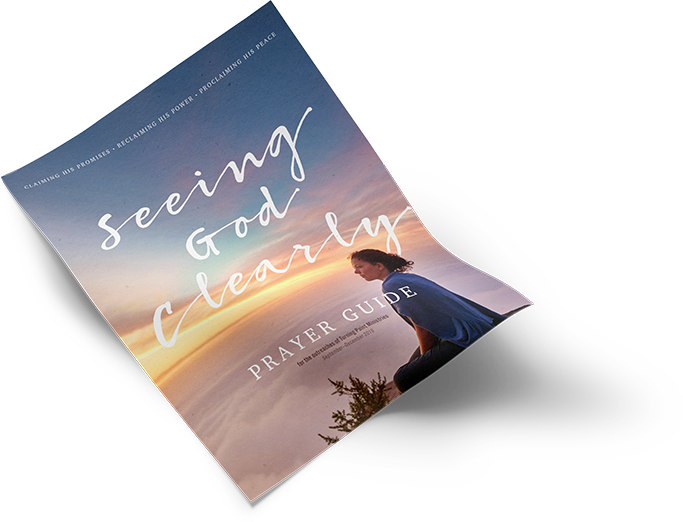 Let's take hold of what God has for us. Stand with me in focused prayer between now and Christmas. For the next eighteen weeks, let's pray and work and believe together, asking God to move in us and through us as never before.
I want this for you—and with all my heart, I want this for the multitudes of people around the world who are still missing out.
Your prayers and financial contributions will be a part of something HUGE that God is planning for this fall season!
Lost people need the Lord.
Believers need to be encouraged and emboldened.
Turning Point will point the way.
I urge your to be a part of it all, in two key ways...
1. Please support this ministry campaign in prayer.
Download and print the Seeing God Clearly Prayer Guide. Place it in your Bible, on your desk, or near your computer—anyplace where you will see it often. Let it inspire you to see God clearly in your life and in our world.
2. Please give a generous gift today to help us produce these eighteen critical weeks of television and radio broadcasts, online outreaches, resources, events, and more.
I want to thank you for your generosity, and bless you, by sending you our exclusive 2020 Turning Point calendar: Clearly God. Each year, it is one of Turning Point's most popular resources, and supplies are limited. As you send your most generous gift possible, I urge you to request yours today.
Complete Prayer Schedule:
August 26 - September 7
Seeing God Clearly
"Dear Lord, we want to see You clearly! We want to see You working on our behalf in all things, both good and bad, so we can claim Your promises, reclaim Your power, and proclaim Your peace in our lives. And Father, we pray that the world may see You more clearly through us, and we clearly see the world as You do! Move clearly in our lives this fall. Amen."
September 8 - 14
Launch of Turning Point Television Series Everything You Need
It's time to unpack all God has given you! Dr. Jeremiah reminds us of the exceedingly great and precious promises God has given us and examines the tools we have to unleash their power in our lives. We are asking for a great revival, both domestically and internationally, during this 12–week presentation! Thank you for making this a matter of prayer this week.
September 15 - 21
Claim Week!
"God, You have given me an abundance of promises! It is time I take ownership of those promises by claiming their purpose and power. This week let me seek to discover more about Your promises and how to claim them, own them, and live them out. Reacquaint us with the Word and let us claim the grace You want us to experience, claim the freedom You want us to know, and claim the life You want us to live in Jesus Christ. I claim all You have sacrificed to give me. I claim all that You committed to provide for me. I claim Your promises!"
September 22 - 28
Preparing for radio series launch of Everything You Need
Would you join with us in prayer this week as we ask God to prepare the hearts of millions who will hear this teaching from 2 Peter in October? We are asking God's blessings on Turning Point's radio outreach as we air each of the 22 programs (a total of 7,000 times in the USA alone, in addition to many thousands around the world) during the month of October. Our prayer is that souls will be saved, dedicated, and rededicated to the Lord!
September 29 - October 5
Everything You Need Tour Week 1
Here we go! We begin a ten-day, four-city ministry tour with the Everything You Need message! Please pray for Dr. Jeremiah and the Turning Point staff as we minister to thousands on Tuesday in Orlando, FL, and Thursday in Macon, GA. Please pray this week for all who will attend these live revival events—that they will be blessed by the worship, encouraged by the fellowship, and strengthened by the teaching of the Word.
October 6 - 12
Everything You Need Tour Week 2
We've been on the road for almost a week. Two cities to go—many thousands of people who need the Everything You Need message! Please lift up the communities of Charlotte, NC, and Columbus, OH. Please pray that those without Christ will come to know Him as Savior, and that the Body of Christ will be strengthened and renewed!
October 13 - 19
Reclaim Week
"Lord, let Your children reclaim all that You have given them. Let us reclaim the power granted us through the Holy Spirit. Reclaim Your power through the spiritual gifts we possess. Reclaim your power that we may be used of God to change the world. Reclaim all, to live as You would have us live!"
October 20 - 26
Multi-Generational Teaching for Kids!
Our children's Bible teaching channel, Airship Genesis, is thrilled to participate this fall in the multi-generational study of 2 Peter 1. Joining with Dr. Jeremiah's Everything You Need book and teaching, and the online messaging of PASSAGES for young adults, Airship Genesis releases a chapter book for kids, The Secrets of Rocket Cove, this month. Starring the Genesis Exploration Squad, this book teaches children Bible truths wrapped in fun and adventure. Check out AirshipGenesis.com.
October 27 - November 2
Reaching Out to Those Who Need Comfort
Unexpected circumstances in life can be devastating. This week Dr. Jeremiah begins his radio teaching series, When Your World Falls Apart. Please ask God to bless the wide net of radio broadcasting we've planned. Speaking from his own "bend in the road" experience, Dr. Jeremiah will show people how they can see past the pain of the present. Please pray that souls will come to know Christ as they move from despair to victory through the teaching of God's Word.
November 3 - 9
Prayer for the World:
"Dear Father, may we seek Your wisdom, Your grace, Your direction, and Your strength. We pray that every woman, man, girl, and boy would hear the message of Jesus Christ—Your love for us, Your forgiveness, and Your grace. May all who preach the Gospel be especially blessed and protected by You. May this world be transformed by the Word of God, and may we all live in peace as we await Your return! Amen."
November 10 - 16
JSB Turning Point Bible Week!
This week we continue to dedicate our ministry to sound Bible teaching and solid Bible study. To deliver the unchanging Word of God to an ever-changing world is at the core of all we do, whether delivered on radio, television, CDs, DVDs, digitally, at live events, or through The Jeremiah Study Bible. Pray we stay faithful to sound Bible teaching and resources.
November 17 - 23
Proclaiming Week
"Dear Lord, we can do nothing without You. We will not find peace in the world until we look to You. We ask that you empower us to love, to serve, to teach, to pray, and to bring peace to this world. We proclaim the Word of God through Turning Point and throughout the world through solid Bible teaching on radio, television, and digital and print media. As we promise to stay dedicated to the spread of the Gospel, please meet the financial needs of Turning Point Ministries."
November 24 - 30
Prayer of Thanksgiving
"Father, all I have comes from You. I know joy because of Your love. I know grace because of Your forgiveness. I know peace because of Your promises. I know hope because of Your imminent return. All I have, all I am, and all I've accomplished is because of You. Thank You for what You have done for me—what You continue to do in my life—and what You are about to do for me. I love you. Thank you!"
December 1 - 7
25 Days & Ways of Christmas
Another way to reach people during the Christmas season! May the frivolity of Jan & Dan, Gus & Gladys, Phil & Phyllis, Buzz & Blanche, Dwayne & Peanut, and Sky & Meadow—and the sacred Reason for the Season—attract eyes and hearts to our website, YouTube, and social media this week. Our "25 Days & Ways of Christmas" reaches out to those who might otherwise not connect with ministry during the holidays. Some have even come to know Christ as they found Turning Point's ministry presence online. Please ask God's blessings on this seasonal endeavor.
December 8 - 14
Christmas on Broadway in New York City—Christmas Outreach
This week we are taping our Christmas special in New York City, which will air on television and online during Christmas week. Last year, more than 5 million viewers experienced the Gospel message wrapped in a wintry Christmas presentation. We find that so many people are lonely and discouraged during the holiday season, and a Christmas special like this can often be a bridge to the Savior. Please pray God will bless the hard work that comes from creating a "blessed hope" Christmas outreach program.
December 15 - 21
Baby Watch
Please ask a special blessing on Dr. Jeremiah's radio teaching this Christmas season celebrating the birth of Jesus. December can be an emotionally difficult time for many who are celebrating the season without friends or loved ones around. May the Reason for the Season be the best Christmas gift ever delivered through the television and radio ministry of Turning Point!
December 22 - 28
Christmas Prayer
"Father, as the song says, let there be peace on Earth and let it begin with me. As Your Son brought peace to this world, may I be an instrument of peace in my world today—shining Your light in the darkness and proclaiming the love, peace, and joy You give to all who accept Your precious gift—Jesus! Amen."
December 29 - January 4
20/20 Vision for 2020
A new year! New opportunities in ministry! New possibilities to reach out further with the Gospel. Will you covenant to pray for Turning Point as we move into 2020? We are asking God to give us a clear vision into the work He is calling us to do in 2020. We are asking for fresh faith and renewed strength to follow His leading. May His power go before us to make a way for all He's called us to do! Thank you for your partnership in prayer. God bless you!
Thanks to your gift today...
someone will find Christ
through our daytime television broadcast...
or a young person
will fall in love with God's Word
through our new PASSAGES generational outreach.
Promises. Power. Peace. Imagine how different someone's life can become, when they see God clearly! This is the potential of our fall season of ministry together, for you, and others. Please take part. Give generously. Follow your gift with prayer. Let's see what God will do—in us and through us!
Thank you in advance for standing with me and with Turning Point in this ministry. I look forward to receiving your gift and prayer support. It will be exciting to see how God answers our prayers and multiplies your donation.
God bless you,
David Jeremiah
The Lord will give strength to His people.
The Lord will bless His people with peace.
Psalm 29: 11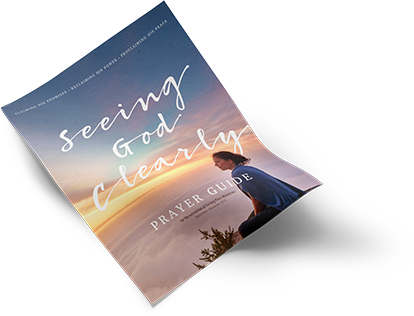 Download the Prayer Guide

And Pray with us each Week