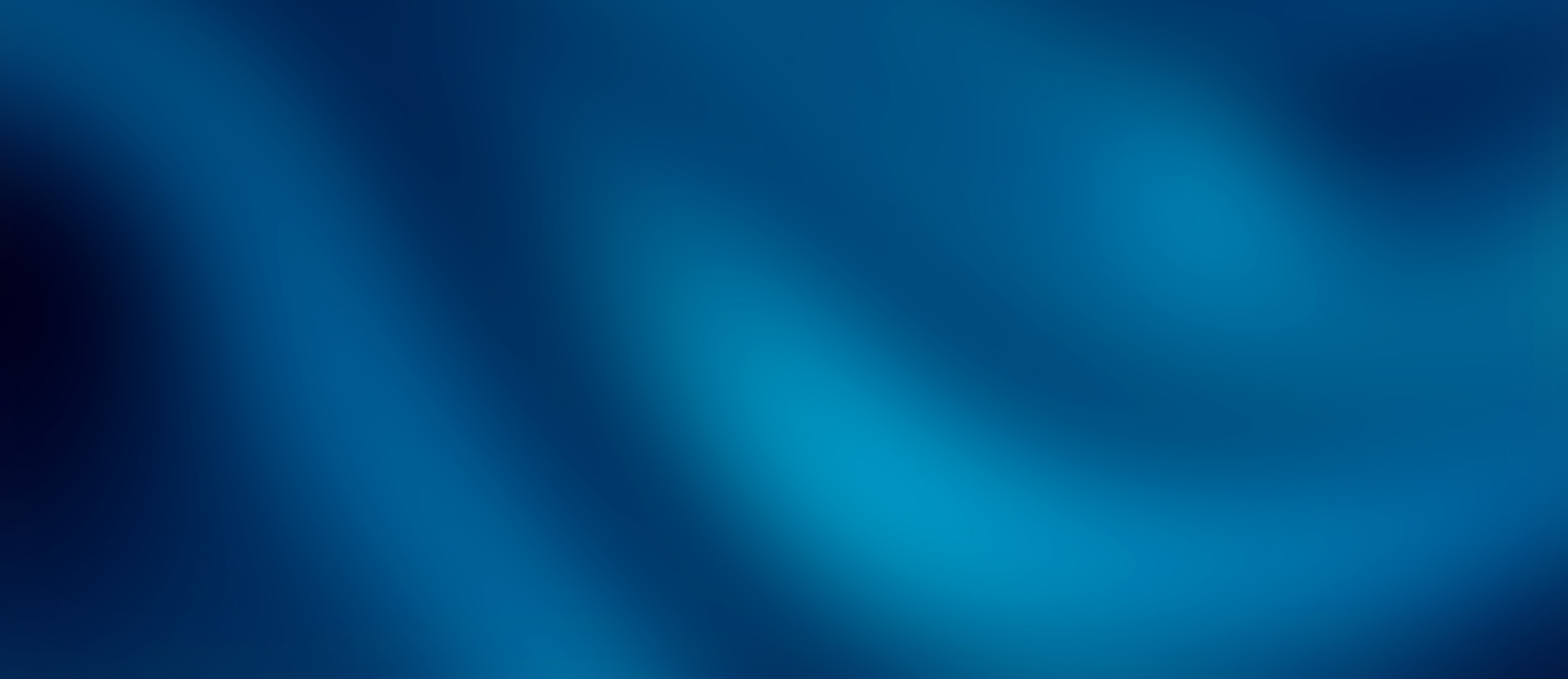 Aired Sunday, September 5
More Than Conquerors
Previously Recorded
The last section of Romans 8 introduces a force strong enough to conquer anything. Are you ready to open your heart to the incredible possibility that whatever is going on in your life, God is more powerful than that? Join Dr. David Jeremiah as he explores the height and depth of God's love.
Play With Audio
Featured on this Broadcast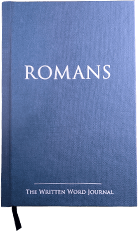 Learn to Study Like Dr. Jeremiah
The Written Word Journal will guide you through the first step of Dr. Jeremiah's Bible study routine—a habit that can help you gain fresh insights into God's Word.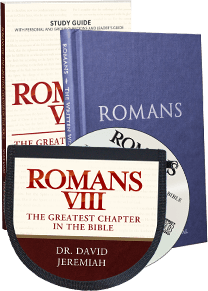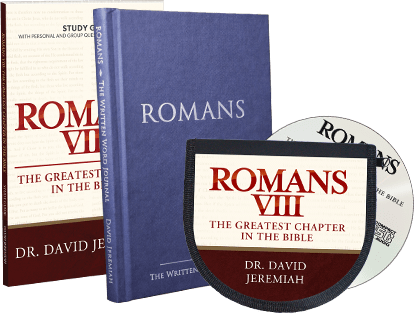 COUNT YOUR SPIRITUAL BLESSINGS
Romans VIII Set
Romans 8 has been called the greatest chapter of the Bible because it cuts through doctrinal details to reveal the profound truth of what it means to be free in Christ. Study this watershed passage with Dr. David Jeremiah's Romans VIII set.
Learn More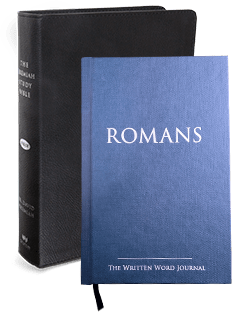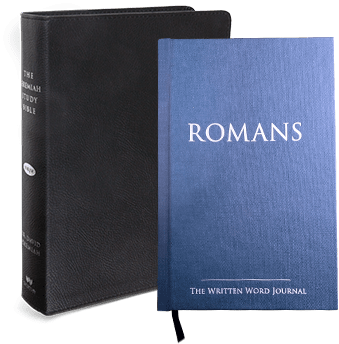 THE WRITTEN WORD JOURNAL
The Jeremiah Study Bible
This set will take you on a journey through the pages of Scripture with David Jeremiah as your guide. With his study notes on every page of the Bible and the journal by your side, you are sure to uncover fresh discoveries about familiar stories.
Learn More
PREORDER DAVID JEREMIAH'S NEW PROPHECY BOOK
Where Do We Go From Here?
Dr. David Jeremiah has long taught that prophetic events cast a shadow before them. But never in our lifetime have world events aligned so closely with end-time prophecies. David believes ten phenomena are happening in our world today that were recorded centuries ago in biblical prophecy.
Perhaps you've read some of David's other books on the end of the world and the return of Christ, but in his words, "I've never written a prophecy book like this one." Each chapter deals with prophetic issues that are as current as the morning news. Along the way, he will show you where we are, what it means, and where we go from here. As you begin to see current events in light of biblical prophecy, you will find renewed hope in our enthroned Savior who knows the way forward.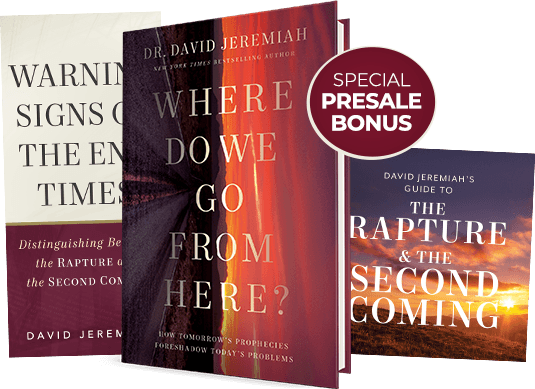 REQUEST YOUR FREE TICKETS
Join David Jeremiah LIVE This Fall!
Come discover the unchanging Word of God and enjoy an exceptional experience delivered in a safe, healthy manner. To ensure your safety, we are working closely with venues and local authorities to follow all health and safety guidelines.
Joining Dr. Jeremiah for this powerful night of ministry are Michael Sanchez, David Michael Jeremiah, and musical guests soon to be announced. Dates and locations for the fall 2021 tour include:
October 5: TAMPA, FL
October 7: JACKSONVILLE, FL
October 26: HOUSTON, TX
October 28: FORT WORTH, TX
Join others from your community at these dynamic events with Dr. David Jeremiah!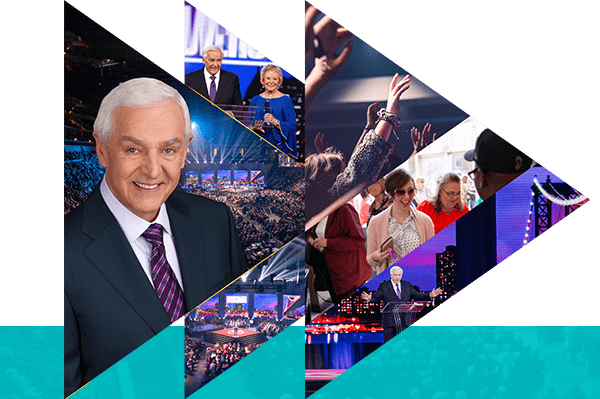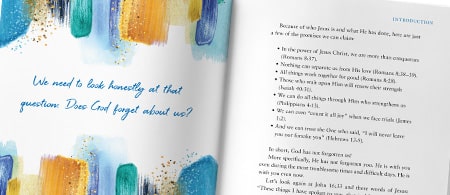 An Excerpt From David Jeremiah's New Book
You Are Not Alone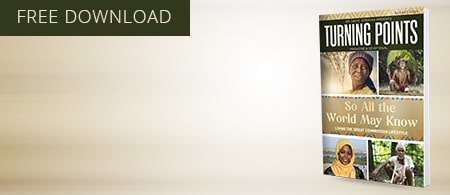 Living the Great Commission Lifestyle
Download the August Edition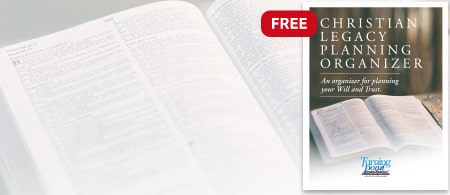 Christian Legacy Planning Organizer
Download Your Free Guide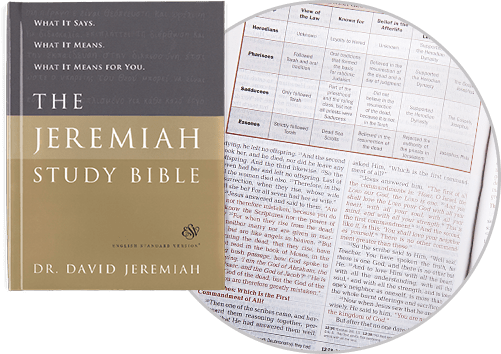 DESIGNED WITH YOUR SPIRITUAL GROWTH IN MIND
Inside The Jeremiah Study Bible
Drawing on more than forty years of study, Dr. David Jeremiah has compiled a legacy resource that will make an eternal impact for generations to come.
It is a great thing when God's Word is set free in a person's life. No one ever stays the same! With that in mind, The Jeremiah Study Bible focuses on three simple things: what the Bible says, what it means, and what it means for you. Comprehensive in scope yet easy to understand, The Jeremiah Study Bible is a 2,200-page, one-of-a-kind study tool designed to help you observe, interpret, and apply God's Word to your life. No matter what subject you are studying, you will find numerous study notes, sidebars, and insightful articles to aid your study.
A Turning Point Exclusive
Watch the Brand-New Interview with David Jeremiah
In his new book, Dr. David Jeremiah invites you to walk more closely with Jesus while opening his heart with detailed information about the dearest Person in his life. Now you can learn more about the book and his new teaching series through this conversation with another dear person in his life—his son and Turning Point COO, David Michael Jeremiah.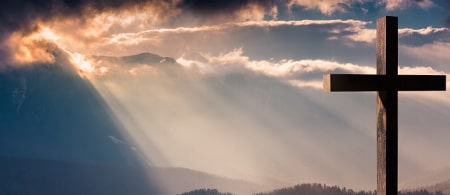 Curious About Christianity?
Learn to Follow Jesus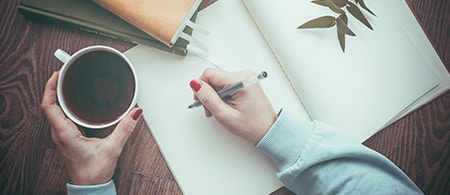 Has God Used Turning Point to Bless You?
Share Your Story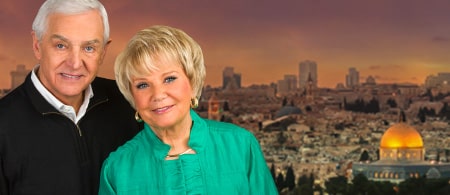 Join David Jeremiah for an Inspirational Vacation
2022 Holy Land Tour
Television Series:
Now Airing
Here are the current teaching series now airing on Turning Point Television. Enter your email address in the box below to receive updates about upcoming broadcasts.
Series Updates »
Please enter a valid email address
You've been successfully signed up!