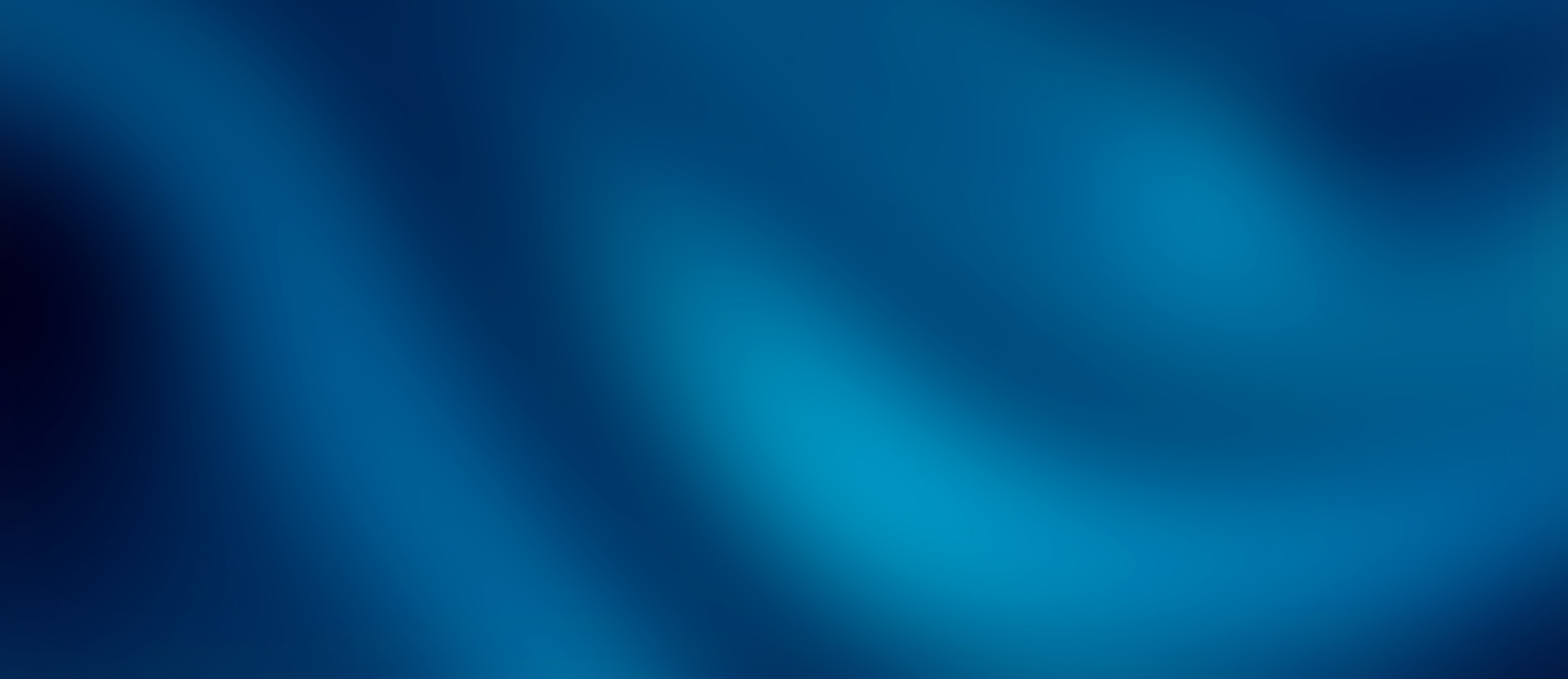 Aired Sunday, September 4
Paul and His Friends
Previously Recorded
You can actually become a better friend by studying other friendships, which may be why Paul included some of his at the end of Colossians. Dr. David Jeremiah considers the lessons learned from each of Paul's friendships found in the closing verses of his epistle.
Play with Audio
Featured on This Broadcast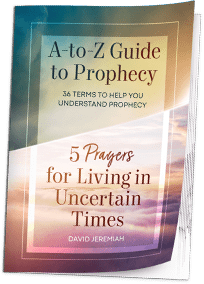 Exclusive Presale Offer!
For a limited time, when you order your copy of David Jeremiah's new prophecy book, The World of the End, you'll receive a special bonus: The A-to-Z Guide to Prophecy!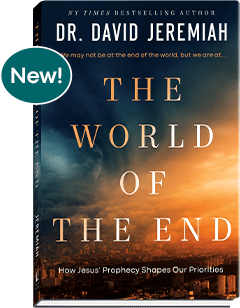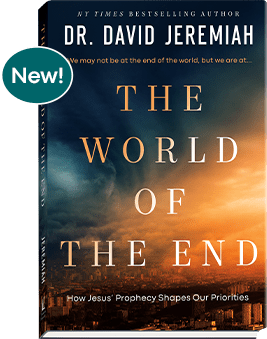 New Prophecy Book by Dr. Jeremiah
The World of the End
We may not be at the end of the world, but we are at the World of the End—a time when Bible prophecy is intersecting with our culture, technology, unhinged morality, and worldwide strife as never before.
Preorder this new resource today and discover how to trust that God is in control and that His plan is still working to completion!
Preorder Now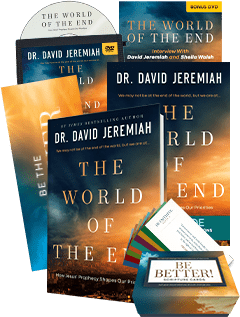 How Jesus' Prophecy Shapes Our Priorities
The Premium Set
With this robust prophecy set, including the new The World of the End book and Be the Answer bookmark, the companion study guide, the entire series of messages on CD or DVD, and 80 custom packaged scripture cards, you will have everything you need to learn how to live your life full of faith even in the midst of the chaos on earth! Plus, by preordering yours today you'll receive The A-to-Z Guide to Prophecy!
Learn More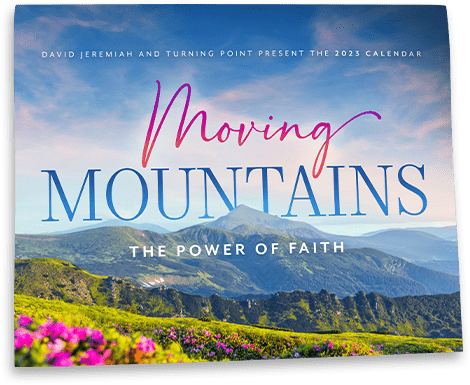 Moving Mountains
Turning Point's Exclusive 2023 Calendar
Our new calendar, Moving Mountains, will help you discover how you can move the obstacles in your life by faith!
With the ongoing chaos and uncertainty in the world today, there are times when even the smallest obstacle may seem like an insurmountable mountain. But we have a mountain-moving God. When we attempt to evade or push through a "mountain" in our life in our own strength, it often remains unmovable—just as large and imposing as before. But even the smallest acts of faith are powerful in the face of adversity and trials.
Make 2023 a year of faith in God and His ability to move the mountains in your life and order this vivid fourteen-month calendar.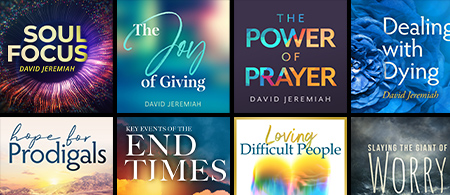 Instant All-New Access To Over 40 Years of Bible Strong Teaching
Now Available on TurningPoint+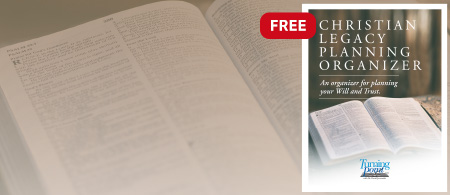 Request Yours Today!
Free Will Planning Guide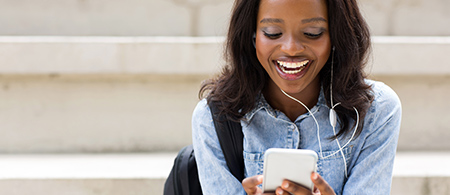 Encouragement delivered to your inbox daily!
Request our FREE e-devotionals
Attend a Free Live Event—Tickets are available Now
An Evening With Dr. Jeremiah LIVE This Fall
With so many voices clamoring for your attention today, who can you trust? There is only One reliable Voice to turn to in times like these—JESUS CHRIST. HIS VOICE is a Voice for every generation, and that will be our theme as we proclaim the Gospel in four cities in America this fall.
Join Dr. Jeremiah for an inspiring evening of life-changing teaching, powerful worship, and special musical guests! Be sure to invite others from your community to join you at this dynamic event!
Raleigh, NC | October 6
Orlando, FL | October 13
Greenville, SC | October 20
Buffalo, NY | November 11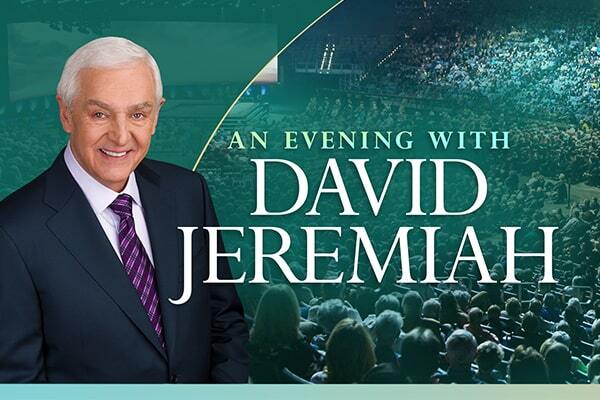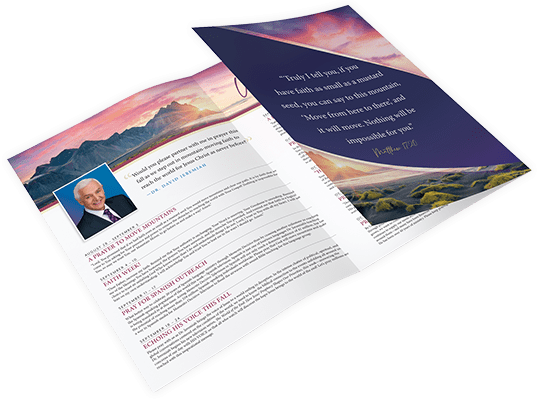 TOGETHER, WE CAN REACH MILLIONS WITH THE GOSPEL
Would You Partner With Us In Prayer?
We invite you to pray with David Jeremiah and thousands of others in our Turning Point family around the world that multitudes will come to know Jesus Christ as Savior this fall. Ask God to help Turning Point reach more people with solid Bible teaching than ever before and that all who seek answers to the tough spiritual questions in life will find biblical answers through Turning Point and all of our outreaches together.
Would you please partner with us in prayer this fall as we step out in mountain-moving faith to reach the world for Jesus Christ as never before? We have compiled a downloadable Turning Point Ministry Prayer Guide to assist you as you go before the throne of God and lift up this critically important season of ministry.
Our Highly Anticipated Christmas Docudrama Moves into Post-Production
Dr. David Jeremiah's Why the Nativity?
Every year, millions of people around the globe celebrate Christmas. But do they understand the profound importance and authenticity of Jesus' birth?
Turning Point is partnering with Christians who have worked with major theme parks and blockbuster films to produce an innovative, cinematic presentation of the most pivotal moment in human history. By combining their visual storytelling with details from both Old and New Testaments, Dr. David Jeremiah will take you on a biblically accurate, Christ-centered, unforgettable journey through the wonders of Christmas.
This groundbreaking presentation of the Nativity will be accessible to millions of households through Turning Point's extensive line-up of television networks and digital platforms—and you can be a part of it! Access exclusive behind-the-scenes updates now on Instagram!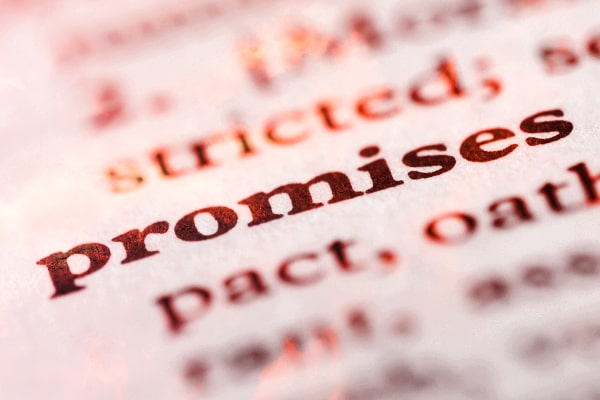 ROCK-SOLID PROMISES FROM THE RISEN SAVIOR
Revelation's 7 Promises to Every Believer
When someone mentions the book of Revelation, what comes to mind? For many, the book conjures thoughts of the end of the world, the Antichrist, and complex symbolism. No doubt, Revelation is a deeply prophetic book that gives us the most comprehensive image of the Last Days anywhere in Scripture. Still, there is much more to it than apocalyptic imagery. Revelation is filled with promises from start to finish, and it is the only book that promises a special blessing for those who read it (Revelation1:3; 22:7).
Revelation contains seven letters from Christ to the seven churches. His words carried direct meaning for those churches, but the warnings and promises apply to every believer. In each one, Jesus declares, He who has an ear let him hear what the Spirit says to the churches.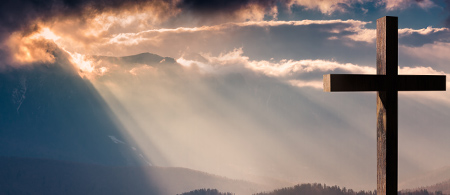 Discover hope—find renewal
How to Become a Christian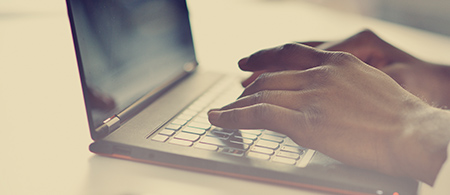 Has Turning Point helped you face uncertainty?
Share your story!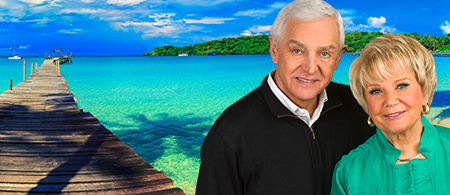 Discover the intersection of relaxation and inspiration
Travel With Turning Point
Television Series:
Now Airing
Here are the current teaching series now airing on Turning Point Television. Enter your email address in the box below to receive updates about upcoming broadcasts.
Series Updates »
Please enter a valid email address
You've been successfully signed up!