Free End–Times Chart Warning Signs of the End Times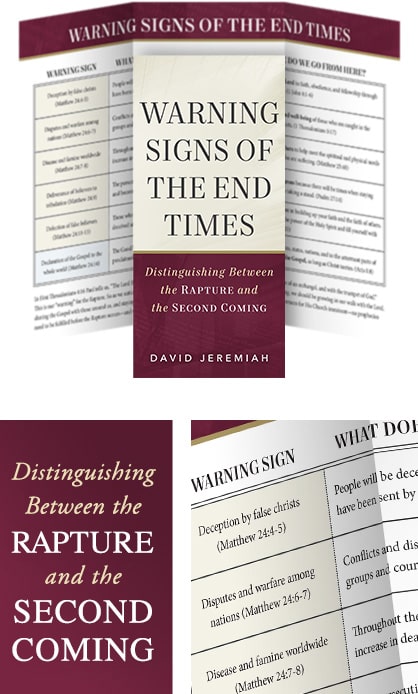 Distinguishing Between the Rapture and the Second Coming
Many people have tried to predict the date of Jesus' return. However, the Bible tells us, "Of that day and hour no one knows, not even the angels of heaven, but [the] Father only" (Matthew 24:36). Even so, we can see the Last Days drawing nearer with every passing second. While we cannot predict when Christ will return, we can "discern the signs of the times" (Matthew 16:3).
Warning Signs of the End Times, a new resource from Dr. David Jeremiah, gives a fascinating overview of the Rapture and the Second Coming. It outlines six signs of the Second Coming that Jesus lists in Matthew 24. Plus, it explains what the warnings mean and suggests practical ways we can live in light of them.
Request your free end-times chart today!
Thank you for your faithful support of Turning Point's God-given mission: Delivering the unchanging Word of God to an ever-changing world.
Thank You
Your complimentary Warning Signs of the End Times Chart is being prepared for shipment! If you have any questions about your order, contact us at:
(877) 998-0222
or
Living in the Age of Signs Set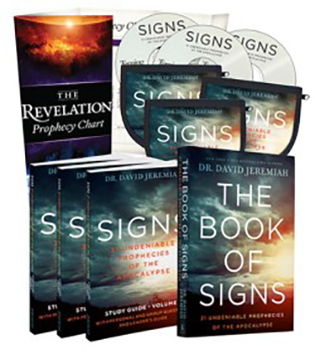 What does the Bible tell us about the future? Prepare for the days ahead with Dr. Jeremiah's Living in the Age of Signs set. In addition to The Book of Signs—his masterwork on biblical prophecy—you will receive three study guide volumes, the complete Signs message series on CD, the prophecy interview with Sheila Walsh, and more!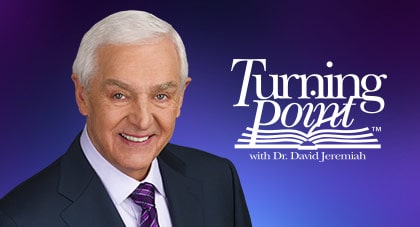 About Dr. David Jeremiah
David Jeremiah has been one of America's most trusted Bible teachers for more than 39 years. Each day he helps millions of people deepen their understanding of the Bible through daily Turning Point Radio and Television programs around the globe.