Today's Devotional:
Jan. 27
Step Off, Step On
An ancient Chinese proverb says, "A journey of a thousand miles begins with a

Send me Dr. Jeremiah's Devotionals
Sign Me Up »
Please enter a valid email address
You've been successfully signed up!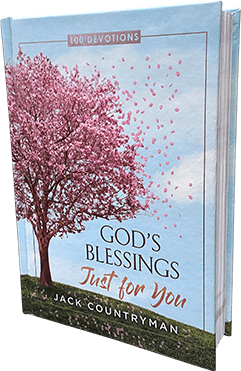 NEW FROM JACK COUNTRYMAN
God's Blessings Just for You
Do you believe God wants to bless you? He does! He wants to shower you with blessings when you walk in obedience to Him. In God's Blessings Just for You, award-winning author Jack Countryman shares one hundred blessings from Scripture, along with thoughtful reflections, to remind us of the many ways God shows His love for us.
Life can feel uncertain. That's why, as God's people, we need to immerse ourselves each day in the unwavering truth of Scripture. Take a deep dive into some of the Bible's most encouraging passages—those filled with hope and promise—with help from this refreshing book. As you study God's promises, you will deepen your relationship with Him and discover the many ways He wants to bless you today and always.
Stand with Turning Point as a Bible Strong Partner
What Are Your Expectations for 2021?
In the past year, our world has turned upside down, but God's Word and His promises never change. No matter what tomorrow may bring, we have a sure foundation of faith that lasts for eternity. In fact, Scripture encourages us to set great expectations! Ephesians 3:20 says, He "is able to do exceedingly abundantly above all that we can ask or think." Because of God's promises, we can expect to see Jesus more clearly, to share our faith, to influence the world, and to unite with other believers who are committed to sharing the Truth.
2021 can be your greatest year with God ever! Expect Him to do "exceedingly abundantly" more this year—in you and through you. Consider joining Turning Point as a Bible Strong Partner.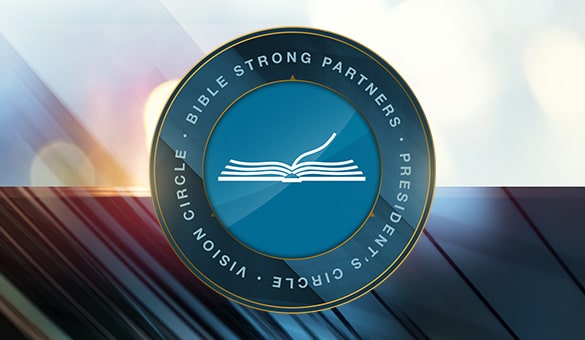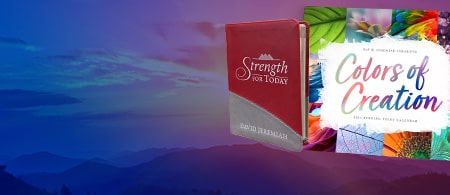 Get Ready to Grow!
Turning Point's 2021 Resolution Set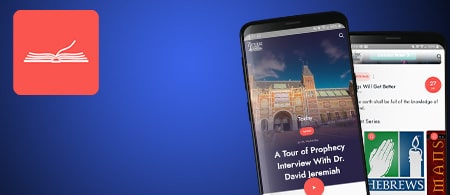 Save Your Data Plan. Avoid Buffering.
Download the Official Turning Point App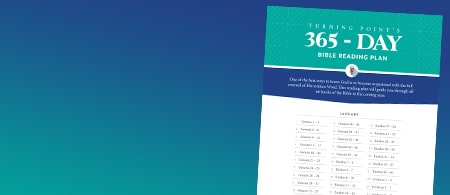 66 Books—365 Days—You Can Do This!
Bible Reading Plan for 2021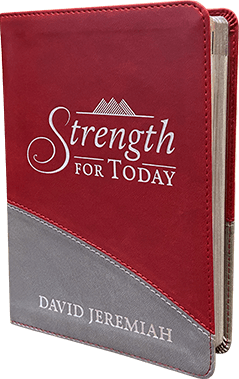 New 365-Day Devotional from Dr. David Jeremiah
Strength for Today
As we turn to the Scriptures and study God's faithfulness to His people in the past, we can see that He never leaves His people without hope. Our hope isn't in the government, the health care system, or even in our jobs. Our hope is in our living and loving Savior who sees us and has compassion on us.
What we need is Strength for Today—and that comes as we draw closer to the Lord through our daily study of His Word, as we attend church with other believers, and we communicate to God through prayer. We are not without hope. We have hope because we know the One who holds the future. Access God's strength and discover hope for the future with Strength for Today!
Request a Subscription with our Compliments
Turning Points Magazine & Devotional
Each month, Turning Point's full-color beautifully illustrated magazine will help you apply the truth of God's Word to your life through articles and devotionals that correspond with David Jeremiah's broadcast ministry.
Inside every issue, you will find:
Daily devotionals
Inspiring articles from David Jeremiah
Important ministry updates
Radio and TV broadcast schedules
There is no charge for a subscription, and
Turning Points
is one of the best ways to stay in touch with the ministry of Dr. David Jeremiah. Begin your complimentary subscription today!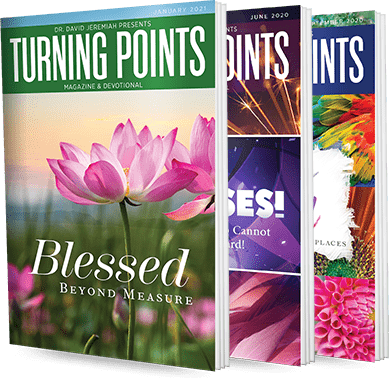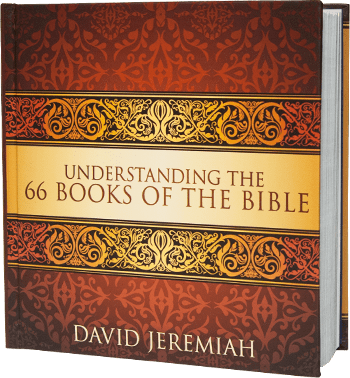 DOES THE THOUGHT OF BIBLE STUDY INTIMIDATE YOU?
Understanding the 66 Books of the Bible
Studying the Bible is a challenge. After all, it's not just one book—it's an entire library of books that were written thousands of years ago! While we have several modern translations available to help us, it can be tricky to recognize themes and understand what Scripture means for us today. That is why David Jeremiah wrote Understanding the 66 Books of the Bible. Let him guide you through the Bible with a key thought, verse, action, and prayer for each book.
Whether you read through the Bible sequentially or bounce from book to book, this guide book will give you a new perspective of God's Word and renewed confidence in your study time.
BENEFITS OF BECOMING A BIBLE STRONG PARTNER
Reap the Rewards of Membership
As an expression of our gratitude, we offer our ministry partners an array of benefits, including:
David Jeremiah's 48-volume digital Bible Strong Living Library
Access to eight exclusive Turning Point Partner Series from our teaching vault each quarter
A complimentary ministry resource and radio series study guide each month
Turning Points monthly devotional magazine
Access to the Bible Strong Partners Facebook page
A 50 percent discount on additional study guides
God's Blessings Just for You by Jack Countryman
The UNCHANGING Bible Strong Bookmark
And for those who simplify their membership with monthly Auto-Giving:
Our custom 2021 Turning Point Notetaker's Journal
Membership benefits start at just $25 a month!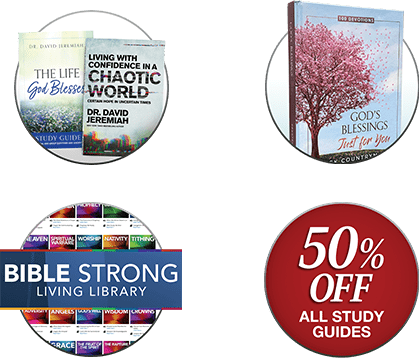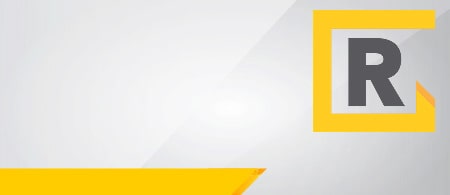 Now Streaming for Bible Strong Partners
Ten Steps to Spiritual Renewal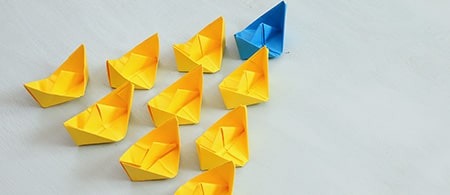 Exclusive Digital Content From Turning Points Magazine
Cure for the Unexamined Life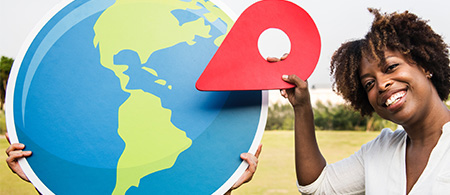 Find Turning Point Radio and Television on a Station Near You
Station Locator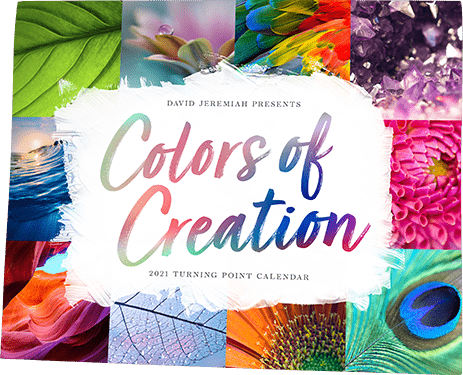 A Turning Point Exclusive
Colors of Creation 2021 Calendar
Teeming with vibrant colors, unique and meticulous features, and a design that only God Himself could create, nature offers us a perspective of God that should be celebrated and enjoyed. Our exclusive 2021 calendar will help turn your thoughts toward your Creator each month in the coming year. Along with stunning images, each month has a special theme and Scripture plus a Bible reading plan that will take you through the entire Bible in 2021.
Step back from the busyness of daily life and focus on the nature and wonders of God with the Colors of Creation calendar.
Fall in Love with God's Word
The Jeremiah Study Bible
This comprehensive Bible is packed with biblical insight and study tools along with straightforward, practical application to bring about authentic transformation in your life. With more than 8,000 study notes, hundreds of sidebars, a topical index, book introductions by David Jeremiah, and much more, The Jeremiah Study Bible will challenge you to live life at a higher level and help you understand what God is saying to you today.
When you get serious about daily Bible study, you'll find that the Word of God will become a lamp unto your feet, a light unto your path, and a map for your soul.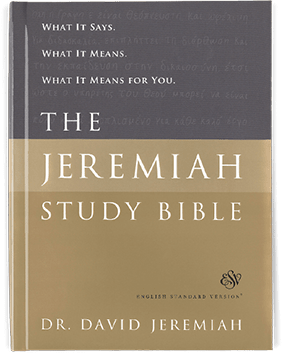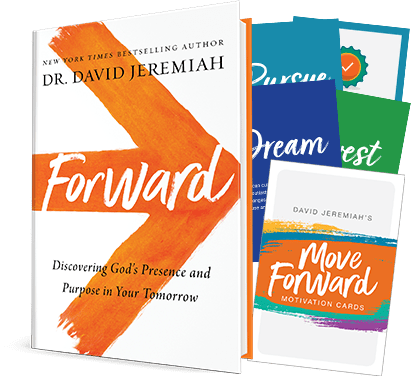 DISCOVER GOD'S PRESENCE AND PURPOSE IN YOUR TOMORROW
Are You Wondering What's Next in Your Life?
Your best days are not behind you! Now more than ever, God is ready to use you, and your greatest moment could be only a step away. It doesn't matter who you are or what your current situation may be—God will strengthen you, fulfill you, and partner with you to accomplish great things in your lifetime.
In Forward, Dr. David Jeremiah outlines the step-by-step action plan you need to move past where you are to where you want to be. No matter what season of life you find yourself in, your brightest day can be just around the corner. Take hold of it! Let go of the past and get out of your rut. It's time to run toward everything God has planned for the next phase of your life.
IT'S WINTER NOW, BUT SUMMER'S COMING!
Join David Jeremiah for an Alaska Cruise Conference
Are you ready for a change of scenery? Here's an opportunity to meet with other Christians and make memories that will last a lifetime!
This summer, escape with us to the pristine wilderness of Alaska. From the deep green Tongass National Forest to snow-capped mountains to humpback whales, the rugged beauty of America's 49th state provides a perfect release from the "new normal." Ports of call include Juneau, Sitka, Ketchikan, Glacier Bay, and Victoria, British Columbia. Michael Sanchez, Uriel Vega, and the Martins will join us as guest artists. And, of course, we'll enjoy the Bible Strong teaching of Dr. David Jeremiah.
Don't miss this once in a lifetime trip! Turning Point's Bible conference cruise sets sail on July 17.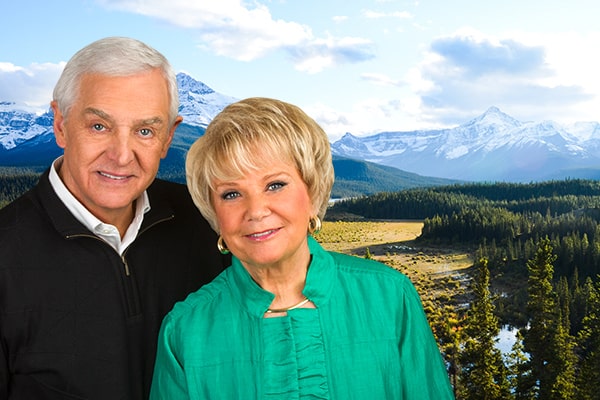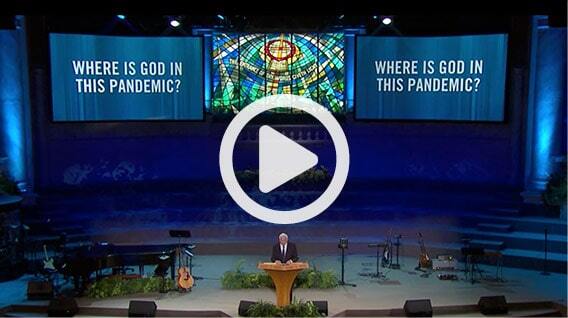 Facing the Coronavirus
Free Resources From David Jeremiah for Facing the Pandemic
Isolated and alone, many people are experiencing overwhelming fear and anxiety as they face an invisible enemy. In response to the coronavirus outbreak, Dr. David Jeremiah has prepared several messages of hope that are straight from God's Word. His goal is to encourage as many people as possible with biblical truth during these unprecedented times, so Turning Point is offering this series for on-demand streaming, free of charge, on our dedicated Facing Coronavirus page. We hope you will be blessed by them and share them with others!
New From Airship Genesis
Invasion of Rocket Cove
Rocket Cove is under attack! When a mysterious ship appears over the Genesis Exploration Squad's hometown, the people of Rocket Cove are thrown into a panic. What is this mysterious ship? Who is piloting it? And what do they want?
When this invading ship starts moving around the town, affecting its residents in strange—and hilarious—ways, the questions only multiply. And just when the squad thinks the worst is over, a giant robot appears! It is up to the Genesis Exploration Squad to solve the mystery and move forward without fear against The Invasion of Rocket Cove.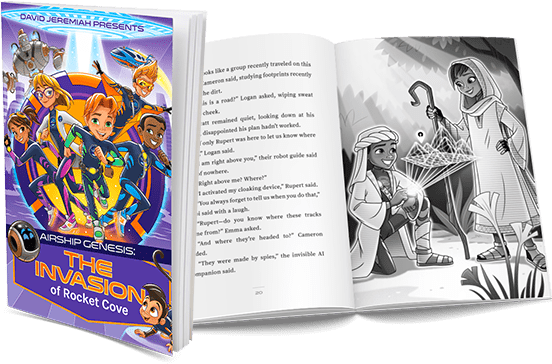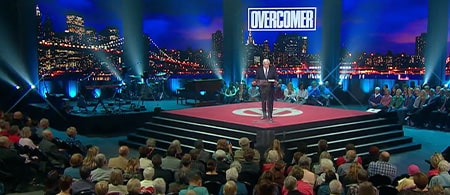 New Episodes on Weekend TV!
Watch Overcomers on Turning Point Television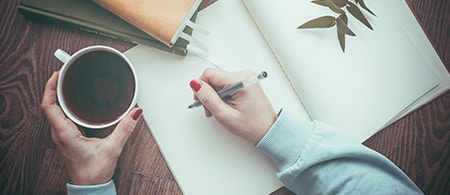 Has Turning Point Helped You Face Adversity?!
Share Your Story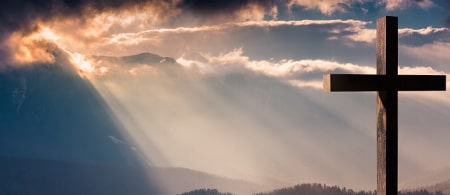 Discover Hope—Find Renewal
Become a Christian
From Dr. David Jeremiah
Tour the Land of the Bible with Dr. David Jeremiah
After leading several trips to the land of the Bible, Israel has become one of my favorite places on earth. Donna and I are excited to return for another Turning Point Israel tour, March 19-29, 2019.
We'll visit historical places like:
Gethsemane
The Sea of Galilee
The Mount of Beatitudes
And more
I'll guide you through these sacred sites and others, teaching God's Word as we retrace our Savior's steps. Imagine seeing the same landscape Jesus saw, being baptized in the Jordan River, or singing at the Garden Tomb in Jerusalem.
These life experiences will change you forever.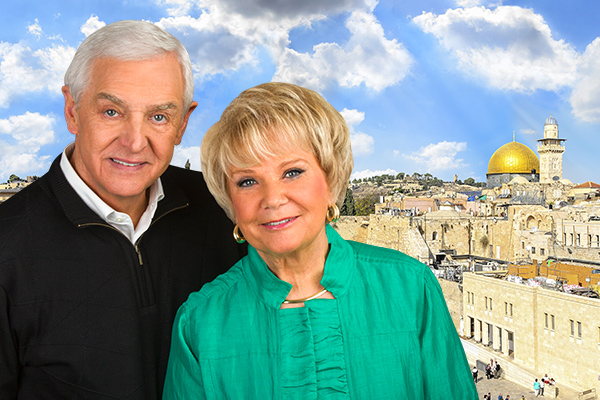 THANK YOU FOR YOUR SUPPORT OF OUR GOD-GIVEN MISSION:
Delivering the unchanging Word of God to an ever-changing world.