Today's Devotional:
Nov. 26
Reasons to Praise
The United States Presidential Medal of Freedom was established by President John F. Kennedy in 1963. It is awarded by Presidents of the United States to persons who have made "an especially meritorious contribution to the security or national interests of the United States, world peace, cultural or other significant public or private endeavors." The award is accompanied by the President's recitation of the recipient's accomplishments and good works.

Send me Dr. Jeremiah's Devotionals
Sign Me Up »
Please enter a valid email address
You've been successfully signed up!
Music, Merriment, Meaning, and More!
Home for Christmas Channel
This year David Jeremiah and Turning Point Ministries want to cut through the confusion and deliver the spirit and message of Christmas to people everywhere, so we are bringing back by popular demand the Home for Christmas channel.
Fill your season with music, carols, pageants, laughter, Scripture, inspirational Bible teaching, and more. You can enjoy these complementary resources on your phone, in your car, at home, or anywhere else you feel needs a little Christmas. No matter who you are, or where you'll celebrate, we hope Home for Christmas will make your spirits bright!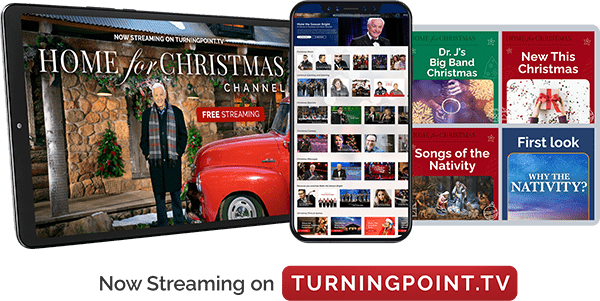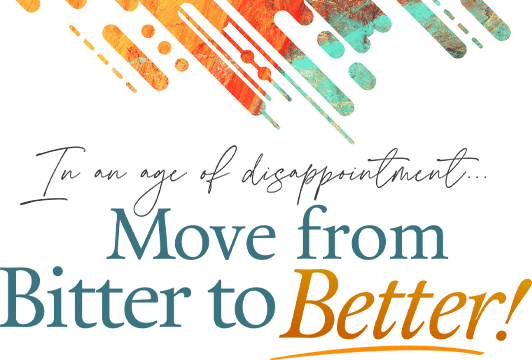 Choose Better Not Bitter!
It's All About Your Perspective...
If life isn't really going the way you want right now...you're not alone.
Consider the biblical story of Joseph—a guy who had more reason than most to be disillusioned and disappointed. And yet...he didn't let his circumstances make him bitter. Instead, he trusted God to use his situation to make him better. Whether he found himself in a pit, prison cell, or palace, he saw his circumstances as a way to be better—to glorify God.
You and I face a similar choice in our lives today. Though our world has certainly not turned out how we might have expected or wanted, we can choose to be bitter about this...or we can choose to be better. Believing the promise of Romans 8:28 makes the difference!
Learn to Study the Bible Like David Jeremiah
Romans: The Written Word Journal
No doubt, you know the value of reading the Bible and listening to it. Perhaps you have even memorized portions of it. But have you ever written it down, word-for-word?
For many years, the first step in Dr. Jeremiah's weekly sermon preparation has included copying the central passage of Scripture word-for-word using pen and paper. This practice is rooted in one of God's commands to the ancient kings of Israel, and it has resulted in immeasurable blessings and insights in Dr. Jeremiah's own study time. Now he has created Romans: The Written Word Journal to guide you through this practice and study God's Word more effectively.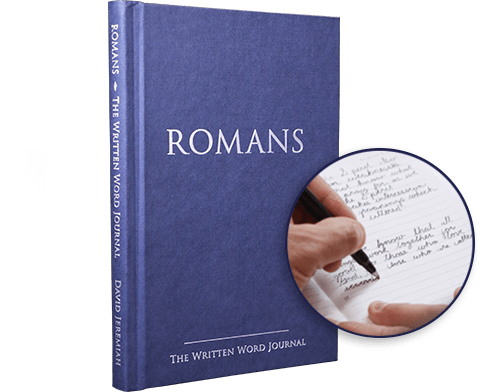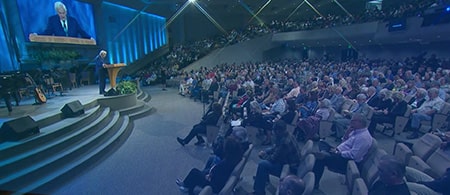 Dr. Jeremiah's Shares his Personal Experience
Learning the Value of the Written Word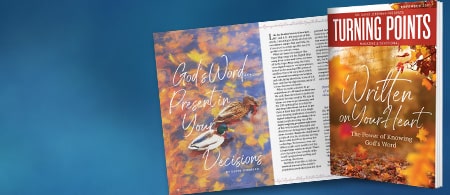 Request Your Complimentary Subscription
Turning Points Magazine & Devotional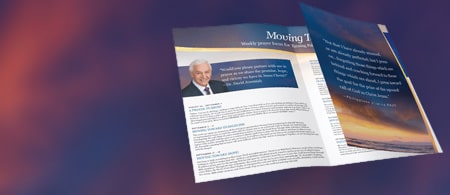 Partner with Turning Point in Prayer
Download the Complete Prayer Guide Today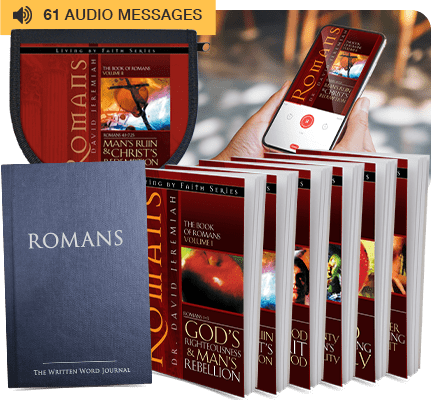 Complete Study of The Book of Romans
The Romans: Living By Faith 6 Volume Set
Dr. David Jeremiah has done an extensive verse-by-verse study on this life-changing epistle that will bring understanding to what is arguably considered the most spiritually and intellectually challenging book in the New Testament.
You can follow Dr. Jeremiah's exposition in its entirety with this six-volume study guide and CD set. In addition, you will be able to write out the entire book of Romans in Romans: The Written Word Journal as you study.
THE NEWEST PROPHECY TEACHING FROM DAVID JEREMIAH
Where Do We Go From Here?
Discover how future prophetic events are already casting their shadow across today's world and culture, leading to many of the problems we are witnessing right outside our doors.
Where Do We Go From Here? is different from any prophecy book that Dr. Jeremiah has written previously. In each of his ten chapters, Dr. Jeremiah explores a prophecy that is playing out in part or in full, linking biblical prophecy with current trends. As you read, you'll discover what exactly is going on, how each topic impacts your life, and—most importantly—what you are to do as a believer and how to navigate each troubling sign playing out in today's world.
Let Dr. Jeremiah be your guide, Bible teacher, and pastor as you thread your way through problems that Jesus predicted—precursors of the Tribulation—and learn how to do the next right thing.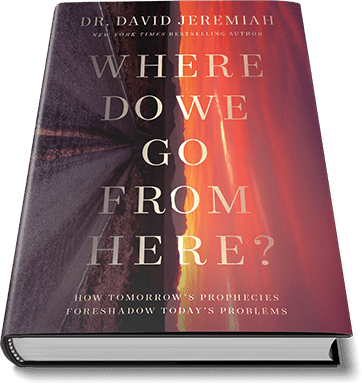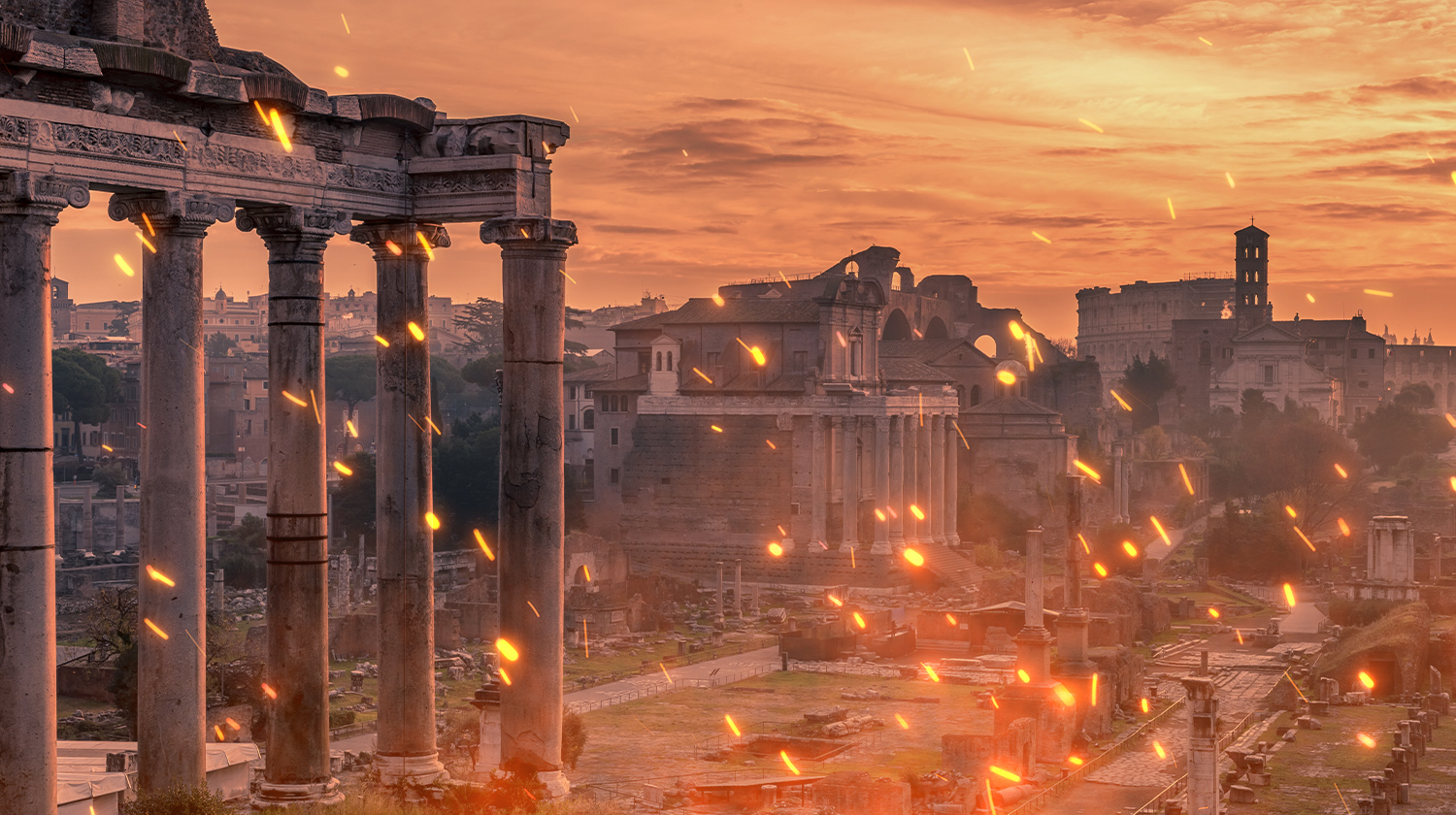 Prophecy Experience
Rome is Rising From the Ashes Just as Scripture Predicted
About 2,500 years ago, the Jewish prophet Daniel received a panoramic revelation from God that revealed the sweep of world history from his day up until a future time when Jesus Christ returns to establish His eternal kingdom. This revelation about the future came in the form of two dreams. One dream is recorded in the second chapter of Daniel, and it is a dream of the Babylonian king Nebuchadnezzar which Daniel interpreted....
Read More
One Message—Many Tools
Where Do We Go From Here? Campaign Home
Where Do We Go From Here? is much more than a book. It is a powerful, worldwide campaign designed to bring prophetic hope to the headline news of our day.
The message and ministry of this teaching take many forms. That's why we've designed a convenient hub for all the great resources you need to get involved in this powerful outreach.
Find radio and television broadcast schedules.
Stream audio and video messages.
Stay connected with regular campaign updates.
And much more!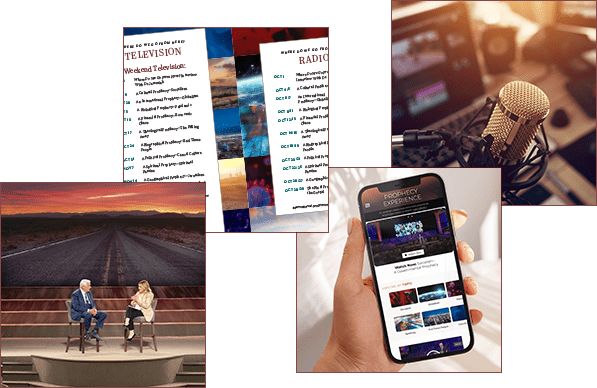 Prophecy Experience
5 Signs You May See Christ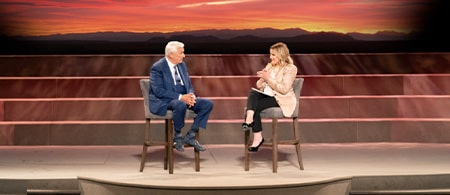 Sheila Walsh and Dr. David Jeremiah
Watch the New Interview
Prophecy Experience
A Socialism True-or-False Quiz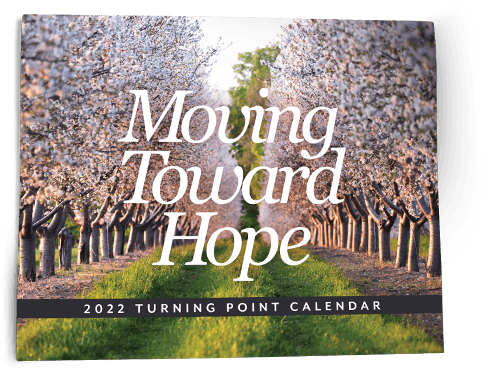 Available for a Limited Time
Turning Point's 2022 Calendar
As time passes, the anxiety caused by unexpected events may slip unforeseen into our daily lives. How do we prevent that from happening? By keeping our thoughts on the unfailing promises of God. Let's begin 2022 by putting the past year behind us and turning toward hope.
This new calendar, Moving Toward Hope, is designed to help you focus on the promises of God. Featuring beautiful panoramas of settings in nature, it will provide an ongoing reminder that no matter what we may face in the world, our hope rests in God. Each month features an inspirational theme and correlating Scripture, as well as a daily Bible reading plan, which will guide you through the entire Bible in the coming year.
From This Point Forward by David Jeremiah
Dedication to the Word
We all need an exciting cause to consume us. Everyone has an inner need to be dedicated.
The word dedication is akin to our English words declare and devote. It comes from a medieval term meaning "to pledge." If you're dedicated to something, you're committed to it wholly and earnestly. You've found something that demands your life, your soul, your all.
For Christians, that cause is Christ and His Word. Evangelist John Wesley said, "I want to know one thing: the way to heaven. God Himself has condescended to teach me the way…. He has written it down in a book. Oh, give me that book! At any price give me the book of God. Let me be a man of one book."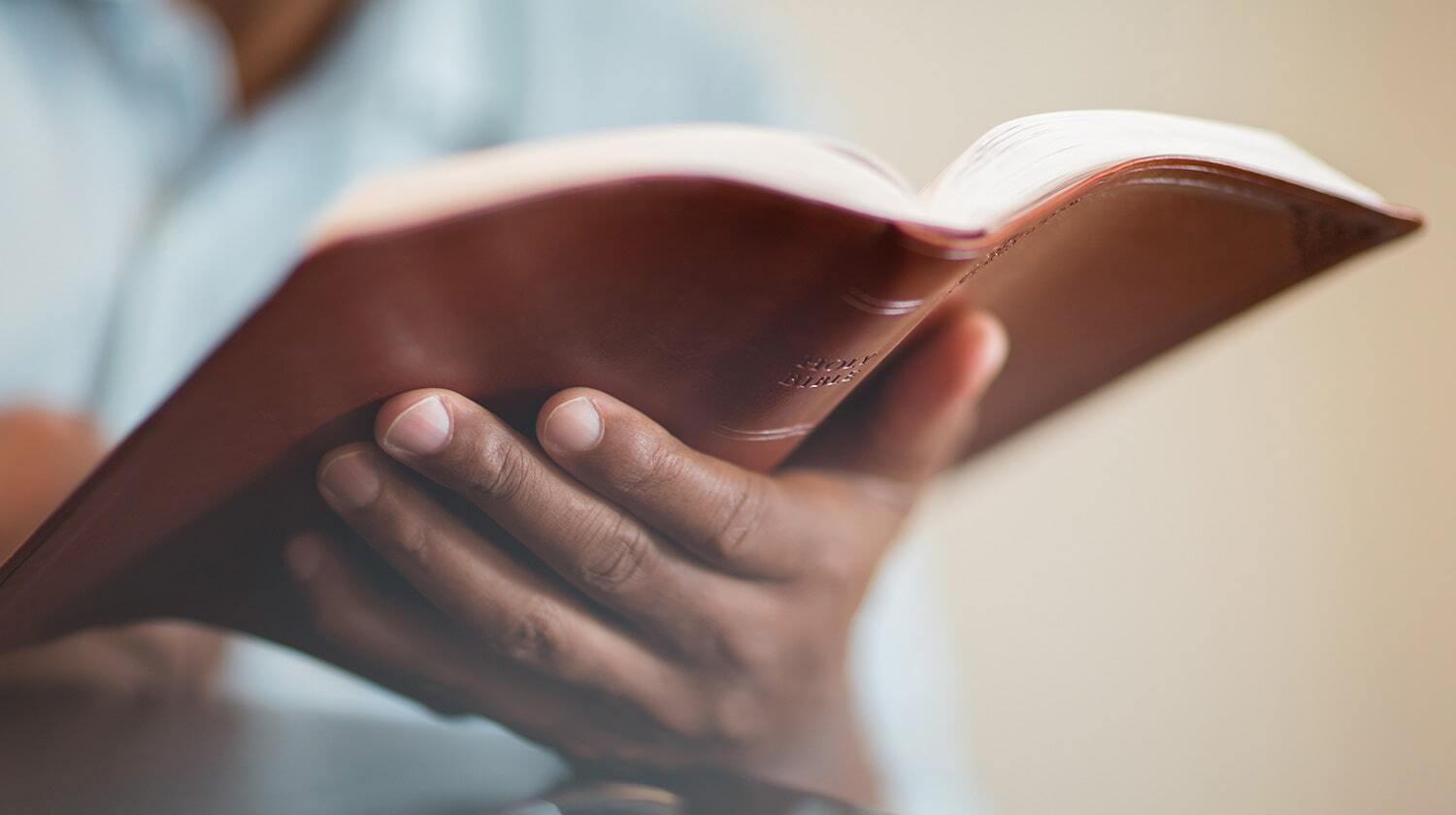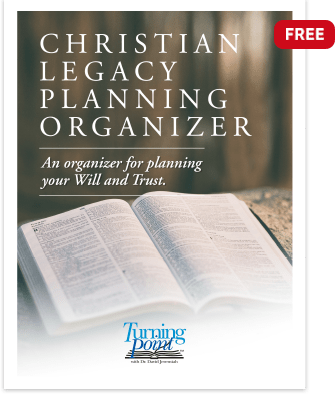 DOWNLOAD YOUR FREE LEGACY-PLANNING GUIDE
Christian Legacy Planning Organizer
We all enjoy planning for our family vacations and getaways with loved ones. However, how many of us spend more time planning a vacation than we do planning for the future? Probably most of us. Why? Because planning for a vacation is fun, exciting, and brimming with anticipation. Planning for our future seems to be a bit different since it can involve fear, confusion, and uncertainty. But, if you plan for your future legacy in an organized way, it can be just as simple as planning for that wonderful vacation that is so exciting. You just need to get started, and we want to help.
Begin the process of making plans that last by downloading your copy of Turning Point's free Christian Legacy Planning Organizer.
Tell Us Your Story
Spread the joy this Christmas
We invite you to share your stories of LAUGHTER, LIVELINESS, and LOVE, and help us spread a little joy this Christmas with a brand-new mini-series, Joy From Around the World, premiering on Turning Point's Home For Christmas Channel this November!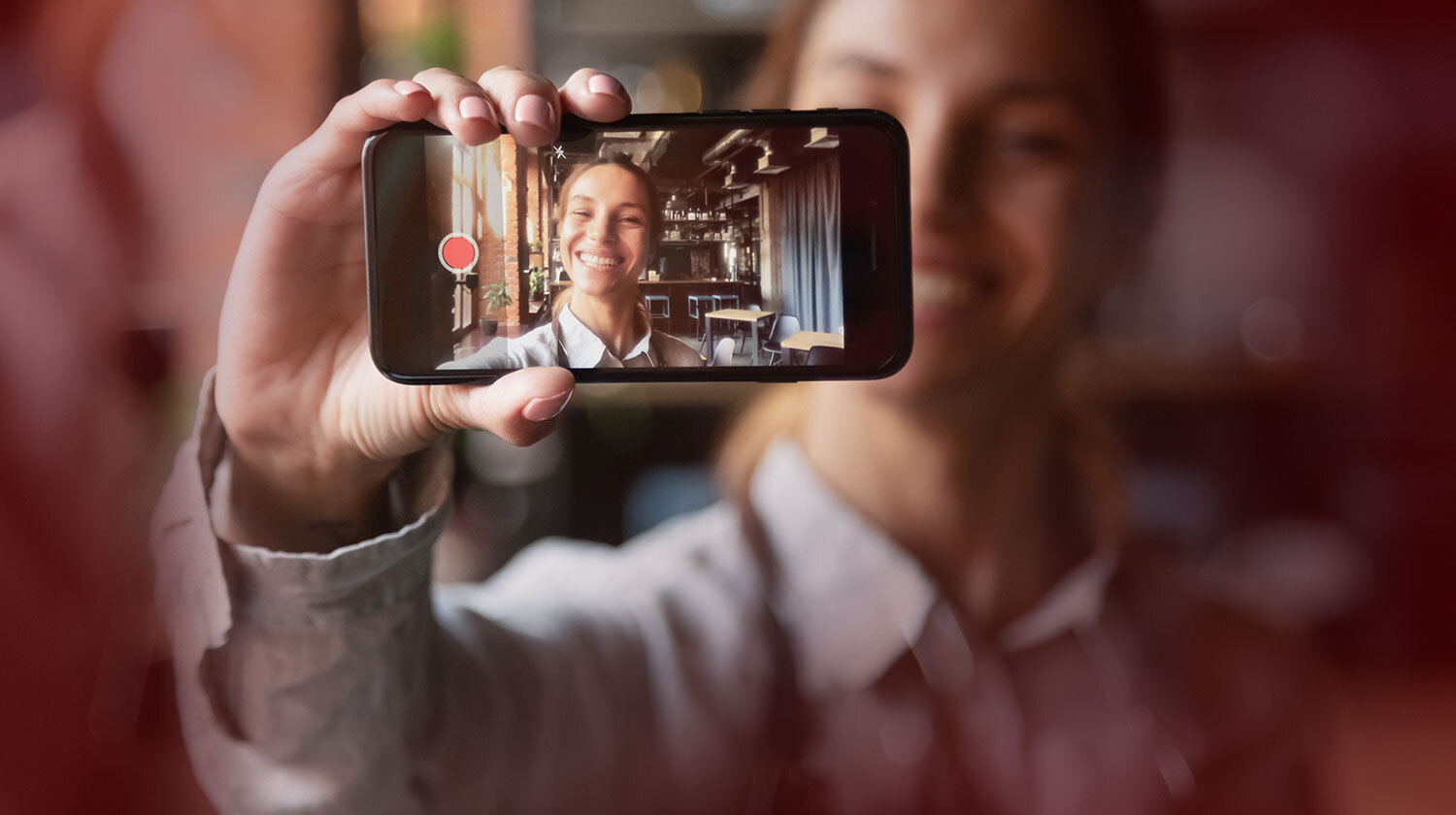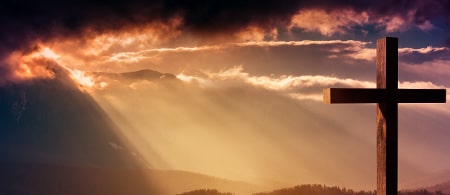 Discover Hope—Find Renewal
Become a Christian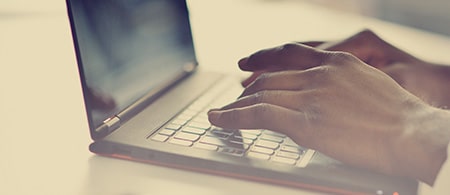 Has Turning Point Made a Difference in Your Life?
Write to Us!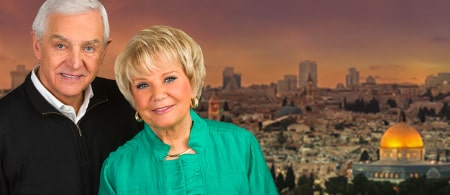 Step Into Scripture With David Jeremiah
2022 Holy Land Tour
New From Airship Genesis
Invasion of Rocket Cove
Rocket Cove is under attack! When a mysterious ship appears over the Genesis Exploration Squad's hometown, the people of Rocket Cove are thrown into a panic. What is this mysterious ship? Who is piloting it? And what do they want?
When this invading ship starts moving around the town, affecting its residents in strange—and hilarious—ways, the questions only multiply. And just when the squad thinks the worst is over, a giant robot appears! It is up to the Genesis Exploration Squad to solve the mystery and move forward without fear against The Invasion of Rocket Cove.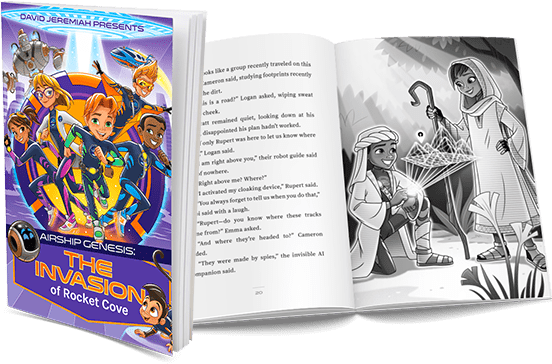 From Dr. David Jeremiah
Tour the Land of the Bible with Dr. David Jeremiah
After leading several trips to the land of the Bible, Israel has become one of my favorite places on earth. Donna and I are excited to return for another Turning Point Israel tour, March 19-29, 2019.
We'll visit historical places like:
Gethsemane
The Sea of Galilee
The Mount of Beatitudes
And more
I'll guide you through these sacred sites and others, teaching God's Word as we retrace our Savior's steps. Imagine seeing the same landscape Jesus saw, being baptized in the Jordan River, or singing at the Garden Tomb in Jerusalem.
These life experiences will change you forever.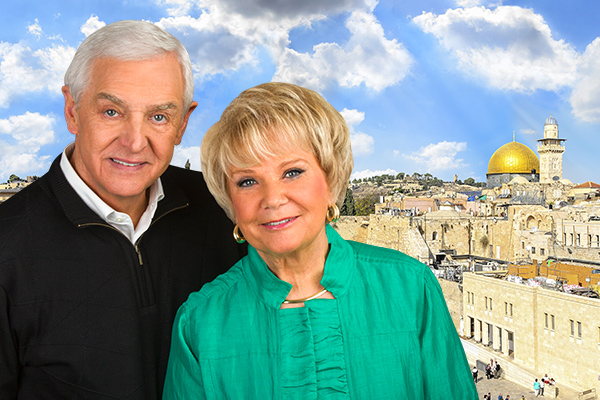 THANK YOU FOR YOUR SUPPORT OF OUR GOD-GIVEN MISSION:
Delivering the unchanging Word of God to an ever-changing world.