Today's Devotional:
Jan. 27
There's Plenty More
We occasionally hear this idiom: "There's plenty more where that came from." It can be used in a negative, combative sense or in a positive, generous sense. In both cases, the meaning is the same: There is a reservoir just waiting to be tapped if needed.

Send me Dr. Jeremiah's Devotionals
Sign Me Up »
Please enter a valid email address
You've been successfully signed up!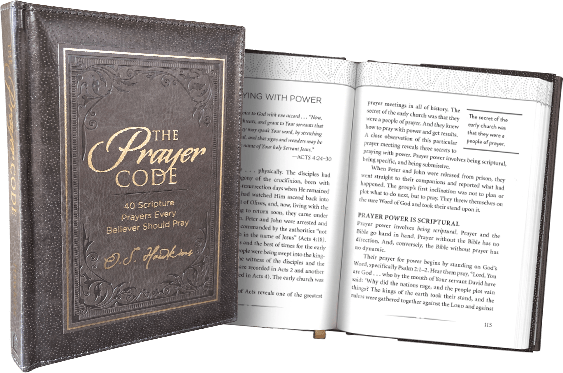 An Inspiring and Practical Guide
The Prayer Code by O. S. Hawkins
Prayer is powerful! In The Prayer Code, O. S. Hawkins will help you learn how to pray with confidence, faith, and an awareness of the Holy Spirit as you draw from world-changing prayers in Scripture. As you explore forty prayers found in Scripture, you will find life-guiding principles for your life. In addition, you will discover how to pray for peace in times of change and for the courage to overcome your fears.
Prayer is one of the most powerful tools given to us by God—a way to seek Him, honor Him, and receive His comfort and help! Every believer should be able to approach the Father with confidence, faith, and awareness of the Holy Spirit—and The Prayer Code offers a helpful guide.
Partner with Turning Point in 2022
Be One Life Seeking God and Change EVERYTHING!
When one person—like you, like me—comes to faith in Christ, the lives of every person around them bear witness to that soul transformation...and they, too, are changed.
Like a carefully stacked row of dominoes, that one life bowing before the King of kings ultimately leads to others—around the world—following suit, as they fall on their knees in worship to Him.
You and I can make a difference in 2022! This bold statement can be made because we see how perfectly God has positioned Turning Point for ministry outreach at this place and time. We have a broader reach today than at any other time in our nearly four-decade history, as more and more individuals receive and share the message of the Gospel through Turning Point and lead their loved ones to do the same!
Together we can make a real and personal impact on our world for Christ!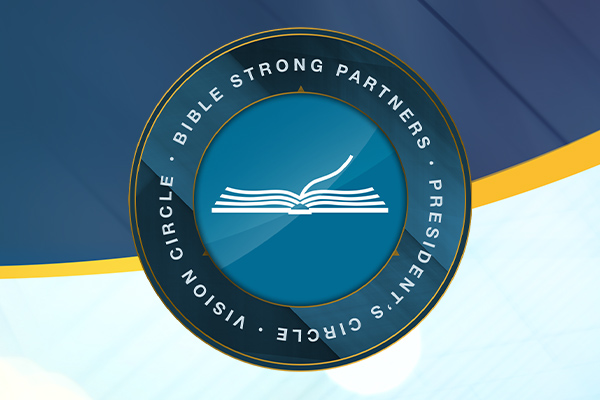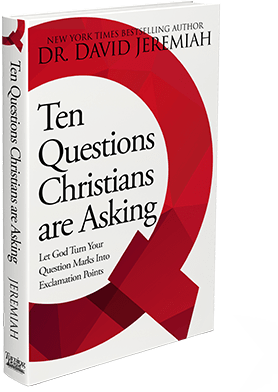 TEN QUESTIONS CHRISTIANS ARE ASKING
Do You Ever Wonder...
How Can I Be Sure of My Salvation?
How Can I Overcome Temptation?
How Can I Get Victory Over Worry?
How Can I Find Forgiveness?
Is There Only One Way to God?
Why Do Christians Have So Many Problems?
Why Don't My Prayers Get Answered?
Is There a Sin God Cannot Forgive?
What Is Faith?
What Is the Greatest Commandment?
David Jeremiah's Ten Questions Christians Are Asking resources will help you face everyday challenges by bringing you practical, real-life answers from the heart of God's Word.
Listen Now!
Dr. David Jeremiah Interviews O.S. Hawkins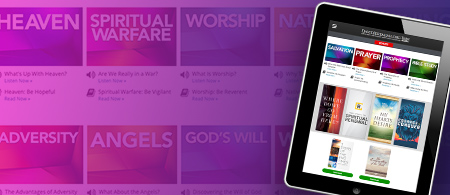 Be Encouraged in 2022
Watch Exclusive Bible Strong Content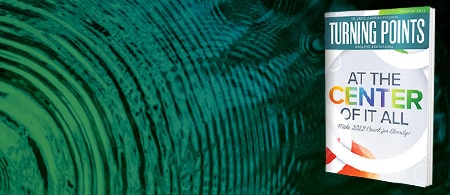 Turning Points Magazine & Devotional
Request Your Free Subscription
Every Day With Jesus
The 2022 Turning Point Leather Devotional
One of Turning Point's most popular resources every year, the annual 365-day devotional is hot off the presses—and you are encouraged to consider this your meeting invitation to spend every day with Jesus.
You—and the world—have been through a lot this past year. Each day seemingly filled with yet another heaping dose of uncertainty. But one thing we can be sure of: Jesus is in charge!
His Word will sustain us. His Spirit will revive us. His angels will watch over us. And His plans will unfold as He has decreed them. His promises are as certain as His character, and His presence is as sure as sunshine.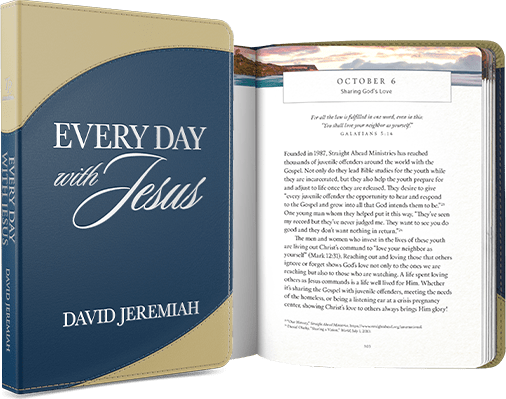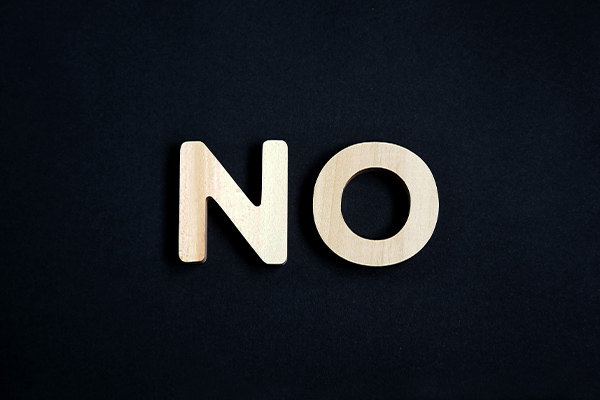 Facing God's Occasional Denial
What If God Says "No"?
We don't always understand the consequences of our hopes and dreams, so our wise God sometimes tells us "No."
To rebel against His wisdom would damage our relationship with Him. Just like a rebellious child resenting his parents when they don't yield to his demands, even so we're in danger of begrudging God when He doesn't yield to ours.
To insist on our own way betrays a lack of faith in our Lord's omniscience. It's an attitude that says: "You don't know what You're doing, Lord. I know best, and You are either unwise or uncaring." But the Lord does know what He's doing, and it's wonderful to take His "Yeses" and "Noes" with equal joy, leaving the final choice to Him.
AS A BIBLE STRONG PARTNER
Membership Has Its Benefits!
Your Bible Strong Partnership decision today will help us continue producing inspiring and faith-building resources to help you and those you love to pursue a deeper, richer relationship with Christ—including powerful television and radio teaching campaigns, programs, books, and online tools.
As an expression of our gratitude, we offer our ministry partners an array of benefits, including:
David Jeremiah's 48-volume digital Bible Strong Living Library
The Prayer Code by O.S. Hawkins—learn how you can pray with confidence, faith, and awareness by drawing from forty world-changing prayers from Scripture.
The monthly ministry resource and series study guide—that's twelve Bible study resources per year!
Turning Points monthly devotional magazine
Access to eight exclusive Turning Point Partner Series selected every quarter
Access to the valuable Bible Strong Partners Facebook page
A 50 percent discount on additional study guides
The ONE LIFE Bible Strong Partner Bookmark
Membership benefits start at just $25 a month!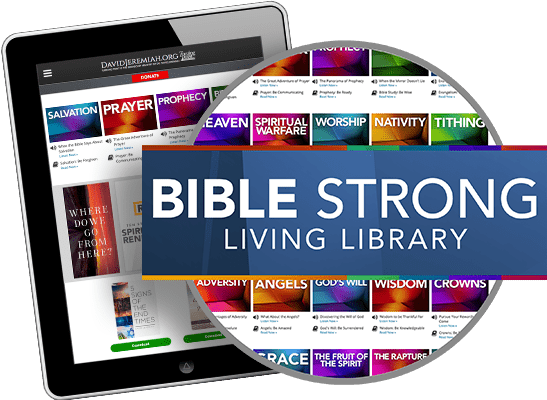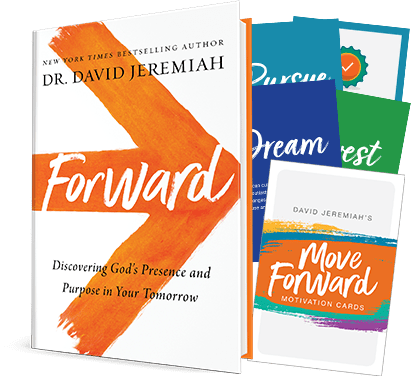 DISCOVERING GOD'S PRESENCE AND PURPOSE IN YOUR TOMORROW
Your Best Days Are Not Behind You!
Now more than ever, God is ready to use you, and your greatest moment could be only a step away. Forward gives you practical insights into the "what's next" in your life, with a step-by-step plan of action you've needed to move past where you are to where you want to be. You'll learn how God wants to expand your dream, give you divine direction, plant within you a life purpose, equip you with tools to overcome fear, grant you great personal accomplishment, and lead you to a mission that will outlive your life.
Let go of the past and get out of your rut. Choose to run Forward toward everything God has planned for the next phase of your life.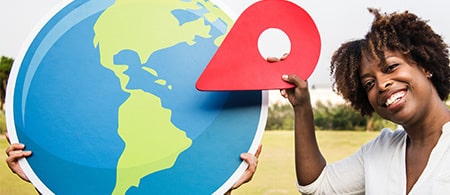 Find Turning Point Radio and Television on a Station Near You
Station Locator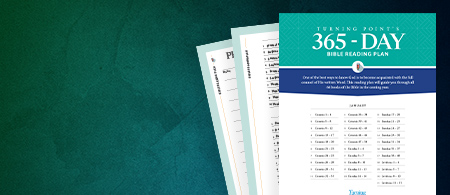 Make This the Year You Read God's Love Letter
2022 Bible Reading Plan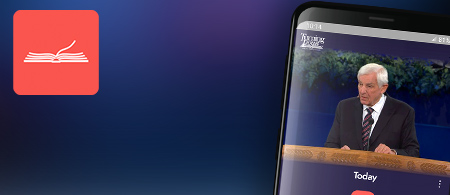 Stream Messages Anytime, Anywhere
Download the Free Turning Point App
Available for a Limited Time
Turning Point's 2022 Calendar
As time passes, the anxiety caused by unexpected events may slip unforeseen into our daily lives. How do we prevent that from happening? By keeping our thoughts on the unfailing promises of God. Let's begin 2022 by putting the past year behind us and turning toward hope.
This new calendar, Moving Toward Hope, is designed to help you focus on the promises of God. Featuring beautiful panoramas of settings in nature, it will provide an ongoing reminder that no matter what we may face in the world, our hope rests in God. Each month features an inspirational theme and correlating Scripture, as well as a daily Bible reading plan, which will guide you through the entire Bible in the coming year.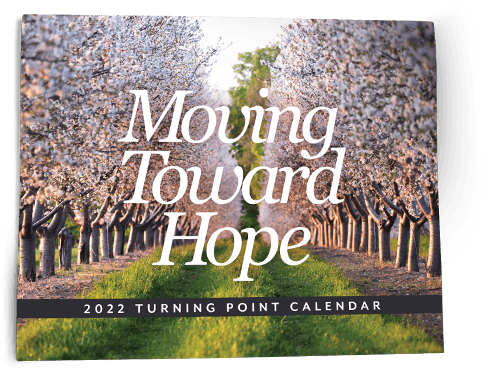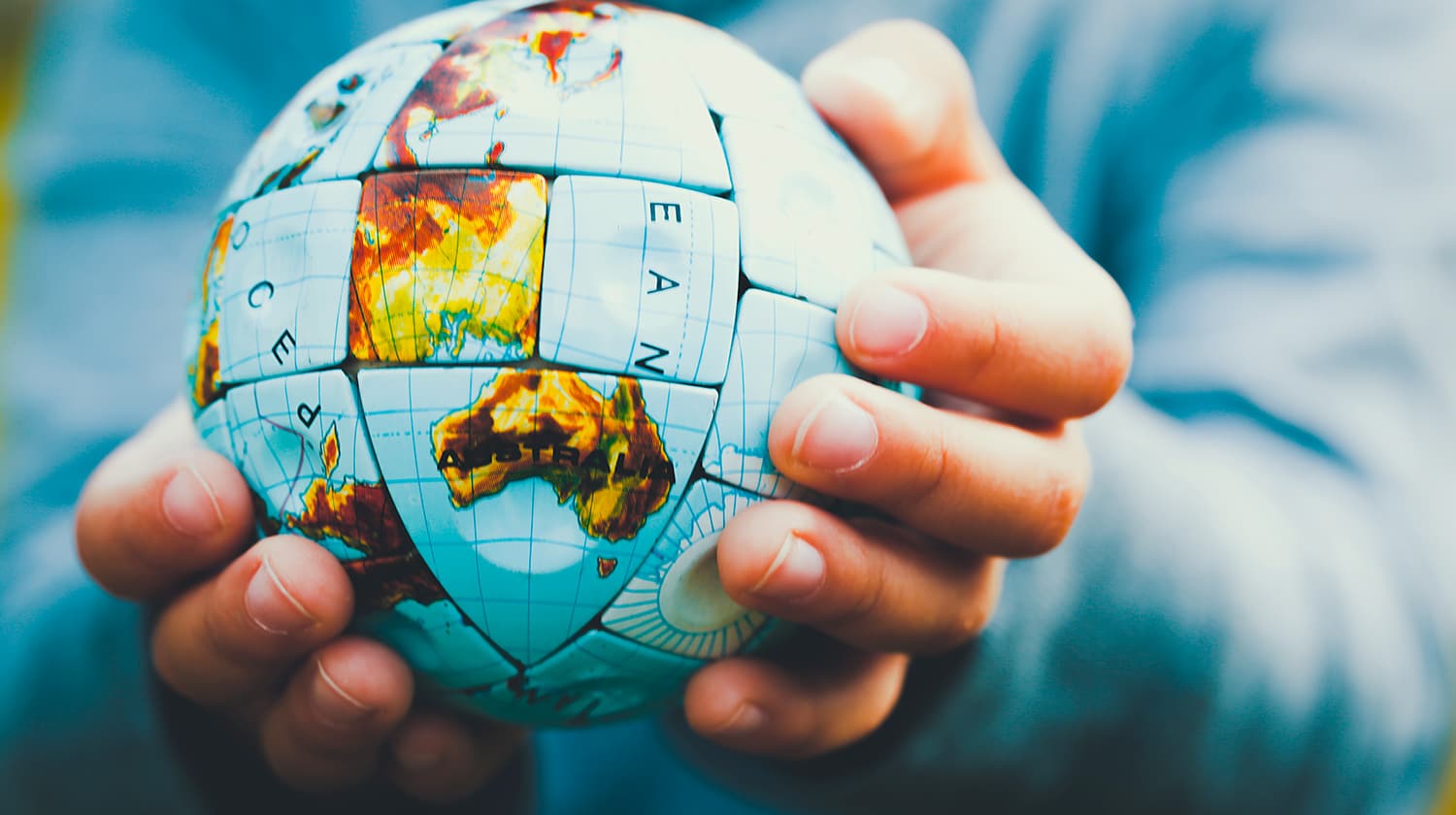 From this Point Forward
The World—Everything Is Different, but Nothing Has Changed
And the times are changing quickly. No one has any idea what the world will look like in ten years, let alone twenty or thirty. The rapid development of technology is more than we can take in. Those of us over the age of forty were born before the digital revolution really started. We've learned to use laptops, cameras, the Internet, and our personal electronic products, but it's like learning a foreign language. But those under the age of forty have grown up with the digital revolution, and to them it's their mother tongue. This has created the biggest generational gap since rock and roll.
Even greater is the moral generational gap. Those over forty in the western world grew up in a culture that still retained a semblance of its historic Judeo-Christian heritage. Our worldview contained some remaining vestiges of biblical truth. But our children are growing in an increasingly secular society.
But don't despair. The things that matter most haven't changed one iota. The little Book in my suit pocket is as unchanging as Him who is from everlasting to everlasting. That strengthens us whatever change may come.
THE NEWEST PROPHECY TEACHING FROM DAVID JEREMIAH
Where Do We Go From Here?
Discover how future prophetic events are already casting their shadow across today's world and culture, leading to many of the problems we are witnessing right outside our doors.
Where Do We Go From Here? is different from any prophecy book that Dr. Jeremiah has written previously. In each of his ten chapters, Dr. Jeremiah explores a prophecy that is playing out in part or in full, linking biblical prophecy with current trends. As you read, you'll discover what exactly is going on, how each topic impacts your life, and—most importantly—what you are to do as a believer and how to navigate each troubling sign playing out in today's world.
Let Dr. Jeremiah be your guide, Bible teacher, and pastor as you thread your way through problems that Jesus predicted—precursors of the Tribulation—and learn how to do the next right thing.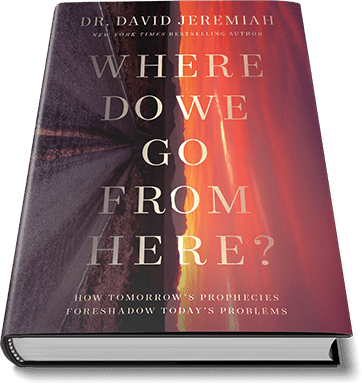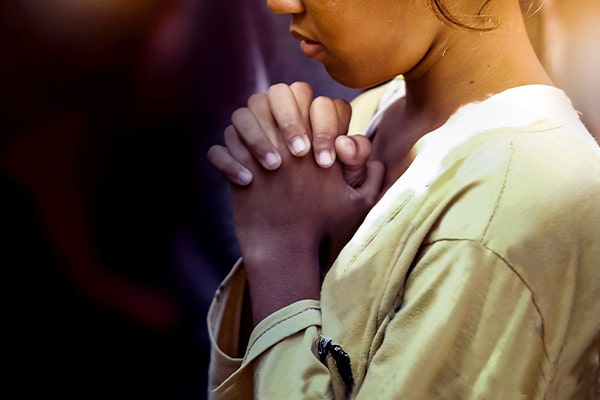 LIVE EACH DAY IN THE POWER OF GOD'S PROMISES
Pray THIS When You Feel Drained and Powerless
One of the most practical ways to be powered by God's promises is to pray them. When we pray God's promises, we are telling Him we trust Him to keep His word. The book of Psalms records many sermons King David preached to himself during difficult times; these sermons focused his thoughts on truth and positioned him to experience God's power. Like David, we remind ourselves of the truths that power our lives by committing to pray God's promises.
God's promises are the electrical wires that conduct His power into our lives. Through His promises, we receive the power we need to stand against sin and live abundantly.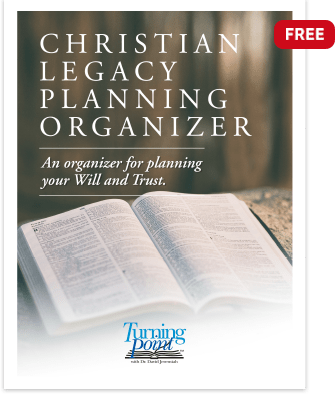 DOWNLOAD YOUR FREE LEGACY-PLANNING GUIDE
Christian Legacy Planning Organizer
We all enjoy planning for our family vacations and getaways with loved ones. However, how many of us spend more time planning a vacation than we do planning for the future? Probably most of us. Why? Because planning for a vacation is fun, exciting, and brimming with anticipation. Planning for our future seems to be a bit different since it can involve fear, confusion, and uncertainty. But, if you plan for your future legacy in an organized way, it can be just as simple as planning for that wonderful vacation that is so exciting. You just need to get started, and we want to help.
Begin the process of making plans that last by downloading your copy of Turning Point's free Christian Legacy Planning Organizer.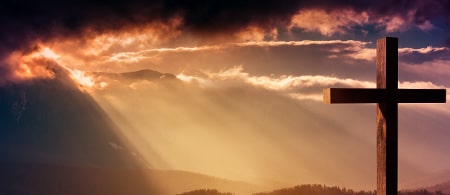 Discover Hope—Find Renewal
Become a Christian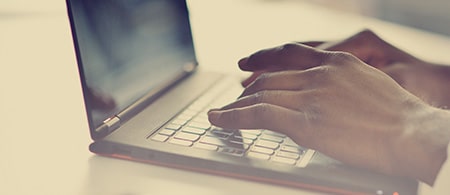 Has Turning Point Made a Difference in Your Life?
Write to Us!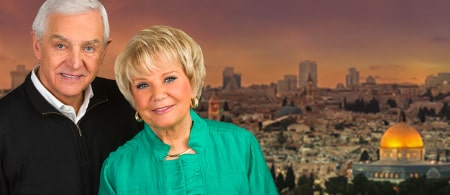 Step Into Scripture With David Jeremiah
2022 Holy Land Tour
New From Airship Genesis
Invasion of Rocket Cove
Rocket Cove is under attack! When a mysterious ship appears over the Genesis Exploration Squad's hometown, the people of Rocket Cove are thrown into a panic. What is this mysterious ship? Who is piloting it? And what do they want?
When this invading ship starts moving around the town, affecting its residents in strange—and hilarious—ways, the questions only multiply. And just when the squad thinks the worst is over, a giant robot appears! It is up to the Genesis Exploration Squad to solve the mystery and move forward without fear against The Invasion of Rocket Cove.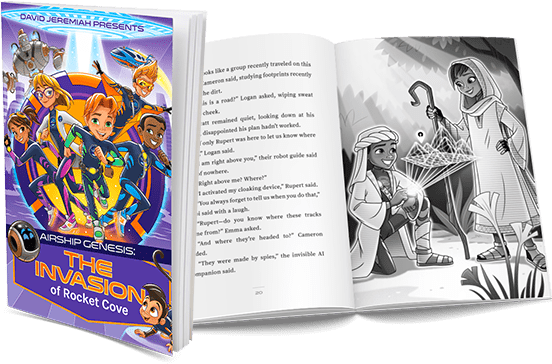 From Dr. David Jeremiah
Tour the Land of the Bible with Dr. David Jeremiah
After leading several trips to the land of the Bible, Israel has become one of my favorite places on earth. Donna and I are excited to return for another Turning Point Israel tour, March 19-29, 2019.
We'll visit historical places like:
Gethsemane
The Sea of Galilee
The Mount of Beatitudes
And more
I'll guide you through these sacred sites and others, teaching God's Word as we retrace our Savior's steps. Imagine seeing the same landscape Jesus saw, being baptized in the Jordan River, or singing at the Garden Tomb in Jerusalem.
These life experiences will change you forever.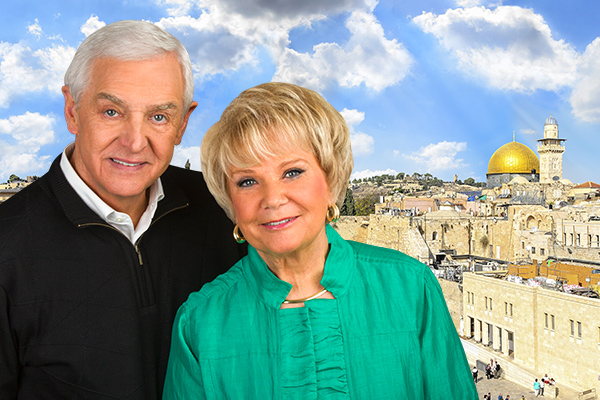 THANK YOU FOR YOUR SUPPORT OF OUR GOD-GIVEN MISSION:
Delivering the unchanging Word of God to an ever-changing world.