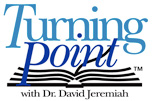 Turning Point Radio

Broadcast Archives & Schedule

Listen to past episodes of Turning Point Radio and find out what is coming up next! Each broadcast is archived the day it airs on Turning Point Radio and is available for online streaming for the following 30 days.
Archives
Schedule
Air Date

Title

Scripture

Share

Purchase

How can you experience peace and hope when you're surrounded by a culture of moral and spiritual chaos? Dr. David Jeremiah returns to Romans twelve for some encouragement from the apostle Paul, who lived in equally toxic times yet managed to find contentment.