Wednesday, June 22
Waiting for God's Promise
Series: Ordinary People, Extraordinary Faith
Watch Now
Thursday, June 23
Faith That Death Cannot Destroy
Series: Ordinary People, Extraordinary Faith
Watch Now
Television Series:
Now Airing
Here are the current teaching series now airing on Turning Point Television. Enter your email address in the box below to receive updates about upcoming broadcasts.
Series Updates »
Please enter a valid email address
You've been successfully signed up!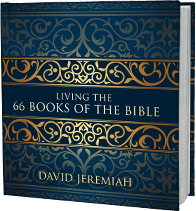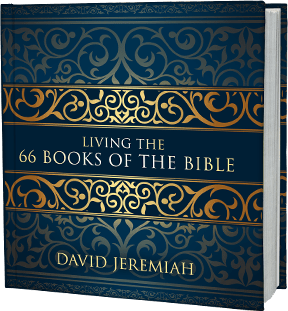 Newly Released!
Living the 66 Books of the Bible
It's one thing to understand the 66 books of the Bible. It's another thing to live them, to put them into practice, and to be doers of the Word!
Put God's Word into practice—book-by-book with this brand-new resource!
New From Dr. David Jeremiah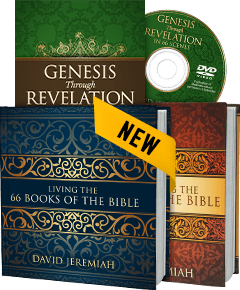 Go Deeper in your study of God's Word
The 66 Books Set
Learn to live, understand why, and experience each book of the Bible as you dig even deeper into Scripture with the complete 66 Books set.
Be encouraged and empowered as you study the entirety of God's Word with this comprehensive resource set!
Learn More
Standing Firm. Standing Poised.
40th Year in Ministry
Turning Point is now embarking on our 40th year in ministry—a massive milestone we could not have achieved without you!
Turning Point has always been—and will continue to be—Bible Strong. It's this foundation that has carried us to our 40th year—and it will carry us far into the future. This is a mission and ministry that stands the test of time.
We are standing firm in this. All those things you love about Turning Point—all those things that make us a uniquely powerful and effective messenger of the Gospel—are staying the same. Together, we'll keep presenting Bible Strong teaching, preaching the whole counsel of God, reaching lost souls at any cost and the list goes on!
And we're NOT stopping there. We're also standing poised to do even more, to go even further, and to reach even more people around the world for Christ—whatever it takes. There's still much to do in accomplishing the mission He's entrusted us together of delivering the unchanging Word of God to an ever-changing world!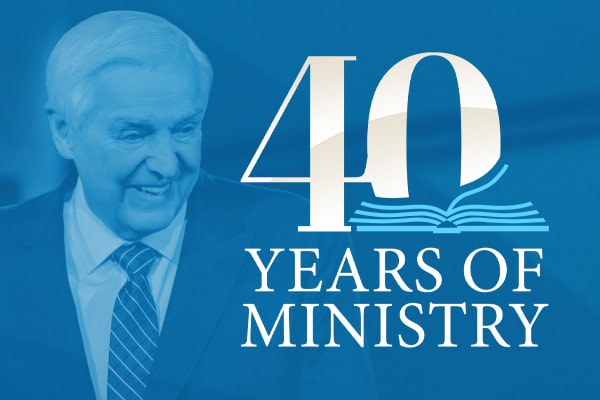 Now Filming!
Dr. David Jeremiah's Why the Nativity?
Every year, millions of people around the globe celebrate Christmas. But do they understand the profound importance and authenticity of Jesus' birth?
Turning Point is partnering with Christians who have worked with major theme parks and blockbuster films to produce an innovative, cinematic presentation of the most pivotal moment in human history. By combining their visual storytelling with details from both Old and New Testaments, Dr. David Jeremiah will take you on a biblically accurate, Christ-centered, unforgettable journey through the wonders of Christmas.
This groundbreaking presentation of the Nativity will be accessible to millions of households through Turning Point's extensive line-up of television networks and digital platforms—and you can be a part of it! Access exclusive behind-the-scenes updates now on Instagram!
The Dr. David Jeremiah Living Library
Exclusive Content For Bible Strong Partners
Are you looking for a great way to equip yourself to share the Gospel with others? Follow Dr. Jeremiah's outline as you listen to a Turning Point Radio message about Crowns. For deeper study, make applications for daily living through personal reflection and group discussion questions. This topic includes a handy Scripture reference guide and features an article titled Great Is Your Reward by Dr. David Jeremiah.
Crowns: Be Rewarded is part of the 48-volume Bible Strong Living Library, one of the exclusive benefits we offer to our Bible Strong Partners.
Joining or Already a member, login!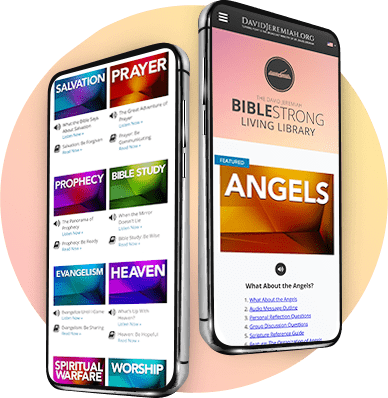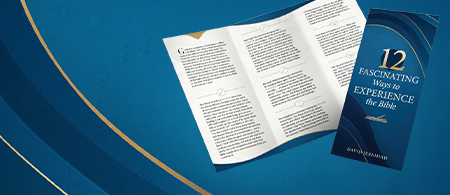 Yours Free Today!
12 Fascinating Ways to Experience the Bible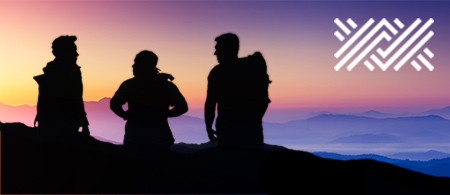 Does God Have Anything to Say to Young People Today?
Passages—Young Adults Pursuing Jesus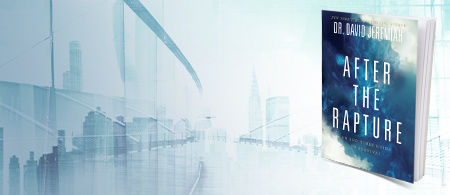 A Thought-Provoking Glimpse Into Life...
After the Rapture by Dr. Jeremiah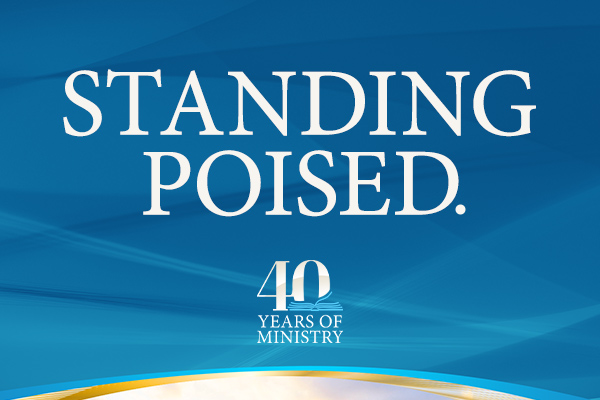 As Turning Point Embarks on Our 40th Year in Ministry
Join Us As We Reach the World In Inspiring Ways!
Turning Point believes we must be faithful to our Bible Strong mission. We are ready and poised to present the Gospel in bold new ways. To be heard over the voices of our culture, we must break through the clutter of today's media by doing things that no one else has done before. It takes creativity to reach a biblically illiterate generation, and we stand poised to bring Jesus to the forefront of traditional media, non-traditional media, and beyond.
Here are just a few ways we stand poised in creatively reaching the world with the Gospel:
Why the Nativity? Christmas Film
Turning Point Digital Streaming Platform Launch
Fall 2022 Evangelistic Outreach Campaign
State-of-the-Art Media Studio Construction
Our message will never change, but we must be creative with how we reach our culture with the saving grace of Jesus Christ! Learn more about how you can support Turning Point as we reach the world in innovative and inspiring ways!
Wherever You Go, Turning Point is There
Never Miss a Message With the Turning Point App
Broadcast schedules are determined months in advance. Life isn't. When the unexpected happens, find Bible Strong teaching at any time of the day or night on our free mobile app.
Stream or download messages
View daily devotionals
Access your account information and content
Keep in touch with everything happening at Turning Point
Grow in your knowledge of Biblical prophecy and experience newfound hope for the future God has planned for us!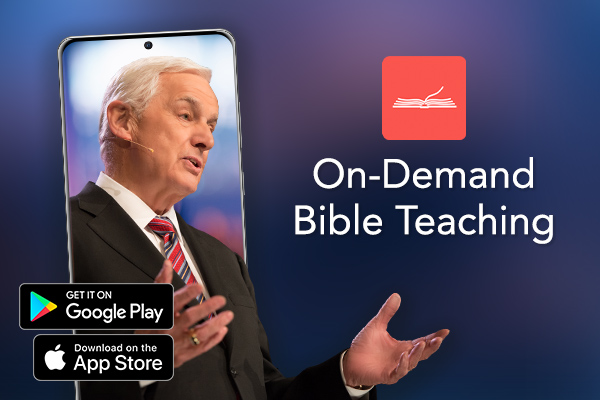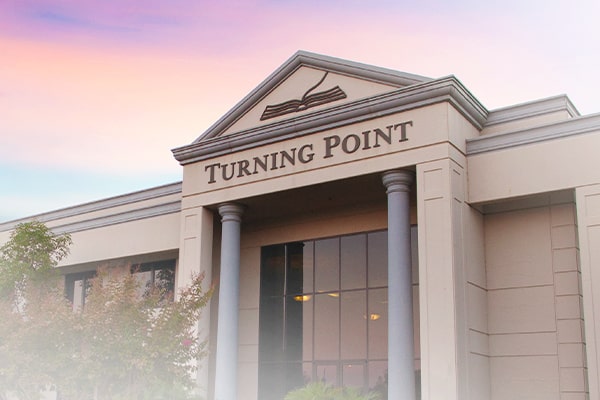 We are so glad you're Here!
Stay Connected to Turning Point
Our mission is to deliver the unchanging Word of God to an ever-changing world, and that has led us to take the Good News and the "Good Teaching" of Jesus Christ across the globe in every way we can think of!
This site is one of the best places to find inspirational Bible teaching from Dr. David Jeremiah, ministry news, and much more. But it's not the only way to stay connected to the ministry of Turning Point.
Discover the many places and ways you can connect to all the rich resources available through the ministry of Turning Point.
Be Encouraged, Challenged, and Strengthened
Free Magazine Download
One of the best ways to connect with the ministry of Dr. David Jeremiah is through Turning Points magazine. Each month, Turning Point publishes a beautifully illustrated magazine to inform you of all that's happening at Turning Point and to help you apply the truth of God's Word to your life every day.
Inside every issue, you will find:
Daily devotionals
Inspiring articles from David Jeremiah
Important ministry updates
Radio and TV broadcast schedules
There is no charge for a subscription, and Turning Points is one of the best ways to stay in touch with the ministry of Dr. David Jeremiah. We hope you will request a complimentary subscription today.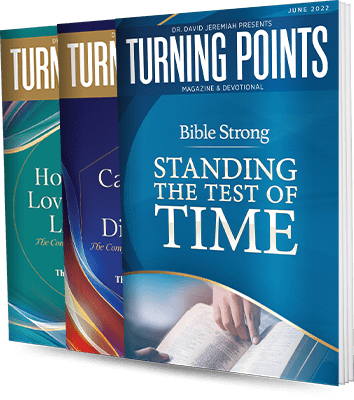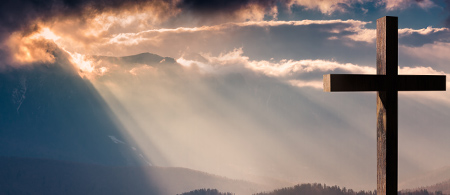 Discover hope—Find renewal
Become a Christian Today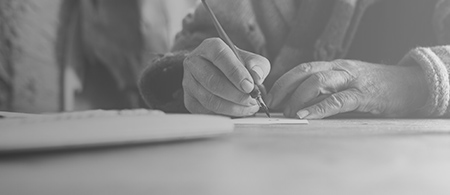 Has Turning Point Made a Difference in Your Life?
Write to Us!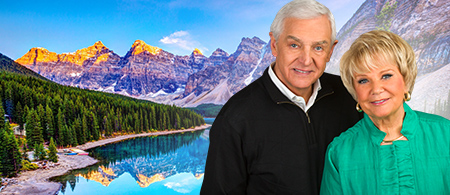 Discover the intersection of relaxation and inspiration
Vacation With Turning Point
Online Vacation Bible School Starts July 3
Airship Genesis Summer Blast!
Join Airship Genesis for a free five-week VBS program this summer. Each week you will find an exciting audio adventure featuring the Genesis Exploration Squad, a Bible lesson, a memory verse, a challenge, fun activities, and more. Your kids can learn about the importance of the Bible in their lives through five separate lessons:
The Bible gives us direction for all of life's adventures!
The Bible was written just for us by God!
The Bible is powerful for any situation.
The Bible should be shared with others.
God rewards us for living by the Bible.
Don't miss Summer Blast! The adventure begins on July 3.