Television Series:
Now Airing
Here are the current teaching series now airing on Turning Point Television. Enter your email address in the box below to receive updates about upcoming broadcasts.
Series Updates »
Please enter a valid email address
You've been successfully signed up!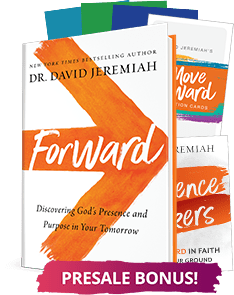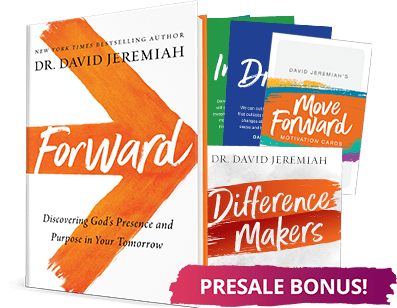 Meet God in Your Tomorrow
Forward Presale Offer
No matter where you are in life, it's time to let go of the past and get out of your rut. God wants to move you forward! Join Dr. David Jeremiah on a journey through ten practical steps to let go of what's behind and fully embrace what's next. Order this month and receive the exclusive Difference Makers digital audio collection.
Learn More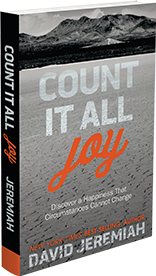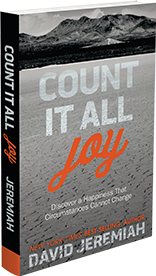 Experience A Joy That Never Ends
Count It All Joy
Is social media robbing you of your joy? Is the news robbing you of your serenity? Your security? David Jeremiah's totally inspiring, beautifully practical study of Philippians will restore it all to you, by the power of God's Word.
Learn More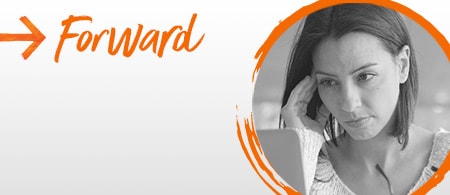 Have You Found Yourself Saying Something Like This?
After What I've Been Through….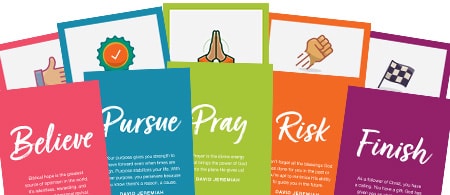 Request Yours Today
Free Motivation Cards—Move Forward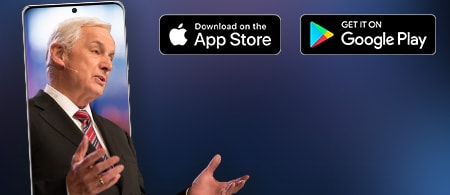 More Than 1.1 Million Downloads!
Get the Turning Point App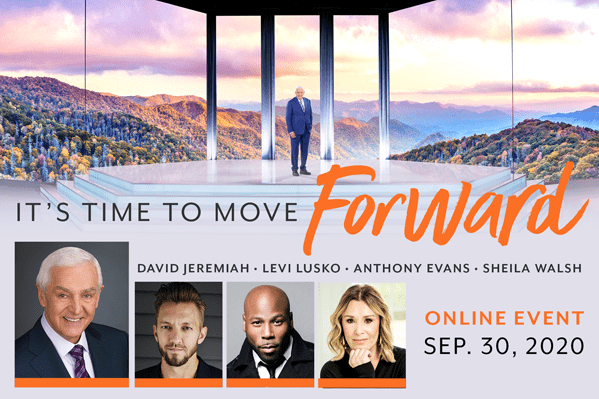 Don't Miss this Special Online Event
It's Time to MOVE FORWARD
Are you ready to discover God's plan for the "what's next" of your life?
Join us for a nationwide virtual gathering to celebrate the presence and power of God in our life. You will come away from this experience with a new perspective on the future, inspiration to stand firm in the promises of God, and a challenge to move forward. This event features Dr. David Jeremiah and his distinguished guests:
Levi Lusko
Shelia Walsh
Anthony Evans
It's Time to MOVE FORWARD will stream on Wednesday, September 30.
Free Digital Issue of Turning Points Magazine
Looking for God in the Most Obvious Places
Where is God in times like these? So much has changed in our world, it's comforting to know that two things never do: God and His Word. This month's issue of Turning Points Magazine offers reminders of all the places where we can see God's presence—even in times like these.
Inside this issue:
Looking for God in His Creation—Obviously Him!
Looking for God in Our Creativity—Obviously Blessed!
Looking for God in His Community—Obviously Connected!
Looking for God in Our Circumstances—Obviously Loved!
Daily devotionals correlated to the current radio series, God, I Need Some Answers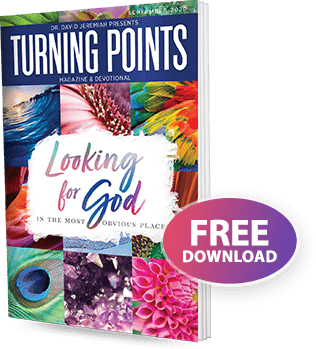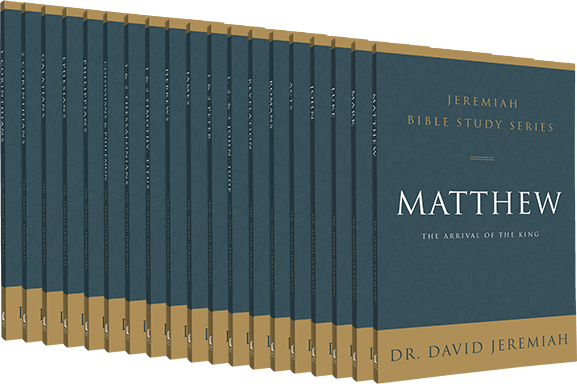 Dr. Jeremiah's New Comprehensive Study of the New Testament
Jeremiah Bible Study Series
This new series captures Dr. David Jeremiah's 40-plus years of commitment to teaching the Word of God. In each study, Dr. Jeremiah points out what that book of the Bible says, what it means, and what it means for you today. Along the way, you'll discover:
Insights into the text
Key stories and themes
Practical applications for your own life
Each volume features commentary, study questions, and reflections to help you understand what the Bible means for you today. PLUS there is a Leader's Guide for group study.
You are a Vital Part of our Minstry
Partner With Us in Prayer
2020 has been the kind of year that drives us to our knees. But at Turning Point, we are blessed to have friends like you—our brothers and sisters in Christ who faithfully support us in prayer. As we launch a new season of ministry, we'd appreciate your prayer for our fall initiatives, for the millions of people we hope to reach, and for our hurting world. Please download the fall prayer guide and join us in eager anticipation of all that God will accomplish as we move forward in ministry.
Claiming His Promises! Reclaiming His Power! Proclaiming His Peace!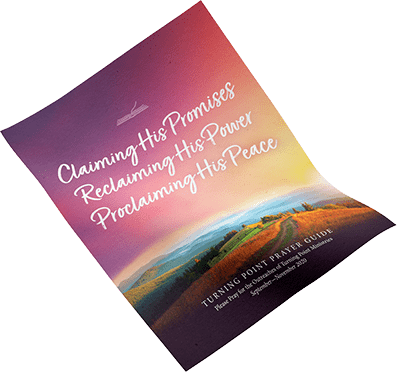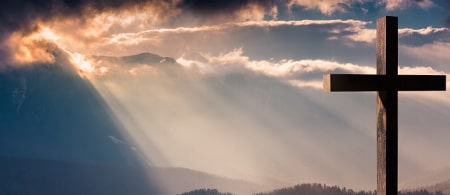 Simple Steps to a Personal Relationship With God
How to Become a Christian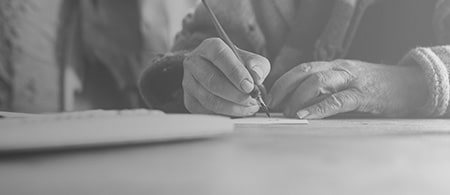 We Want to Hear From You
Share Your Story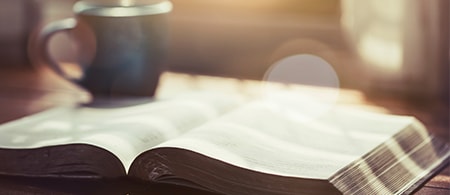 Encouragement Delivered Daily
Receive Our Free E-Devotionals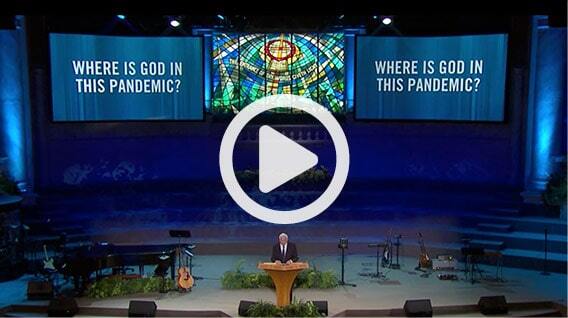 Facing the Coronavirus
Free Resources From David Jeremiah for Facing the Pandemic
Isolated and alone, many people are experiencing overwhelming fear and anxiety as they face an invisible enemy. In response to the coronavirus outbreak, Dr. David Jeremiah has prepared several messages of hope that are straight from God's Word. His goal is to encourage as many people as possible with biblical truth during these unprecedented times, so Turning Point is offering this series for on-demand streaming, free of charge, on our dedicated Facing Coronavirus page. We hope you will be blessed by them and share them with others!
Online Vacation Bible School Starts July 3
Airship Genesis Summer Blast!
Join Airship Genesis for a free five-week VBS program this summer. Each week you will find an exciting audio adventure featuring the Genesis Exploration Squad, a Bible lesson, a memory verse, a challenge, fun activities, and more. Your kids can learn about the importance of the Bible in their lives through five separate lessons:
The Bible gives us direction for all of life's adventures!
The Bible was written just for us by God!
The Bible is powerful for any situation.
The Bible should be shared with others.
God rewards us for living by the Bible.
Don't miss Summer Blast! The adventure begins on July 3.