Discover a Happiness That Circumstances Cannot Change
Dr. David Jeremiah's practical, inspiring study of Philippians
You don't have to wait for joy to find you.
Here's the secret of joy-filled people: They don't wait for anyone or anything to bring them joy. They immerse themselves in the joy of relationship with Jesus Christ—right now!
In this rich exploration of Philippians—which mentions "joy" five times­ and "rejoice" eleven times—you will:
Discover practical ways to live a joyful life
Learn how worship leads to delight
Find a sense of peace about even an uncertain future
Embrace forgiveness when others have wronged you
Enjoy community, unity, and harmony even in difficult situations!
You can experience a joy that NEVER ENDS ... in the truths of Count It All Joy!
The peace of God acts as a guard or sentinel at the door of the heart and mind to provide security. The word the apostle used is garrison. Paul was promising that when we pray and think and do as God has instructed, then His peace becomes the guard that is stationed at the door of our hearts and minds. This peace-guard keeps anxiety away from us. It is this guarding of the heart and mind that provides the Christian with a decided edge when it comes to dealing with the pressures of the day.
— Count It All Joy, p. 235
Featuring 12 opportunities for joy:
The Joy of Community
The Christian life lived in community, characterized by joy, with love as its highest goal
The Joy of Adversity
Good things can come from hard times
The Joy of Integrity
Guided by four priorities, we can claim victory
The Joy of Unity
We come together in Christ, with His servant attitude
The Joy of Responsibility
How to discipline your own moral character
The Joy of Ministry
Three keys enable us to impact our world (one of them will surprise you!)
The Joy of Humility
How to rejoice in Christ, not in who you are and what you've done
The Joy of Victory
Here's what it takes to get there
The Joy of Maturity
Four keys to your personal spiritual growth
The Joy of Harmony
How to make a difference in the body of Christ
The Joy of Security
Surrender anxiety through prayer
The Joy of Serenity
You, like the apostle Paul, can learn contentment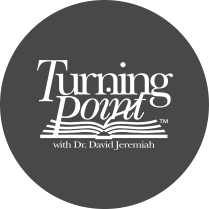 Give to the Mission of Turning Point
Support Ongoing Ministry
Support Turning Point's ongoing ministry without receiving a resource.
Give Now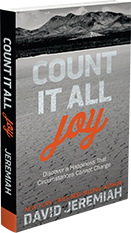 With your Gift of any amount
Count It All Joy Book
Experience a joy that never ends through Count It All Joy, David Jeremiah's inspiring yet practical study of Philippians.
Request Your Book

With a Generous Gift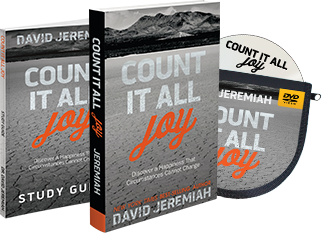 With A gift of CAD $60 or More
Count It All Joy Ministry Resource Set
You'll Receive:
• Count It All Joy book by David Jeremiah
• Count It All Joy study guide
• Complete teaching series on DVD or audio CD
Request Your DVD Set

With a gift of CAD $60 or More
Request Your CD Set

With a gift of CAD $60 or More