Is There Only One Way to God?
And 9 Other Questions Christians Are Asking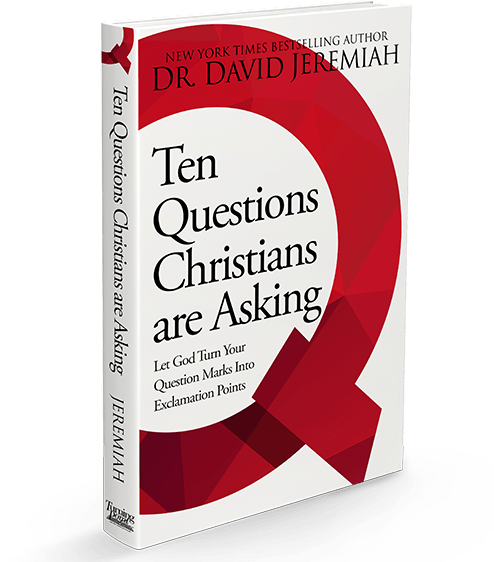 Have you ever wondered if there is truly only one way to God? Curious as to why so many Christians have problems?
Turn your question marks into exclamation points of praise!
God has the answers to the questions you—and your loved ones—are asking. Through this thoughtful examination of the Word of God on ten of the biggest questions believers face, Dr. Jeremiah reveals each biblical answer with clarity and assurance.
Request Now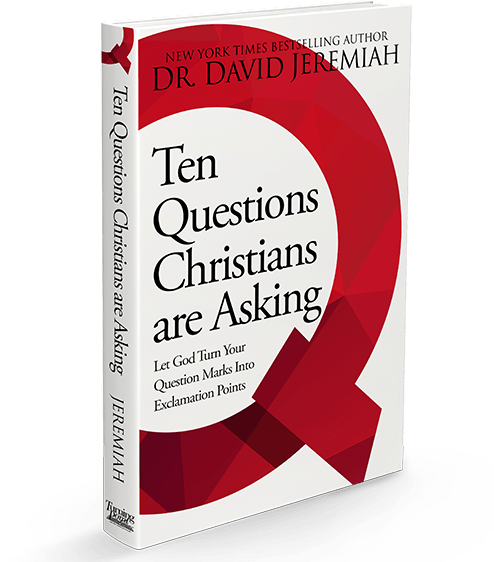 In this study you will:
Become confident in your Christian walk, living a victorious life in Christ.
Remain hopeful even when prayers seem to go unanswered, and problems seem to increase.
Develop an unquestioning faith that God is in control, regardless of how situations may appear.
Find Satisfying Solutions in God's Word
Let God Turn Your Question Marks Into Exclamation Points
Having questions does not mean you have a lack of faith. Throughout His ministry, Jesus asked and answered many questions. By studying our Lord's use of questions, we see how His wisdom intersected with human need. When there are question marks in our minds and spirits, we need the truth and promises of Scripture. God's Word contains the answers we seek!
Dr. Jeremiah created the Ten Questions Christians Are Asking resources to address ten topics that concern many Christians today. When your soul finds satisfaction in the Bible's answers, your questions will transform into resounding praise!
Request Now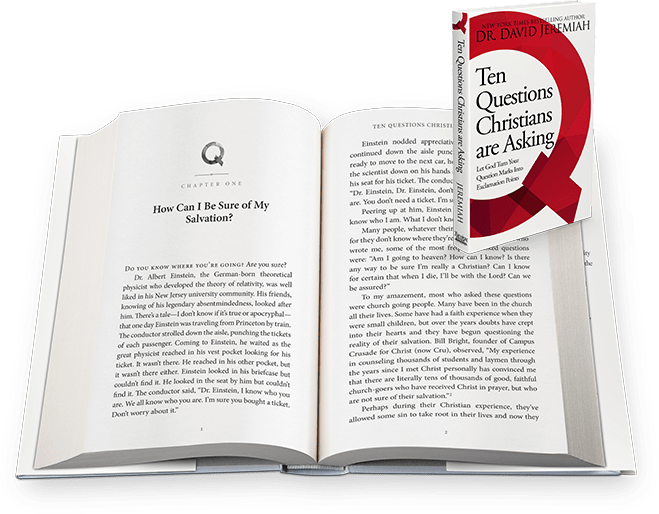 Do You Ever Wonder…
How Can I Be Sure of My Salvation?
How Can I Overcome Temptation?
How Can I Get Victory Over Worry?
How Can I Find Forgiveness?
Is There Only One Way to God?
Why Do Christians Have So Many Problems?
Why Don't My Prayers Get Answered?
Is There a Sin God Cannot Forgive?
What Is Faith?
What Is the Greatest Commandment?
You should be confident of your answers to these important questions!
David Jeremiah's Ten Questions Christians Are Asking resources will help you face everyday challenges by bringing you practical, real-life answers from the heart of God's Word.
Discover the answers to even more questions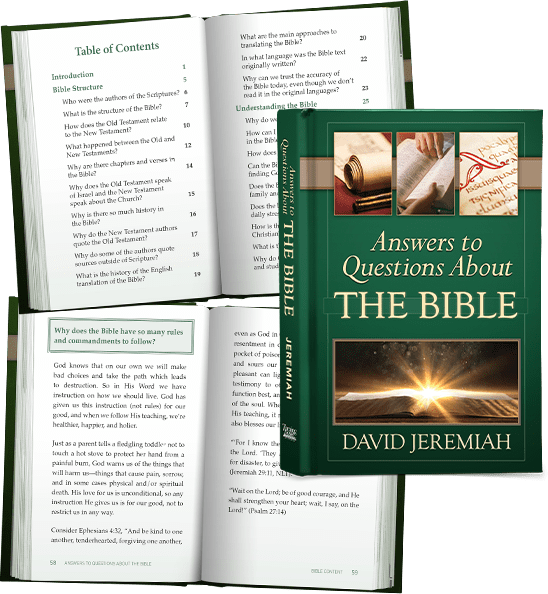 From Dr. David Jeremiah
Answers to More Than 100 Questions
Life is filled with innumerable questions. And there are always "voices" who are eager to provide "informed" answers. In reality, there is only one Source that is always reliable, always trustworthy, and always relevant to our needs. Almighty God is the ultimate Source for the answers we seek, and He has revealed many of them in His Word.
Dr. Jeremiah designed this compact Q&A book to help you navigate the pages of Scripture and discover specific answers to questions related to five core topics:
Bible Structure — Gain clarity on the structure and content of the Bible.
Understanding the Bible — Recognize the Bible's impact and relevance in your life.
Bible Content — Understand the "why" behind Scripture's genealogies, rules, hard truths, and more.
Books of the Bible — Appreciate the relationship between biblical books and their differences.
Important Themes — Peruse more than thirty fundamental themes found in Scripture.
Plus, it includes a glossary of biblical terms and tips to aid your study. Answers to Questions About the Bible is brimming with helpful tools for your spiritual journey.
Request Now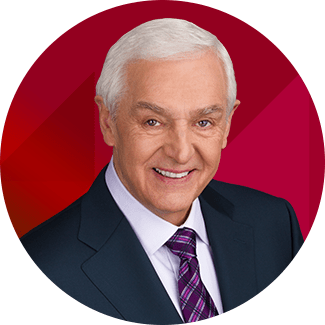 Throughout my years of ministry, I feel closest to people's needs when I'm dealing with their most heartfelt questions. Where there are question marks in our minds and spirits, we need the truths and promises of Scripture.
— DAVID JEREMIAH
Ten Questions Christians Are Asking Resources
Available with your gift in support of our ongoing ministry: