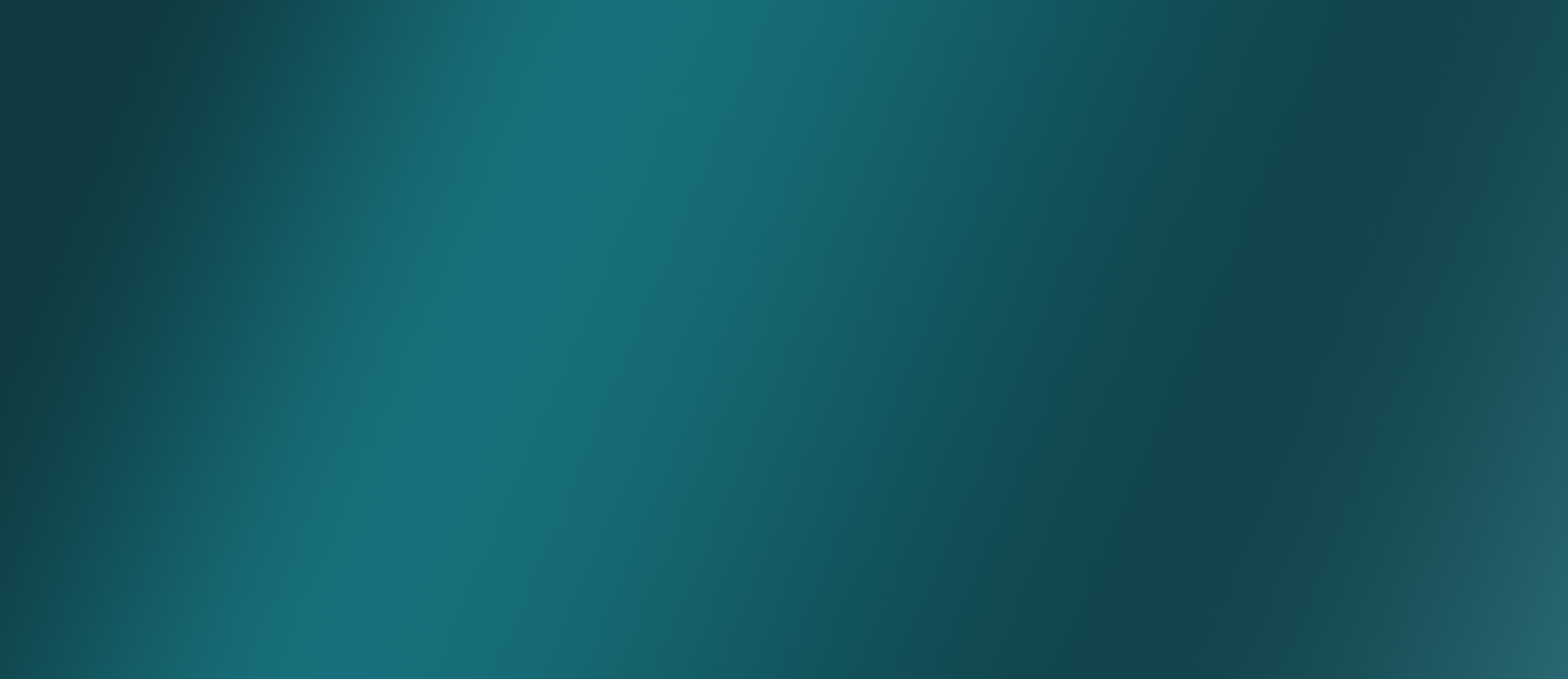 Aired Friday, September 15
The Priority of a Disciplined Mind
Previously Recorded
It's a recurring theme in Scripture: Life change begins with thought change. In other words, if you want to turn your life around, change how you think. Dr. David Jeremiah explains what it means to be "transformed by the renewing of your mind," as described in Philippians 2.
More
Featured on This Broadcast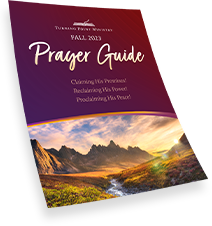 Turning Point Fall 2023 Prayer Guide
Partner with Turning Point in prayer this fall as we step out in mountain-moving faith to reach the world for Jesus Christ as never before!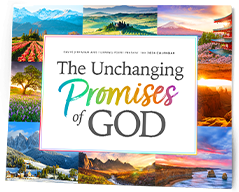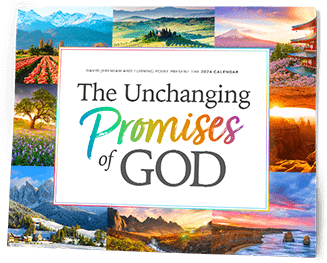 The Unchanging Promises of God
Turning Point 2024 Calendar
Our 2024 calendar, The Unchanging Promises of God, illustrates the unfading, unfailing, relevant, and true promises of God's eternal Word. Renew your hope and find strength in the promises recorded in God's unchanging and enduring Word!
Every year, the 14-month calendar is one of our most popular products. Be sure to order yours today!
Request Now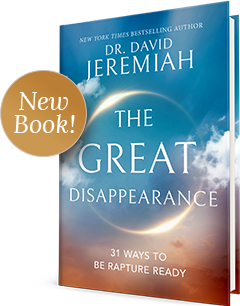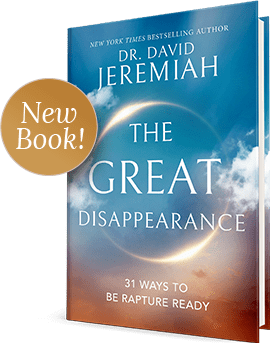 31 Ways to be Rapture Ready
The Great Disappearance
Dr. Jeremiah's latest prophecy book, The Great Disappearance, examines the next event on God's prophetic timetable, the Rapture.
This is not a book of doom and gloom or a sensational read about setting dates, but one of hope and joy as we see the promise of God's plan unfold all around us and grasp the power of the prophetic text surrounding the Rapture.
Preorder Now
David Jeremiah Live
A Two-Day Prophecy Event
Coming LIVE from the North Charleston Coliseum in Charleston, South Carolina, Dr. Jeremiah and Turning Point Ministries present a live prophecy event surrounding the event in the future that will hit the headlines as no other story ever has—the Rapture.
Dr. Jeremiah will examine the Rapture and give a definitive answer to the questions surrounding The Great Disappearance. What the Bible says, what it means, and what it means for you! Two incredible days of inspirational Bible prophecy teaching that will motivate you to live for Jesus like never before!
Plan now to join Dr. Jeremiah LIVE and in person for one or both sessions: Friday night, October 6 and Saturday morning, October 7 for this worldwide event that will unpack the biblical truth about the Rapture and how this prophetic event can bring hope and power into how we live our lives each day!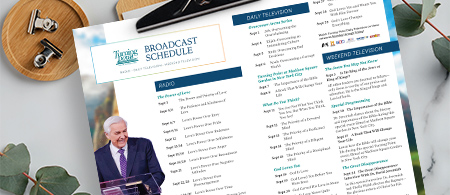 Don't Miss This Month's Teaching Series!
Free Printable Broadcast Schedule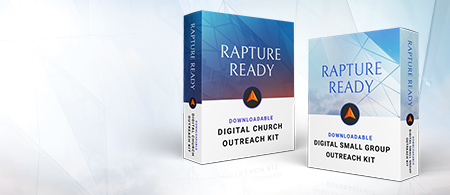 Dr. Jeremiah's Rapture Ready Outreach Offer
Download FREE Digital Church Kit Today!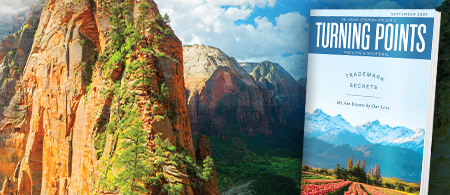 Turning Points Magazine & Devotional
Request Your Free Subscription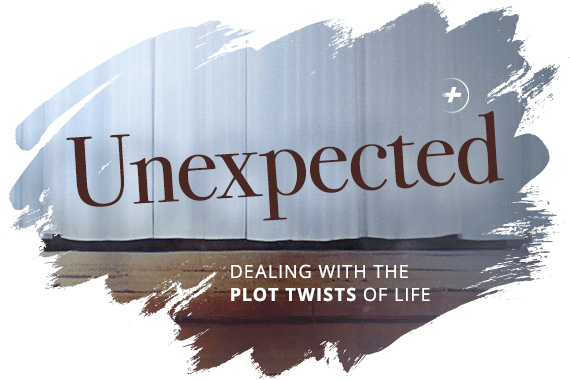 OVER 40 YEARS OF BIBLE STRONG TEACHING AND SO MUCH MORE!
Unexpected: Dealing With the Plot Twists of Life
Celebrate over four decades of Bible Strong teaching with TurningPoint+, your ultimate streaming destination for engaging and enlightening content. Immerse yourself in a vast library of audio and video resources, featuring more than 1,000 teachings—all readily available on your favorite devices.
Explore popular playlists such as "Unexpected: Dealing with the Plot Twists of Life". We all know that life can change in an instant, altering our circumstances without warning. Discover pointed teachings by Dr. Jeremiah on how to react and address difficult days, while drawing reassurance and guidance from God's Word. Your heart will be blessed with the wisdom and comfort that these teachings provide.
With a captivating array of teachings and soul-stirring messages, TurningPoint+ offers unparalleled access to timeless biblical wisdom. Unleash the power of Bible Strong teaching and venture into all the compelling series available to you when you start streaming TurningPoint+ today!
The Convenience You Need, the Content You Want
Access the Turning Point App On Your TV With Roku
Every message from Dr. Jeremiah is aired across the world on Turning Point Television, on our ministry website, and in our official mobile phone app. But did you know…Turning Point Television is also available absolutely free on Roku? No subscription of any kind required! If you have internet access and a Roku Device (or a smart TV), you can watch Dr. Jeremiah's broadcasts absolutely free.
Think of it this way…Our Roku App does the DVRing for you! No need to make sure Turning Point is recording because our Roku App makes it available instantly, for free.
Watch Turning Point from your TV on YOUR time, when YOU want to watch it!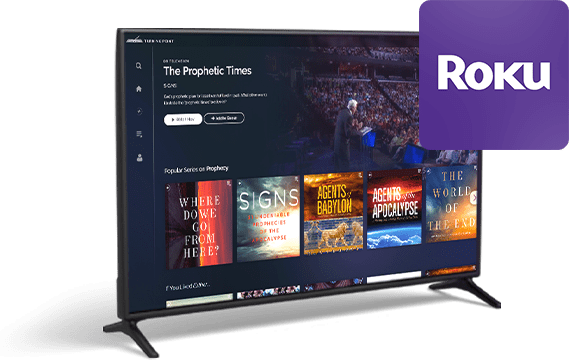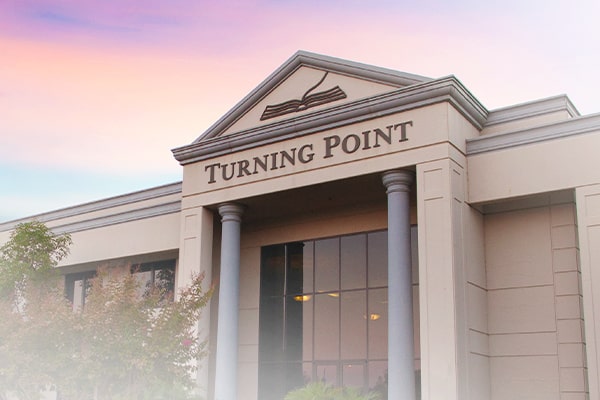 We are so glad you're Here!
Stay Connected to Turning Point
Our mission is to deliver the unchanging Word of God to an ever-changing world, and that has led us to take the Good News and the "Good Teaching" of Jesus Christ across the globe in every way we can think of!
This site is one of the best places to find inspirational Bible teaching from Dr. David Jeremiah, ministry news, and much more. But it's not the only way to stay connected to the ministry of Turning Point.
Discover the many places and ways you can connect to all the rich resources available through the ministry of Turning Point.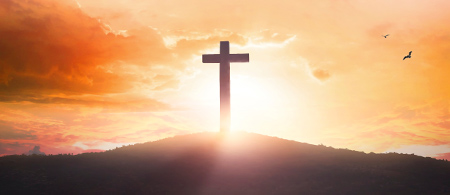 Discover Hope—Find Renewal
Become a Christian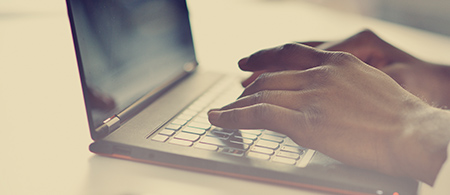 Has Turning Point Made a Difference in Your Life?
Write to Us!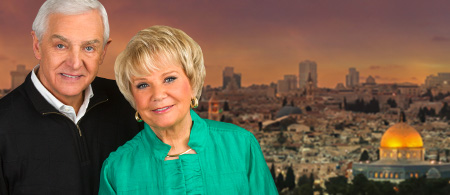 Join Us For an Inspirational Vacation
Travel With Turning Point
Television Series:
Now Airing
Here are the current teaching series now airing on Turning Point Television. Enter your email address in the box below to receive updates about upcoming broadcasts.
Series Updates »
Please enter a valid email address
You've been successfully signed up!