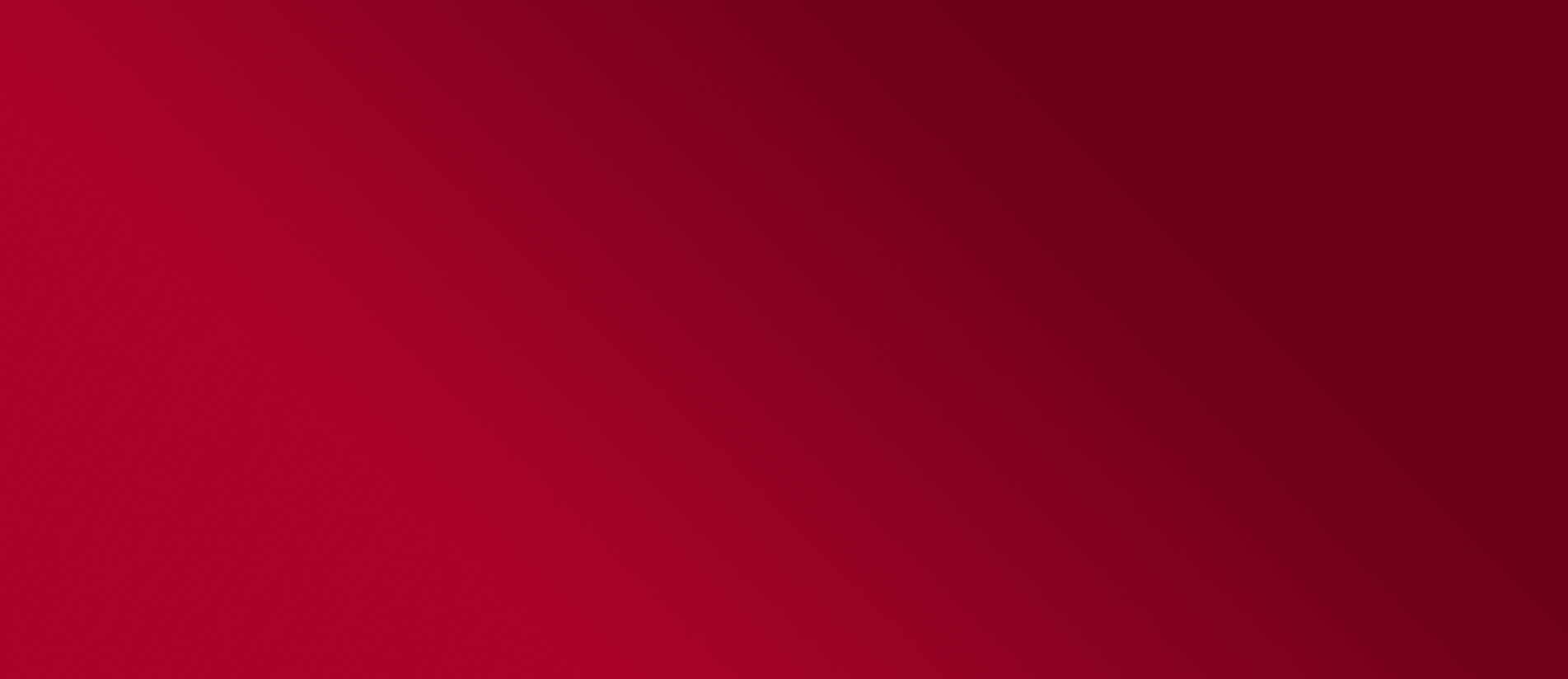 Airing Today
Why the Nativity? Part 3 of 3
Previously Recorded
Take a thought-provoking journey surrounding the most pivotal moment in human history—the birth of Jesus Christ.
More
Featured on This Broadcast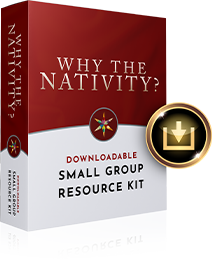 Why the Nativity? SMALL GROUP Kit
Dr. Jeremiah's 'Why the Nativity?' Small Group Outreach Kit is packed with study videos, discussion prompts, and more.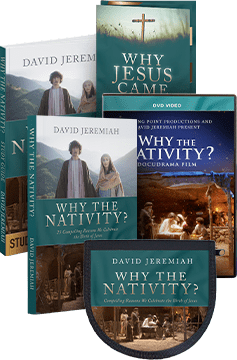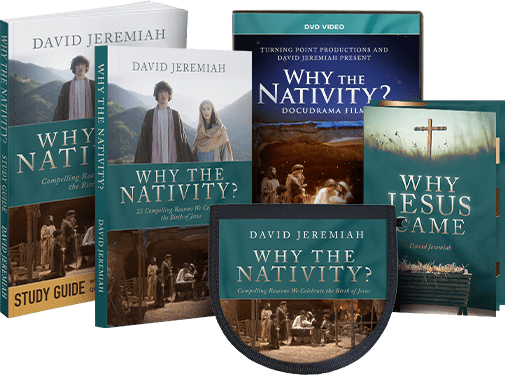 Learn the Meaning of Christmas
It's More Than a Film...
Many people in the world today do not recognize the importance of Christmas and what it means for them. They might enjoy celebrating the holiday, but they've never fully understood the true reason we celebrate—that God sent His only begotten Son to be our Savior.
Explore the full collection of Dr. Jeremiah's Why the Nativity? resources and discover all the intricacies, beauty, and purpose of the birth of our Savior, Jesus Christ.
Request Now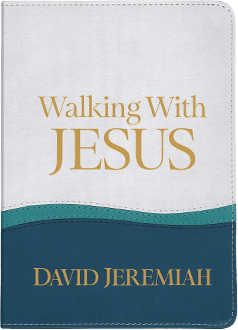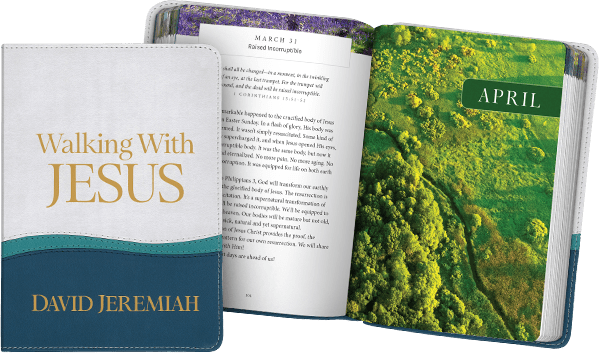 Be Encouraged in 2024
Walking With Jesus
This beautiful leather devotional will be a powerful reminder of who God is and why you need Him! You'll be heartened to view each day's trials as opportunities for God to pour His goodness, wisdom, and love into your life.
By this time next year, you'll be walking closer to Jesus than ever before!
Request Now
A Celebration of Christmas
Season of Joy by David Jeremiah
New from Dr. David Jeremiah, Season of Joy is a beautifully crafted book designed to help you unearth four transformative paths to a deeper spiritual bond with Jesus.
While Christmas is a treasured time to commemorate the birth of our Savior amidst loved ones, the bustling season often eclipses our joy. Yet, it doesn't have to be that way! This beautiful book, poised to be a holiday staple, offers you uplifting devotionals inspired by Christmas carols, biblical accounts of Jesus' birth, and more. These bits of wisdom will enliven your spirit as you navigate the festive season.
This Christmas, remember the reason for the season and keep Christ at the center of your celebrations. Request your copy of Season of Joy and get ready to be set aglow with the true Light of Christmas this year.
Separating Fact From Fiction
The Truth About Angels
Angels announced the birth of Christ on the very first Christmas and appear throughout Scripture time and again. But what about now, in today's world? Are angel sightings nothing but a myth? Something in between? What's the truth about angels?
This astonishing book separates fact from fiction about angels! Discover Bible-based answers to your questions, like:
Who and what are angels?
What is their role in God's plan?
Are they present?
Do they appear?
Do they give us personal insight?
In his extraordinary book, Angels: Who They Are and How They Help, Dr. David Jeremiah helps you explore the Scriptures to unveil the remarkable truth about these agents of heaven and their role and work in our world!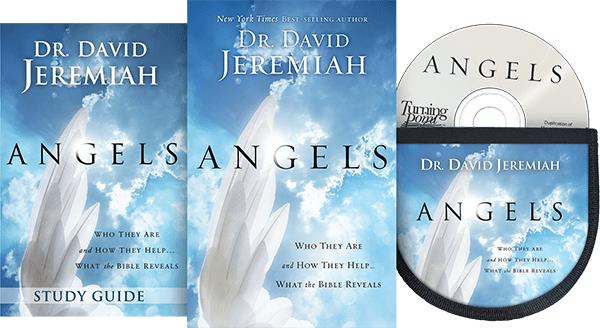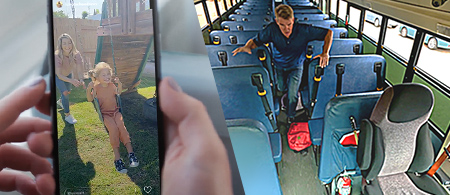 Realistic footage depicting the moment of the Rapture
View Rapture Pre-Enactment Videos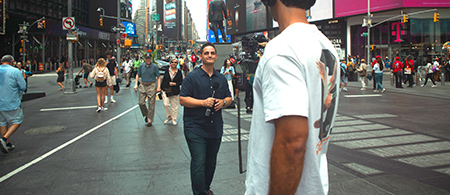 Hear what people coast-to-coast think about the Rapture
Man-on-the-Street Interviews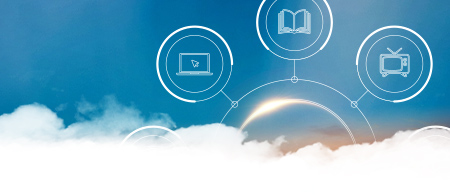 Explore Our Exciting Five-Point Plan
Turning Point's 2023 Fall Outreach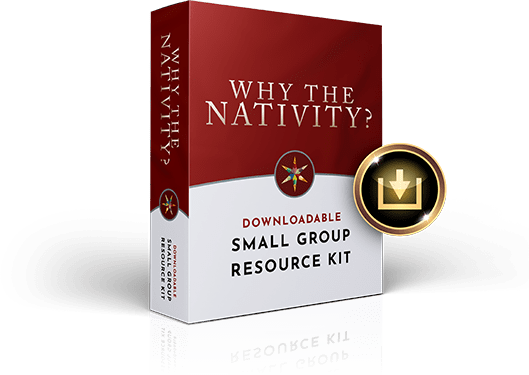 Why the Nativity?
Free Small Group Kits
Dr. Jeremiah's Why the Nativity? free downloadable digital outreach kits provide pastors and small group leaders with everything they need to proclaim the true hope of Christmas to their communities. The small group kit contains all you need to facilitate a powerful group study time. Each kit comes with many tools. You'll find easy-to-customize messages, PowerPoint slides for presentation, and thought-provoking group discussion questions. Every element of the kit is easy to use and intended to enrich your group study sessions.
We know that the holiday season gets busy fast. So, don't delay! Sign up, download your kit right away, and start preparing for a Christmas filled with gained understanding of Nativity and the joy of celebrating our Savior's birth with your community!
The Unchanging Promises of God
Turning Point Exclusive 2024 Calendar
Turning Point's 2024 calendar—The Unchanging Promises of God—illustrates the unfading, unfailing, relevant, and true assurance of God's enduring Word amidst a rapidly changing culture and increasing political and economic instability.
You'll be encouraged by the rock-solid promises of God's faithfulness, wisdom, blessings, grace, mercy and—best of all—love throughout the year. You'll find peace, renewal, and strength every day as you journey through the certain hope found in Scripture.
Our annual calendar is one of the most popular resources we produce and supplies are limited. Don't wait to order this stunning 14-month calendar today and be reminded daily that God's promises are unchanging in this season and every season to come!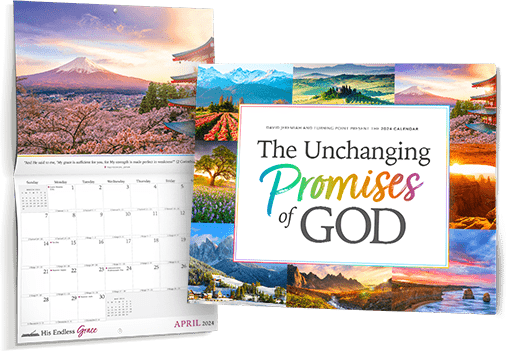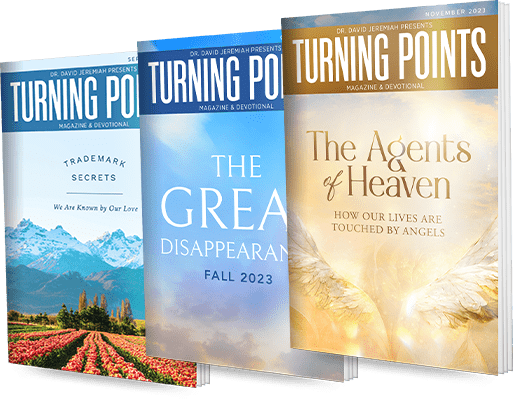 Be Encouraged, Challenged, and Strengthened
Turning Points Magazine & Devotional
One of the best ways to connect with the ministry of Dr. David Jeremiah is through Turning Points magazine. Each month, Turning Point publishes a beautifully illustrated magazine to inform you of all that's happening at Turning Point and to help you apply the truth of God's Word to your life every day.
Inside every issue, you will find:
Daily devotionals
Inspiring articles from David Jeremiah
Important ministry updates
Radio and TV broadcast schedules
There is no charge for a subscription, and Turning Points is one of the best ways to stay in touch with the ministry of Dr. David Jeremiah. We hope you will request a complimentary subscription today.
Bring Each Book of the Bible to Life!
The Jeremiah Study Bible
The Jeremiah Study Bible focuses on three simple things: "What does the Bible say, what does it mean, and what does it mean for you?" Comprehensive in scope yet easy to understand, The Jeremiah Study Bible is a 2,200+ page, one-of-a-kind study tool that includes unique introductions to each book, 10,000 individual study notes, more than 55 full-page articles, and much more!
With our annual Bible Sale coming soon, explore all the options and consider which Jeremiah Study Bible is your favorite and plan for a year filled with powerful study combinations that are sure to enhance your daily quiet time with the Lord.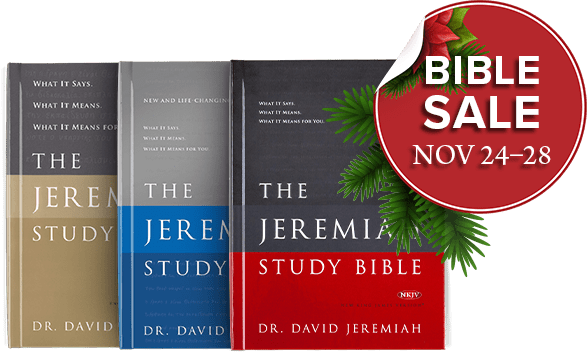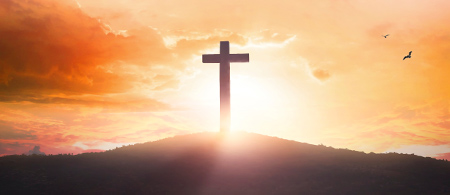 Discover Hope—Find Renewal
Become a Christian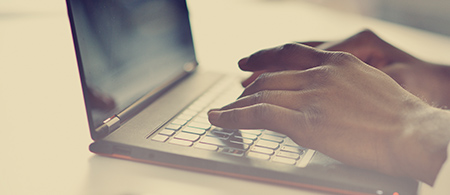 Has Turning Point Made a Difference in Your Life?
Write to Us!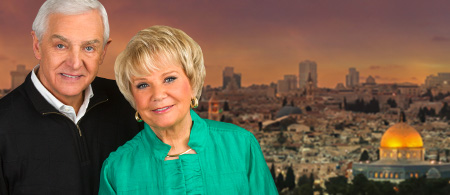 Join Us For an Inspirational Vacation
Travel With Turning Point
Television Series:
Now Airing
Here are the current teaching series now airing on Turning Point Television. Enter your email address in the box below to receive updates about upcoming broadcasts.
Series Updates »
Please enter a valid email address
You've been successfully signed up!