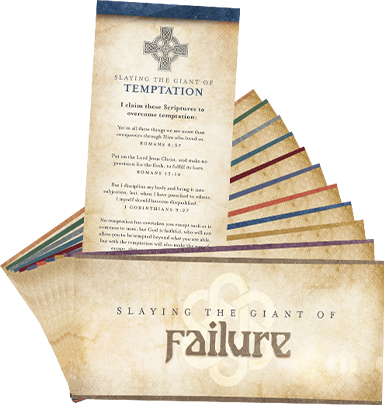 Giant Slayer Cards
Twelve powerful Scriptural reminders of the promises you can claim to overcome fear, worry, discouragement, loneliness, and other looming giants in your life.
I'm Consumed By Overwhelming Guilt. What Is The Truth That Can Set Me Free From This Crushing Giant?
Guilt is a giant with interesting powers. This giant is the most invisible, but the heaviest one of all. There are people all around us who are being slowly crushed, slowly suffocated by the giant of guilt. It kills slowly but with excruciating pain. I know believers who have come to Christ from very troubled, perhaps sordid backgrounds. Occasionally the past creeps up on them, and the enemy whispers, "Don't forget who you were and what you did—you haven't really changed." Guilt is powerful. I remind these people of the infinite forgiveness of God. He has placed our past sins as far from us as the east is from the west. God has forgiven.
But still, people insist that they can't forgive themselves. At that point, I observe, "That's amazing—you have a standard higher than God's!" If He can cut away the past, we must be able to do likewise. If you've confessed it, it's been forgiven. Put it away forever and move on; imagine it's been buried in the bottomless ocean of God's grace, and it has no more power over you.
God's mercy is even more powerful than the worst atrocities we can imagine. It doesn't matter what others tell you or how they make you feel. It doesn't matter how you yourself feel about it.
What matters is God's response, for He's the ultimate victim of every sin ever committed. And He sent His Son to pay the price for each one of them. His message to you is, "I no longer know your guilt. I don't want you to know it, either. I want you to live in a new way with Me, in a fellowship so rich that it will overflow and overcome your old sinful tendencies."
Is It Possible To Live A Life Liberated From Loneliness?
Philip Zimbardo, writing in Psychology Today, has said, "There is no more destructive influence on physical and mental health than the isolation of you from me and of us from them." He points to studies that show loneliness as a central agent of depression, paranoia, schizophrenia, rape, suicide, mass murder, and a wide variety of diseases. We've all seen the polls that point to shorter life spans for lonely people. And when surveys are taken to discover the central concerns of society, loneliness nearly always tops the list. We were created for fellowship, and deprival of it is deadly.
You should run to the fellowship of other believers. There is always this promise: "If we walk in the light as He is in the light, we have fellowship with one another" (1 John 1:7).
That's why God made the provision of the church. Most of the books of the New Testament are written to whole congregations. And every time the word saint appears, it's always in the plural because the concept of "Christian individualism" is an oxymoron; it's foreign to biblical Christianity. We are incomplete without the unity of believers serving one another through their particular gifts.
Together, we're greater than the sum of our parts. This is a godly principle at the center of how God works in the world—He works through people intertwined, even with all the messy knots and entanglements of our being involved. Alone, we are so limited; together, we can forge movements that change world history. Our gifts multiply and multiply again.
This next statement may seem rather blunt, but it's true: Loneliness is a choice—not the isolated moments we all experience, but lingering, pervasive loneliness. God has provided you with everything you need, and if you choose to dwell in the lifestyle of loneliness, that's a choice you've made. He has given us His Son. He has given us His Word. Then He has given us the precious gift of our brothers and sisters in faith. Simon and Garfunkel once sang, "I am a rock; I am an island," but the Bible's song is that Jesus is the Rock, so that you need never be an island. Can you find God in the maze of lonely and confused feelings? Can you grasp that He may be preparing you for a fresh life and a fresh hope? He will never leave you nor forsake you. Reach out, take His hand, and discover what it means to slay the giant of loneliness.