From the March 2023 Issue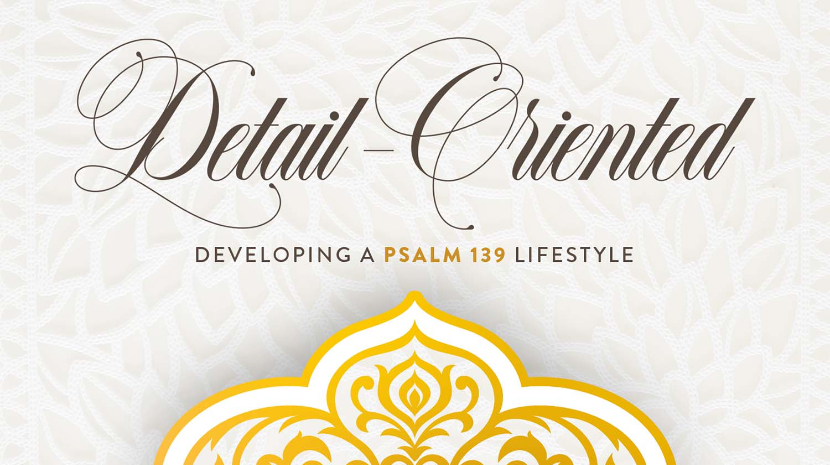 Detail-Oriented: Developing a Psalm 139 Lifestyle
Millions of people around the world watched as the coffin of Queen Elizabeth II was carried into Westminster Abbey while royal choirs solemnly sang: "O Lord, thou hast searched me out and known me." They sang Psalm 139, from the first verse to the last—and the words were printed in the program.
A few years earlier at the queen's request, Psalm 139 was also read to commemorate her ninetieth birthday. Queen Elizabeth II apparently believed she had been appointed from the womb for a life of service, and it was her heart's desire to be defined by the words of this incredible psalm.
In Psalm 139, God dives into the details, letting you know He oversees both the momentous and the minutia of daily life.
After all, it was written by another monarch—King David!
I'm happy to tell you Psalm 139 isn't just for monarchs. It's a personal passage given to every child of God. This psalm tells you exactly what God thinks of you, how He thinks of you, and when He thinks of you, which is constantly. Our life can be defined by the words of this psalm.
In Psalm 139, God dives into the details, letting you know He oversees both the momentous and the minutia of daily life. When our brain absorbs the truths of this chapter, we begin to develop a God-is-in-control lifestyle. We realize God governs both the large and small issues of life. As we embody Psalm 139, we inevitably grow in our self-assurance, God-confidence, and inner contentment.
According to Psalm 139, God's omniscience knows all about us (verses 1-6). His omnipresence encircles us (verses 7-12). His creative power makes and keeps us (verses 13-18), and His righteousness saves us and gives us life everlasting (verses 19-24).
The psalm ends with a prayer of application: "Search me, O God, and know my heart; try me, and know my anxieties; and see if there is any wicked way in me, and lead me in the way everlasting" (verses 23-24).
Thank Him for the circumstances He has brought you through and for the plans He still has for you.
Let me suggest four ways of transforming these lyrics into a lifestyle.
Know Him
First, remind yourself that you can know Him who knows you so very well. We can never know God as well as He knows us, but what a blessing to realize how He thinks of us!
Remember where your relationship with Him started—in your mother's womb. Remember how He made you—woven beautifully together in the darkness. Recall how He has gone before you and has come behind you.
Remember, the One who began a good work in you is carrying it on.
Kait Warman is a Christian motivational speaker who works extensively with single adults. She hears a lot of stories of hurt and rejection, and she understands the pain of being misunderstood. She encourages people to "come back to God's truths."
"Whenever I need a dose of remembering who I am and how I am uniquely designed," Kait wrote, "I read my go-to chapter in the Bible: Psalm 139. In the Passion Translation, this chapter is called 'You Know All About Me.' It's the perfect passage to make me feel deeply known…. When I read Psalm 139, I usually say it out loud with passion and conviction in my voice, as though I'm reciting my very own powerful declaration of belonging. Go ahead and try it. Read it out loud to yourself (because I assure you, reading it out loud is utterly thrilling). Read it once slowly, then read it again passionately and highlight words that stand out to you. Read it as many more times as it takes for you to soak in the entirety of its meaning."1
You'll be soaking up a new lifestyle—a Psalm 139 way of thinking.
Thank Him
As you think of the truths of Psalm 139, thank God for His involvement in the details of your everyday life. Thank Him for the circumstances He has brought you through and for the plans He still has for you. Thank Him that all the elements of His nature reach down to bless all the details of your days. Whether in daylight or darkness, He is around you.
Dr. Hans Ulrich wrote, "To pray Psalm 139 is to come to acute awareness of what it means to be a creature surrounded—almost claustrophobically—by God's presence."2
Yes, but glorious claustrophobia!
Charles Swindoll has a very deep memory of reading verses 9 and 10, which say in the New Living Translation: "If I ride the wings of the morning, if I dwell by the farthest oceans, even there your hand will guide me, and your strength will support me."
Swindoll wrote, "The first time I grasped the magnitude of these verses I was in the Marine Corps on a troop ship crossing the Pacific Ocean, bound for the Orient. It took seventeen days. The ocean swells on stormy days were forty to fifty feet high; and when our ship was down in the bowels of the swell, the crest loomed above like a giant domed building about to fall on us. As we would rise up to the peak, we could see nothing but water all around—deep, blue-black swells, never-ending across the horizon, 360 degrees around. I remember opening my Bible early one morning to Psalm 139:7-10, and honestly, I almost shouted. I suddenly felt at ease in His presence. My loneliness seemed utterly foolish. His hand was leading me, His right hand was holding me right there in the 'remotest part of the sea.' Though I was literally insignificant by comparison to the vast stretches of water around me, a calm, secure feeling swept over me."3
As it settles into your heart, Psalm 139 will thrill you too with renewed gratitude, and it will help you establish a lifestyle of thanksgiving.
Trust Him
You'll also learn to trust Him more. If He knows you, surrounds you, makes and keeps you, and delivers you—as the psalm says—there's nothing left but to trust Him! Trust Him with yesterday, for He comes behind you. Trust Him with tomorrow, for He goes before you. Trust Him with today, for His hand is on you.
Psalm 139 tells us that we were created with care, made to be loved, and infused with blessing from the God who can lead us in the way everlasting.
Mary Whelchel recalls speaking at a women's retreat in Nashville. A woman named Dolly approached her and said, "You just don't know how you changed my life." Mary couldn't imagine what she had said to bring about such a thing. Dolly explained that at a prior retreat, Mary had challenged the women to memorize Psalm 139, just as she had done with a Sunday school class at her church. Each Sunday, Mary recalled, her class would quote the next verse in the psalm and share testimonies of how God had used it to set the class members free from wrong thinking. "Interestingly," Mary recalled, "Psalm 139 spoke to many varying needs. God's Spirit applied it in unique ways to the individuals who memorized the chapter."
Mary had suggested the practice at a prior retreat, and now Dolly was testifying to the same thing. She had developed a Psalm 139 lifestyle.4
"Faith comes by hearing, and hearing by the word of God" (Romans 10:17), and Psalm 139 is a choice portion of the Word of God.
Think you can't memorize it?
Think again. There are 24 verses. If you learn two a month, you'll have this psalm memorized perfectly in one year—and you'll have it installed in your sanctified mind for the rest of your life.
Ask Him
Finally, take the last two verses of this psalm seriously: "Search me, O God, and know my heart; test me and know my anxious thoughts. Point out anything in me that offends you, and lead me along the path of everlasting life" (Psalm 139:23-24, NLT).
It takes a certain amount of courage to pray these words, but they give the Lord full permission to continue His work within you, developing in you the lifestyle of Jesus Christ—the Psalm 139 walk. It permits Him to become detail-oriented in your life, probing even the underlying components of your attitudes and behavior.
Remember, the One who began a good work in you is carrying it on (Philippians 1:6), and He wants to perfect that which concerns you (Psalm 138:8).
Take the Psalm 139 challenge. Put into practice the disciplines needed to help affirm God's presence in all things, to live boldly, and to grow in holiness and confidence.
The Lord is detail oriented. He is gloriously in the details of your life…and in your lifestyle.
Sources:
1Kait Warman, Thank You for Rejecting Me (Grand Rapids, MI: Baker Books, 2021).
2Hans G. Ulrich and Brian Brock, Transfigured Not Conformed (London: Bloomsbury Publishing, 2021).
3Charles Swindoll, "God Is Ever Near," Crosswalk, October 7, 2013.
4Mary Whelchel, Why Do I Always Feel Guilty (Eugene, OR: Harvest House, 2007), 105-106.
This Month's Magazine Resource

The Focused Life
In The Focused Life, we have taken the books of Psalms and Proverbs and sectioned them into a 31-day reading plan. This resource is a wonderful study tool for personal or group Bible study. By joining these two books together, you will have a wonderful foundation for your daily life.
Subscribe Now
Each month, read articles and devotionals from Dr. David Jeremiah that will encourage, challenge, and strengthen your walk with the Lord.