A New Handbook From David Jeremiah
Finding Favor With God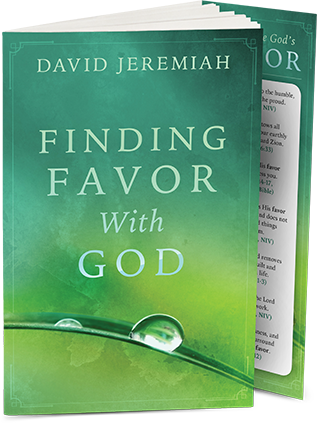 For You, O Lord, will bless the righteous; with favor You will surround him as with a shield.
Psalm 5:12
We're often hard on ourselves, and society is also quick to criticize and condemn. But God comes to us with favor, which more than balances the books. Divine favor means God is smiling on us in His infinite grace. He is smiling on you!
In this new resource from Dr. David Jeremiah, you will discover the perfect, custom-designed plan God has for each one of us.
It includes:
Six People Who Experienced God's Favor—like Samuel, Job, and David—God's favor surrounds us with a shield.
Six Ways to Enjoy God's Favor—learn to praise God throughout every situation in your life, seek God in prayer, live righteously, and more.
Six Blessings That Come With God's Favor—including every good thing we need, every sin forgiven, every work established, and more.
PLUS a tear-off bookmark with promises of God's favor.
This resource is available for a gift of any amount in support of the ministry of Turning Point.
The favor of God doesn't mean God has favorites, and it doesn't mean He chooses a better set of blessings for one person than for another. He has a perfect, custom-designed plan for every man and woman on earth, and all our days are recorded in His book before one of them comes to pass (Psalm 139:16). —Finding Favor With God, Page 6