The giants we face have different names: Fear. Discouragement. Loneliness. Worry. Guilt. Temptation. Anger. Resentment. Doubt. Procrastination. Failure. Jealousy. Call them what you will; they're only giants, after all, like Goliath. He was a shade over nine feet tall, but it only added up to a bigger dent in the pavement once he fell. The bigger they come, the harder they fall.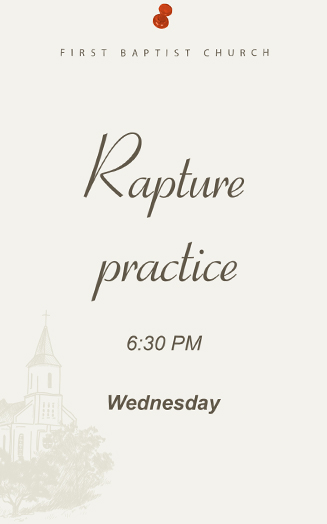 Can you imagine...
walking into church one Sunday and seeing this announcement posted on the bulletin board?
Can you imagine...
walking into church one Sunday and seeing this announcement posted on the bulletin board?
oh, I know it might seem silly
...to think about attending a rehearsal for the Rapture—but here's the amazing reality:
God's Word outlines ten ways we should be preparing for Christ's return!
And when you think about it, it only makes sense...rehearsal just means getting ready for something—it's preparation for a future event. And that is exactly what we should be doing in light of Christ's return.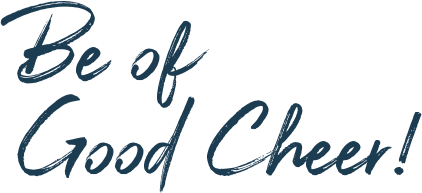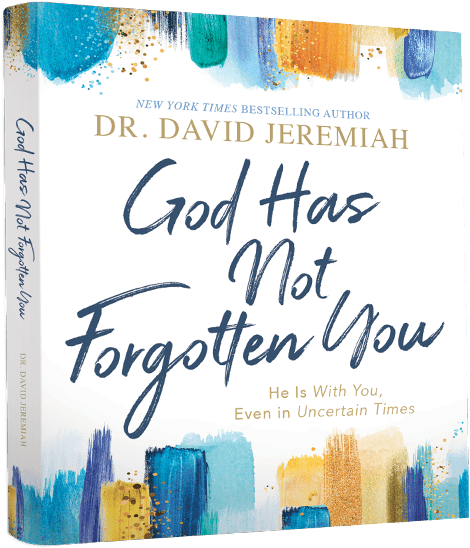 As surely as God knows the number of hairs on your head, He knows your heart's concerns. You are not forgotten.
Request Today

With a Generous Gift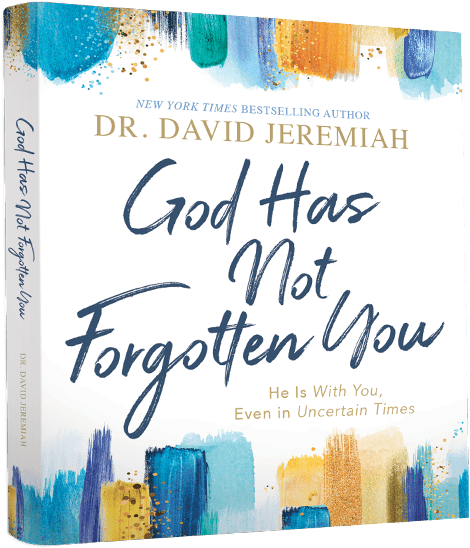 No one is immune from feeling alone. When we walk through challenging seasons of life, it can feel as if no one sees or cares.
After the past year, we are all painfully familiar with the loneliness of spending whole days—even weeks—without leaving the house. When we go through difficult times, enduring it alone makes it all the more painful. We begin to feel disconnected. Isolated. Seemingly invisible.
While we may feel alone, we never are alone. God has not forgotten us!
In his new book, God Has Not Forgotten You, Dr. David Jeremiah will help you navigate the uncertainties of the present while embracing God's promises for the future. He designed each chapter to help you seek God's face when you encounter uncertain periods in your life, such as anxiety, change, worry about your family and relationships, loneliness, health troubles, unanswered prayers, lost dreams, and more.
Request Now
You Are Not Forgotten
God Has Not Forgotten You When Life Feels Uncertain
God Has Not Forgotten You When You Feel Anxious
God Has Not Forgotten You When Times Change
God Has Not Forgotten You When Your Family Is Hurting
God Has Not Forgotten You When You Are Lonely
God Has Not Forgotten You When Health Fails
God Has Not Forgotten You When Prayers Go Unanswered
God Has Not Forgotten You When Dreams Die
What to Do When You Feel Forgotten

Excerpt from God Has Not Forgotten You
You Are Not Alone
Perhaps worst of all is the feeling of being abandoned in the midst of all this uncertainty. It's one thing to endure hardship as part of a group—to navigate difficult waters under the discerning gaze of a competent captain who is able to bring you through any storm and land you at a place of safety. It's entirely something else to endure that storm on your own. To feel as if no one else sees and no one else cares.
In short, difficult circumstances will always be difficult. But their effect is multiplied tenfold when we feel like God has forgotten us.
So we need to look honestly at that question: Does God forget about us? Does He lose sight of us? Does He stop caring about the circumstances of our lives and what we are being forced to endure?
Let's answer that question by looking back at Jesus' warning in John 16:33: "In the world you will have tribulation." In my Bible, there isn't a period after the word tribulation. There's a semicolon: "In the world you will have tribulation; but be of good cheer, I have overcome the world."
Praise God for that semicolon! It tells us that all of our losses are temporary and all of our blessings are permanent. We need not cower in fear of the future or worry about the present. Instead, we have a heavenly Captain who has overcome the world and knows the way to lead us through any storm.
About the author
David Jeremiah
Dr. David Jeremiah is one of America's most trusted Bible teachers.
For more than 39 years, he has helped millions deepen their understanding of the Bible through 4,552 daily Turning Point Radio releases and a daily Turning Point Television program that reaches millions globally.
David has authored many books, including Forward, The God You May Not Know, Revealing the Mysteries of Heaven, and The Book of Signs.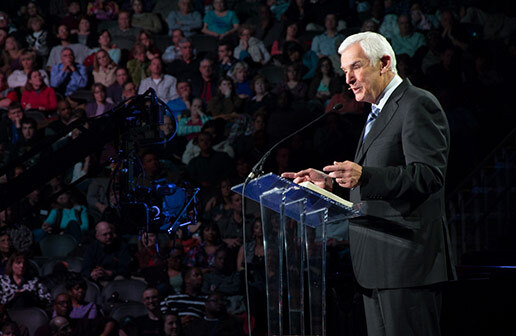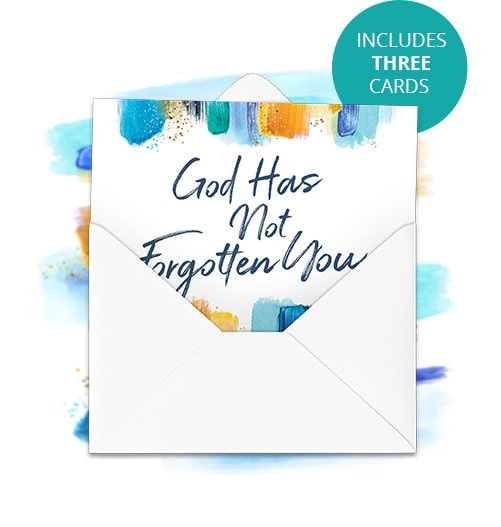 Each Book Comes With Greeting Cards
Who Can You Encourage Today?
Everyone feels lonely sometimes. That is why we are including three greeting cards with each copy of God Has Not Forgotten You. These cards will help you reach out to those who may need encouragement today. Writing a brief note is a quick and easy way to share the love of Christ.
Whether you write to an aging relative, a friend battling illness, someone crippled by anxiety, a pastor or a church worker whose service may go unnoticed, or a loved one who has recently relocated to a new city, please, let someone know they are on your mind, and God's.
If you're not sure where to start, try one of these ideas:
Share a meaningful Bible verse. John 16:33; Psalm 9:9-10; and Romans 8:38-39 are all good options.
Pull lyrics from a favorite hymn or worship song.
Share an encouraging poem.
Use a quote from God Has Not Forgotten You, like this one:
"Yes, there is suffering in life—it is inescapable. But God is sovereign, and that is undeniable. He is our refuge and strength, a very present help in trouble. Whatever you're going through, remember that God has not forgotten you. You are not alone."
Request the Book & Cards
Are You Lonely or Struggling With Anxiety?
Overcoming Loneliness Set
During times of hardship and pain, we find hope, comfort, and encouragement from our loving God. He is our refuge and strength, a very present help in trouble.
This brand-new, full-color, hardback gift book is the perfect reminder that you are not alone, that God deeply loves you, and that He is working all things together for your good!
For a gift of CAD $100 or more, we would like to send you two copies of God Has Not Forgotten You, six greeting cards, AND David Jeremiah's Overcoming Loneliness ten-message teaching series (on CD), plus the companion study guide. As a special bonus, we will add a digital copy of the teaching series to your online account!
May these resources encourage you and your loved ones with the knowledge that God is always with you!
Request Now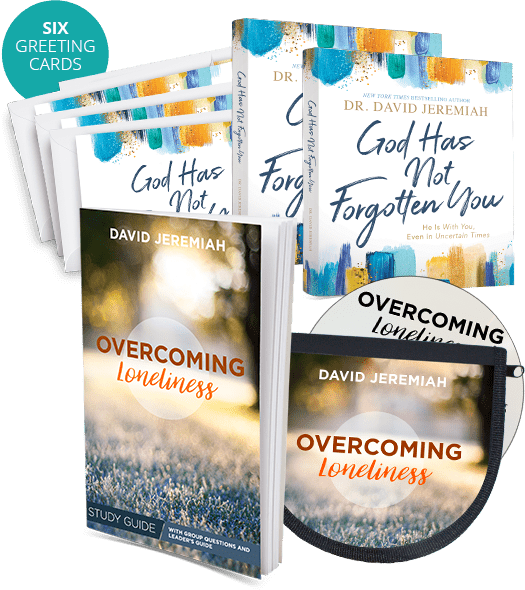 Request your resources here