Price:
CAD $

23.00

Product Code: OKBHBK
We've all experienced that moment where we wish we could start all over again. Failed marriages, lost friends, addictions, lost jobs. This is not the life we imagined.
Yesterday can sometimes leave us stuck, sad, shamed, scared, and searching. Sheila Walsh encourages readers to face the pain head on and then start again, from right where they are. She shares that when she discovered "I'm not good enough and I'm good with that," everything started to change.
In
It's Okay Not to Be Okay
, Walsh helps us overcome the same old rut of struggles and pain by changing the way they think about God, themselves, and our everyday lives. She shares practical, doable, daily strategies that will help us move forward one step at a time knowing God will never let us down.
Self-Assessment
PDF Download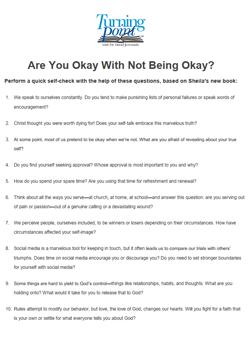 Download Now
Product Specifications
Product Code
OKBHBK
Number of Pages
199
Number of Chapters
9
Cover
Hardback
Dimensions
6.2 x 9.1
Publisher
Baker Books
Copyright Date
2018
ISBN
978-9-8010-7800-2
Features
One Step at a Time questions at the close of each chapter
Scripture reading